Beauty Tricks for Travel
As a denim fit model, Paige Adams-Geller made a bundle off her butt. Now, with her own jeans line, she relies on brains, beauty loot, and frequent-flier miles. Destination: gorgeous!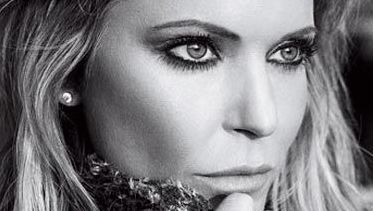 (Image credit: Jeff Harris)
The most famous jeans fit model of our time — who earned the nickname "best butt in the business" — is, at 38, nowhere near ready to hang up her thong. During the decade or so that Paige Adams-Geller was working five days a week with back-to-back fittings for denim labels like Guess, 7 For All Mankind, Citizens of Humanity, and True Religion, she was also pocketing a ton of business savvy. "Designing is as much art as engineering," she says. "I knew I could make jeans that do what women need them to do: lift the rear, elongate the legs, and shrink the hips." That her two-year-old Paige Premium Denim line has fans in Hollywood (like Jessica Alba) as well as in London, Paris, Dubai, and Tokyo is, she thinks, proof of the eternal allure of the L.A. lady. The onetime Miss California personifies West Coast casual luxury and goes so far as to give her denim styles names like Malibu Beach, Melrose, and Hollywood Hills. So how does Adams-Geller maintain that California-girl glow when flying around the world promoting her line, meeting clients, and making appearances on The Tyra Banks Show and Fox & Friends?
Here's what she told us:
1. LAVENDER-SCENTED EYE MASK: "I grew up in Alaska, so during the long summer nights, I always loved blackout masks with lavender inside. The scent calms me."
2. VALERIE BEVERLY HILLS BRONZER: "I apply this all over my face and neck, and it gives me a believable glow-like I've been on vacation even when I haven't."
3. CLÉ DE PEAU UNDEREYE CREAM: "Plane air parches my skin, especially my undereyes, and makes my eyes puffy, so I often carry this on board. I also find it helps minimize fine lines."
4. PHILIP B AFRICAN SHEA BUTTER SHAMPOO: "This hydrating shampoo keeps my hair ultra-soft without weighing it down. For extra softness, I'll follow with Terax's Original Crema Conditioner."
5. OPI ITALIAN LOVE AFFAIR POLISH: "This perfect shade of pink works with all of my summer sandals."
6. LA MER LIP BALM: "I never thought I'd spend this much money [$45] on a lip balm that has no color, but I can put it on at night or on the plane, and it keeps my lips 100 percent moisturized for hours. Plus, the minty taste is great when you're kissing your man!"
7. PAIGE PREMIUM DENIM BLUE HEIGHTS SKINNY JEANS AND A PAUL SMITH CASHMERE WRAP: "These two items have become my travel uniform. They keep me comfortable and cozy while I'm on the plane — and I still look polished when I arrive at my destination."
8. DRIED, UNSWEETENED MANGOS: "These are always in my bag — my healthy pick-me-up."
9. TEAS' TEA: My favorite is Lemongrass. It keeps me hydrated — and I love reading the haiku on the back of the bottle."
10. COLORSCIENCE SUNFORGETTABLE SPF 30 IN ALL CLEAR: "My publicist gave me this before my trip to Las Ventanas Spa in Mexico. It's a fantastic brush-on powder sunscreen, so you never feel greasy by the pool. It's also legal to bring on board the plane!"
11. CARTHUSIA I PROFUMI DI CAPRI: "I always pick up several of these scents when I'm in Italy."
12. BOND NO. 9 CANDLES: "When I'm in New York, I'm constantly on the go, but I always make time to stop in a Bond store. Their Chinatown votive is perfect for in-my-hotel-room meditations."
Celebrity news, beauty, fashion advice, and fascinating features, delivered straight to your inbox!