The No-Bullsh*t Way to Find Foundation That Matches
It's the Holy Grail of makeup solutions.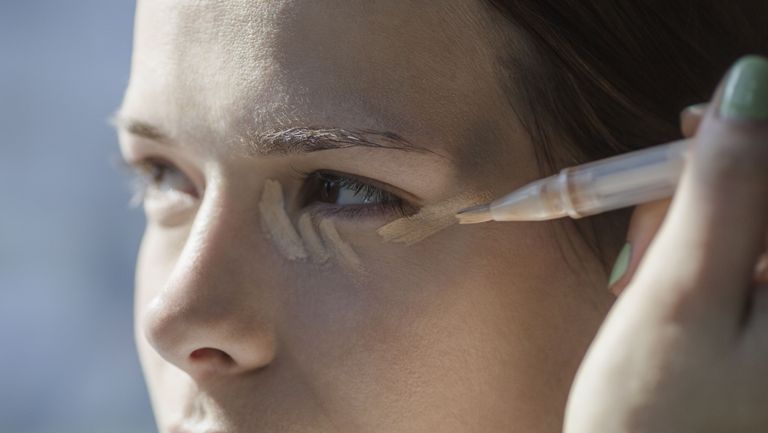 (Image credit: archives)
Finding a foundation is hard. Not only do you have to pick the type of coverage you want (like, what does "semi-matte" even mean?), but you have to pick a color that, you know, just so happens to *perfectly* match your uneven, unpredictable skin. And as an olive-toned, tan woman who has the hardest time finding a shade that works for me even though I'm an editor and have access to 28,392 brands...believe me when I say I GET IT.
Remember growing up and learning about foundation? Remember when people would tell you "just match it to the inside of your wrist" or whatever? Those people suck. And have no idea what they're talking about. Hell, I've gone to makeup counters to get precision-matched only to leave looking like a weird ghost-goblin hybrid (how they ended up making me both pale AND obscenely green is beyond me).
Happy news: Our agony is over. Makeup artist Jen Fleming is here with all the tips we'll ever need to find the right color. You know, so you don't have decision PTSD when roaming the drugstore aisles.
"Besides your jawline, I recommend testing foundation in the *center* of the face, where women often need the most coverage."
"The biggest trick I can give to finding the best color is to give the foundation a few minutes to 'bake.' Shop for your other beauty products, look at new lipsticks, then double check the color of the foundation. Five minutes is a foundation lifetime."
"Natural light is best for color matching. Be sure to check the foundation in various lighting, though, to make sure you are choosing the right color—lighting can manipulate yellow undertones and make them appear more green, while making red undertones in skin appear dark or even brown. You want to see the makeup in all conditions."
A little tip from us: CoverGirl came out with a new innovation called Embrace Your Face Makeup Finder, which is like your own personal match guru (but for free, AKA the best kind of guru). Upload a picture online and it'll help you sort through every type of shade to find the one ideally suited to you—there's some straight-up magic in there about the color of your veins and what that means for your undertones.
You should also check out:
Why I Stopped Wearing Makeup to Work
16 Reasons Your Makeup Looks Outdated