Embracing the Frizz: How I Learned to Love My Crazy Hair
The (lifelong) struggle is real.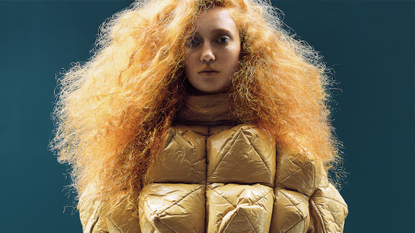 (Image credit: Archive)
It was in elementary school that I first began to loathe my thick, curly mess of a blonde mane. For one, I no longer had the soft Shirley Temple ringlets I once loved (I'm forever mourning the loss of my baby hair). And then there was the matter of where I grew up, because a pin-straight mane wasn't just coveted, it was practically a requirement—professional blow-outs and Japanese straightening treatments weren't totally uncommon for a 10-year-old. But because my mom would sooner let me me get scissor-happy on my own than spend serious money on a child's hair, fluffed-out frizz was my signature.
At the time, all I wanted to do was fit in, so instead of letting my kinky mane run free, I kept it slicked-back in a ponytail practically all of the time. I distinctly remember taking it down once at a sleepover and one of my friends likening it to Hagrid from Harry Potter. The frustration was real. I envied the girls with the naturally-straight hair, who could hop in and out of the shower in minutes, then air dry as opposed to my nightly routine: a minimum of 30 minutes to shampoo and condition, another 30 minutes for detangling and brushing, then smoothing it into a ballerina bun so as to trick it into drying semi-wavy. Ed's Note: You can't trick hair.
Naive little soul I was, I begged my mom for every "miracle" straightening product at the drug store hoping it would fix my curl ailment. And even when they didn't follow through on their promises, I clung to the hope that eventually, a scientist would come up with a magical elixir that would banish my curls for good.
When I got to middle school, the pressure grew exponentially—my peers were practically going for weekly blow-outs and I, well, wasn't. It was then that I took matters into my own hands, and by that I mean cultivating a full-blown flat iron addiction. From middle school into high school, I wouldn't leave the house without straightening my hair piece-by-piece. This, despite the fact that it took over an hour and I was unknowingly doing a terrible job at it (opens in new tab)—I've got the pictures to prove it, trust. It got to the point where my hair's true identity was a social anxiety. I felt afraid to let anyone see it wet because it would prove that my seemingly-straight coif was a total lie.
This song and dance continued through college, and it wasn't until about a year ago that I began to see the light. That being the beauty of big, frizzy hair.
I have a few things to thank: The bedhead trend (opens in new tab) really took off last year, American Hustle re-introduced perms to the pop culture zeitgeist, big frizz popped up on the runways at Marc by Marc Jacobs, Sonia Rykiel, Bottega Veneta, and stars began stepping out with out-there '70s hair (opens in new tab).
It was in the heat of this past summer, when I realized straightening was essentially a lost cause, that I finally found the courage to just let it do it's thing—and it was totally liberating. I didn't have to worry about getting it wet, sweating, or giving it constant touch-ups. But that's not even the best part of going natural—it made me feel like I was getting in touch with a different side of myself, one that felt more "me," one I'd been afraid of before. My hair, albeit frizzy, helped me stand out in a room and I was finally able to appreciate it.
In other words, embrace the crazy and own it. Yes, there are days where straightening my hair makes things easier, but there's something to be said for getting caught in the rain and not caring how poofy I get , or, dare I say it, going on vacation without packing any kind of hot tool. It's good to go back to the not-so-basic.
You should also check out:
The Power of the Silk Pillowcase: Real or Fake? (opens in new tab)
Your Hair Needs Beauty Sleep? (Yes, and Here's How to Do It Right) (opens in new tab)
6 Super Sneaky Ways to Hide Your Roots Between Appointments (opens in new tab)
Lauren is the former beauty editor at Marie Claire. She love to while away the hours at coffee shops, hunt for vintage clothes, and bask in the rough-and-tumble beauty of NYC. She firmly believes that solitude can be a luxury if you've got the right soundtrack—that being the Rolling Stones, of course.