Inside the Cool-Girl Beauty Routines of TK Wonder and Cipriana Quann
Their motto? Keep it simple.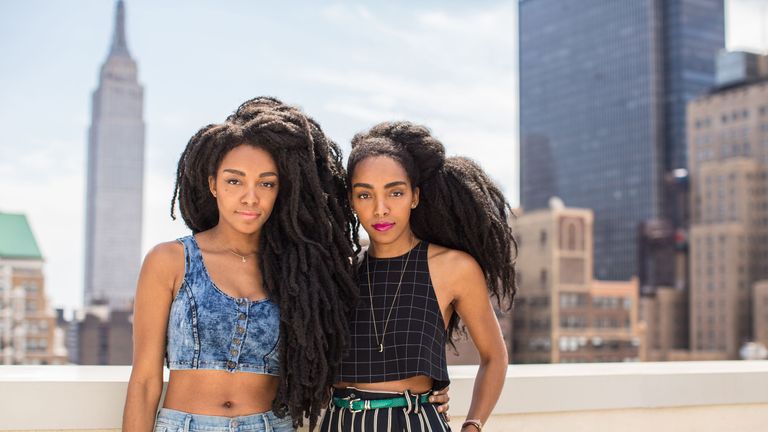 (Image credit: Kathryn Wirsing)
Identical twins TK Wonder and Cipriana Quann, 27, are the kind of women who turn heads when they walk down the street. With their tall frames, amazing style, and gorgeous, natural hair, there's really no question as to why. The question, more often, is about the hair itself.
"How do you hold your head up with all that hair?" "Is that all yours?" "Are those dreadlocks?" they get asked by passersby. (For the record, no—it's their natural texture.) "We don't mind the questions if they're coming from a genuine and curious place," says Cipriana. "A lot of people don't see our hair texture a lot, so we don't mind. We actually enjoy it."
Cipriana, a blogger and founder of UrbanBushBabes.com has been wearing her hair natural for seven years, while TK Wonder, a musician, has been rocking hers for twelve. They've become, perhaps unwittingly, icons of the natural hair movement—and they wear it well.
"We're actually not huge hair-product junkies," Cipriana told us in the duo's Manhattan work apartment overlooking the Empire State Building. "I will try out different makeup, but when it comes to hair I say 'If it ain't broke don't fix it.' If the product works for me I don't tend to switch or change at all. We've been using VO5 Tea Therapy conditioner ($2), and it's super cheap and works really well."
Other favorites? Dr. Bronner's Magic Soaps 18-in-1 Hemp Pure-Castile Soap ($7), Spectrum Organic Virgin Coconut Oil ($11), Infusium 23 Leave-In Treatment Spray ($7), and Aura Cacia Balancing Jojoba oil ($10).
"I think the number-one key is to look at the ingredients: If you're having a hard time pronouncing them then don't put it in your hair," says Cipriana, who is also a fan of Shea Moisture products.
But that doesn't mean they don't like other, non-natural stuff. "I'm not a product militant," TK chimes in. "I'm not going to sit here and say you shouldn't use something because it's not natural. I use products, like this Pantene spray conditioner ($7), that aren't natural because they work really well for my hair. I think everything in moderation. Like a sweet tooth—it's okay once in awhile."
As for their hair routine, Cipriana and TK have a few musts:
Oh and that detangling? It can be a full-day activity. "I would say 7 to 8 hours, because we don't comb, we finger-detangle, which can take longer."
Their penchant for simplicity came from their mother. "She didn't use a bunch of products either," says TK. Cipriana agrees. "She was so patient. A lot of girls say they hated getting their hair done growing up, because they were tender-headed, but our mom was so patient and we'd watch movies, like Fame, or something." The two products they used growing up? "Blue Magic and Cremé of Nature."
"I don't wear a ton of makeup," says TK. "I use translucent powder. And I don't have the fabulous, thick brows that my sister has—my right one's full and my left one is trying to catch up. So I use a waterproof filler by MAC, a little bit of concealer under my eyes, mascara and lipstick. I love a bold lip, but if not, then gloss."
Clockwise from top left:
NARS Dual-Intensity Blush in Jubilee
; $45
Cinema Secrets 5-in-1 PRO foundation palette
; $28
NARS lipgloss, Christopher Kane collection, in Nebulous; $26
MAC Mineralize Skin Finish
; $32
MAC Prep + Prime Translucent Finishing Powder; $26
MAC Sculpting Powder; $17
MAC Fluidline Brow Gelcreme; $16
How do they feel about the term "natural hair," by the way? "I don't think I have terminology," says TK. "For us, natural hair is just a state of being. It's not supposed to be anything that's different. It doesn't mean anything different than a Caucasian woman who has natural hair."
Cipriana agrees. "I also think in the mainstream media, that side of beauty hasn't been seen, so people are like 'Oh, this is trending.' But it's not a trend. You're just now being exposed to it."
You should also check out:
What Happens When the World Doesn't Understand Your Hair
Hair Street Style: The Best Looks on the Streets of New York
Watch This Woman Capture 100 Years of Mexican Beauty in One Minute
I'm Sam, the senior editor at MarieClaire.com. I love shining a light on awesome people doing things that matter, cool products and hacks for everyday life, and advice you'll actually use. I'm pretty much always looking for the perfect GIF for any situation. When I'm not trolling the internet, I can be found dancing like a weirdo or napping like it's my job. Right now, I'm probably eating or drinking something filled with sugar or booze. (Sorry, mom.)