Cushion Compacts: The Futuristic Packaging That Changes *Everything* About How You Apply Makeup
*boop*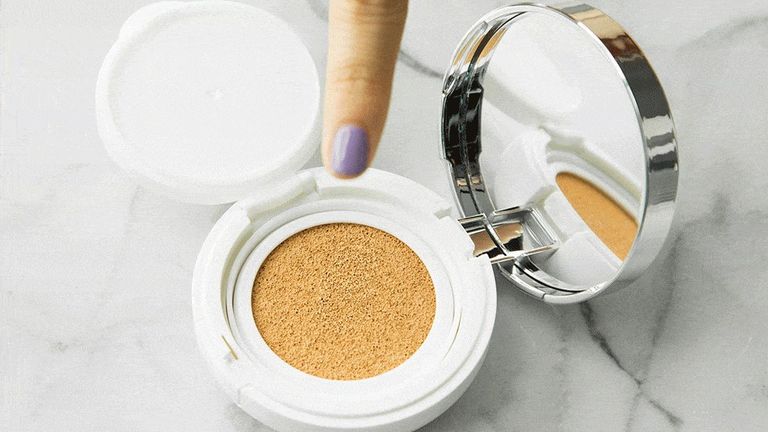 (Image credit: Kathryn Wirsing, design by Mike Stillwell)
"If sad, whisper beep boop to yourself until happy again." —The internet
That meme is the epigraph for this story because 1) cushion compacts really *are* theavocado/almond/potato hybrid (avomondo?) of the beauty-product world, and 2) that's how you use them—with a boop (literal, not vocal).
There's their brilliant, too-fun squishy mechanism: Gently pressing the sponge releases the exact right amount of product, like in the GIF above. There's the fact that they're applicable to almost any kind of makeup—foundation, blush, highlighter, eyeliner...you name it, you can squish it.
And there's the chuck-ability factor: Most foundations packaged this way include antimicrobial puffs and mirrors all in one, so you don't have to bother with separate bottles and brushes and finding a reflective surface. (But do make sure you give the applicator a good cleaning once in a while—work this crazy-effective $1 soap in with your fingers, making sure not to twist too vigorously, then air-dry.)
Then there's the light-handedness cushion compacts inherently enforce: Not a lot comes out, so you're compelled to tap-blend on a thin layer and evaluate instead of dispensing a Lake Michigan-size glob. (The formulas themselves are a bit watery, which also promotes natural coverage that can be built up.)
So is there anything not to like? Well...because the technology's newish—or rather, enjoying a recent revival—there aren't a lot of color options yet for girls not in the medium-light/medium range with yellow or neutral undertones. Another major criticism we've heard is the cost versus quantity, which is valid except:
see the aforementioned point about less in, less out
they usually come with refills
when the cushion appears to be running low, simply use your gloved or washed fingers to flip it over, and you'll be able to get to all the product that was hiding at the bottom of the compact
*wipes hands* My work here is done. Shop some of our favorites below.