The Foundation Longevity Test: 7 Editors, 9 Hours, and 0 Touch-Ups
We did it for you.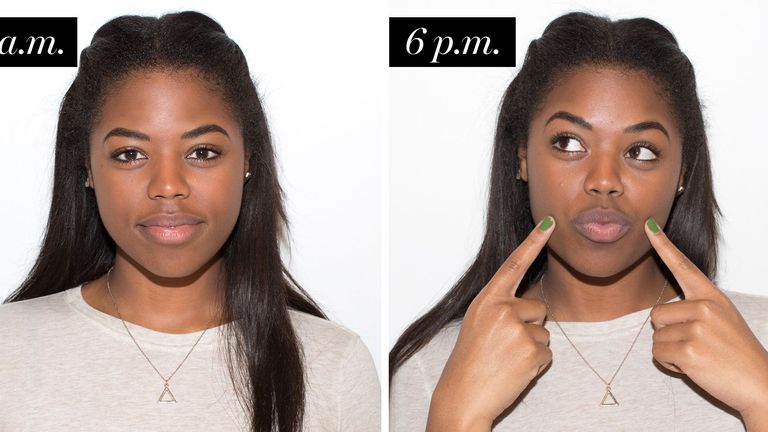 (Image credit: Kathryn Wirsing)
By Chelsea Peng
In the name of truth and discovery (and *finally* figuring out which foundation will last all day), seven brave Marie Claire editors volunteered for/were coerced into going where no woman has willingly gone before: through a brutal nine hours of work with just her morning coat of base, a mighty helping of self-restraint, and the small comfort that her sacrifice would ease others' decision-making in the makeup aisle between cream/powder/liquid and $/$$/$$$.
Below, see the results of our informal trial—promise to use this knowledge for good, okay?

[Editor href='https://www.marieclaire.com/beauty/tips/a13035/concealer-trick-stipple-vs-smear/' target='_blank">this super-special way all over the face']
"First things first: I have never—I repeat: NEVER—gone a full day without touching up my makeup, but I resisted the temptation today all for the sake of science. Or...not-so-scientific testing. Whatever. The point is, I had a teeth-cleaning at lunch, spent all day absent-mindedly rubbing my face from stress, and accidentally spilled water down my chin in a meeting (yeah I'm really cool), and I think the makeup held up pretty well! You can see some redness on my chin, and I can neurotically tell that some acne scars are showing through on my cheek, and I'm a bit shinier than I like to be. But I'm impressed that my under-eye circles don't look as dark as I'd imagined, and that overall things look pretty even. Win!"
"I think my makeup kind of looks exactly the same. It doesn't make my skin feel oily at all, just super clean. I still definitely have the amount of coverage I wanted."
"Besides feeling (and looking) 62 percent more Over It by the time photo #2 rolled around, I did notice a bit more forehead grease and some weird separation around the nose. But this foundation did still perform well, i.e. it remained a thin, fancy-smelling veil of color, and it was fun to squish."
"I usually don't wear foundation, but when I want a quick smattering of coverage, I go for pressed powder. Wearing this all day felt natural thanks to a feather-light formula, but it did wear off enough that I would (under normal circumstances) want to reapply a time or two."
"This stuff is amazing! I applied only enough to get a medium amount of coverage, and it held up pretty much the entire day. I guess I did notice some shine underneath my eyes. The overall color was a little duller too, but other than that, it was perfect. I definitely had no urge to touch up."
"I really don't notice much difference. I don't feel like I'm shiny or anything. It's still matte, which is what I typically get nervous about throughout the day. I normally have to blot with an oil-removing pad or rice paper, but I feel like this stayed matte, which I'm excited about."
"I noticed my skin got a little more oily throughout the day. The coverage is still pretty much the same, which is amazing—it covers every blemish. But I do see I have excess oil to the point where I feel like I look a little shiny. On the other hand, I've never found a cream that covers as well as this."