How Changing Your Eye Shadow Can Completely Change Your Face
Oh, hi, new person in the mirror.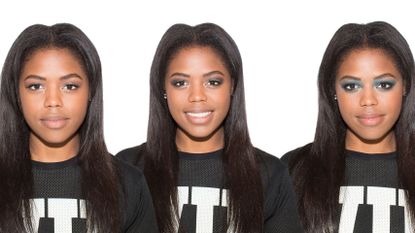 (Image credit: Kathryn Wirsing)
If you frantically buy every new Naked palette and subsequently realize you have no idea how to actually use eye shadow, you're not alone. Eye shadow is so pretty to look at, but not necessarily the easiest thing to apply. Sure, you know that painting your lids like one-color garage doors is a makeup no-no, but what colors do you use and what is all that business about creases and corners?
Breathe. We've got answers and it's not as overwhelming as a 12-color palette may seem. Eye shadow is basically contouring your eye (because what *haven't* we contoured yet) to create depth and illusion. In a nutshell, dark colors contour and shape while lighter colors work as highlighters and open up the eye. Strategically highlighting and contouring parts of your eye can either build drama for going out or make it seem as if you really did get 8 hours of sleep last night. (Hah...) Here, we break down some of the easiest eye shadow looks and shed some light on what goes where.
Highlighted Eye
This look is exactly what it sounds like—all highlights. Use a light, shimmery color and place it directly on the center of your lid, the inner corner, and under the arch. The highlights open up your entire eye, giving you a bright, polished daytime look. For fair skin, use a pink or champagne color. For medium skin, use ivory or yellow gold. For darker skin, use a bronze-y shimmer. Complete the look with one coat of mascara.
Modern Smokey Eye
This look has a Girl Next Door vibe with a touch of sexiness. Laramie, makeup artist and founder of Book Your Look, advises to keep your inner corners clean and focus on the lid to master this eye. Use a light color to highlight your inner corners and underneath the brow bone. Then, use a dull, dark liner and smudge across your entire lid—and we mean *a lot* of smudging. (Be careful not to pull the color beyond your crease to keep everything light.) A dark, smokey eye can narrow your eyes, so line your waterline with a nude pencil to make them look bigger. Use a clean eye brush and go over the lid to create the perfect finish and apply several coats of mascara— emphasizing the outer lashes.
Cut Crease
This one is for all the Kim K fans out there. The socialite-inspired look gives the illusion of large eyes by highlighting the entire lid and giving depth to your crease. Apply a nude color all over the lid, into the inner corners and down halfway into the bottom lash line. Use a dark eye pencil to draw your desired crease shape. Then use a flat brush to blend a dark shadow along your line and up towards your eyebrow.
Editorial Eye
The editorial eye is a fun take on a modern smokey eye—you gotta go big with this one. Choose two shades of one color and begin by using the lighter color to highlight. Apply it to the inner top corner and partially on the lid. Use the darker color at the lash line and blend it out past your crease and towards the brow. Sweep along your lower lash line for increased drama. Blend the two shades together creating a gradient that is light at the base and darker towards the top of the eye. Laramie also recommends keeping your waterline clear or lining with a nude pencil.
Simedar Jackson is an esthetician, content creator, and lover of sci-fi fiction living in Brooklyn, New York. She is passionate about creating space for Black and Brown people in the beauty and wellness industries by providing access to culturally nuanced education and services that meet their needs. You can find them doing their skincare routine, reminding friends to reapply SPF, and watching reruns of Love Island.