How to Find the *Perfect* Pink Lipstick for Your Skin Tone
Because taking a color leap can go very, very wrong.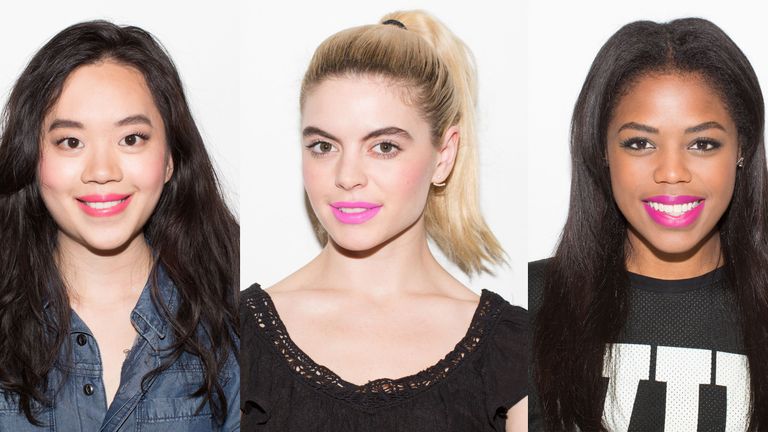 (Image credit: Kathryn Wirsing)
The first time I ever tried pink lipstick, I sat behind a screen, Skyping with my then-boyfriend, hands clasped over my mouth. He urged me to stop hiding, insisting I was being dramatic when I said it looked terrible. When I reluctantly revealed my lips, his deeply furrowed brow said it all.
Needless to say, that was that for pink lipstick.
Don't get me wrong, when it comes to lip color, I'm very chummy with all shades of red, berry, and purple (so adventurous, I know). But pink? Not so much. Yet every time one of my friends stepped out with a bright pink smile, it was hard to hide my envy.
So I set out on a quest to prove I can do pink too. And now that I work for Marie Claire, I was able to enlist an expert (Laramie, amazing makeup artist and founder of Book Your Look) and help a lot of other people in the process (come on, you *know* you fear the pink lip too.)
Laramie's go-to tip? Match your lipstick to the undertones in your skin. Here's how.
Fair Skin = Blue-Pink

Because fair skin often has blue undertones, choosing a bluish-pink color really pops without washing you out. Look for bubblegum or candy pinks.
Try Butter London LIPPY Moisture Matte Lipstick in Primrose Hill Picnic, $22; Ulta.com
Olive and Medium Skin = Coral Pink
For olive and medium skin, reach for pink lipsticks with orange or coral hues to complement your warm undertones.
Try Maybelline New York Color Sensational in Coral Burst, $8; Ulta.com
Dark Skin = Purple Pink
Deep blue-pinks work well with darker skin. Opt for colors that feature red or purple tones like a fuchsia or strawberry color.
Try Makeup Forever Rouge Artist Intense in Satin Fuschia, $20; Sephora.com
Next time you're fretting about which pink to buy, refer to this handy-dandy makeup guide and you will never go wrong.