How to Get Prettier on Your Flight
WARNING: May encourage stares from other passengers.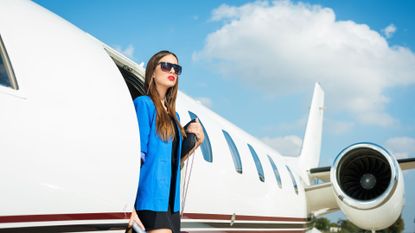 (Image credit: Getty Images)
Marie Claire Newsletter
Celebrity news, beauty, fashion advice, and fascinating features, delivered straight to your inbox!
Thank you for signing up to Marie Claire. You will receive a verification email shortly.
There was a problem. Please refresh the page and try again.
There has never been a time when I've gotten off an airplane feeling refreshed. After spending hours attempting to find a comfortable way to sleep and trying failing to ignore the ache in my knees from lack of legroom, I always disembark looking disheveled. The after-flight freshen up is a must but what happens when you've got to be on point as soon as you touch down? It may seem impossible but there is a way to actually get prettier during your flight.
The key to in-flight beautification is moisturizing. Passenger cabins have extremely low humidity, meaning the air is sucking moisture directly from your skin! Keeping your skin (and body) hydrated will have you walking out the airport like you're primed for a paparazzi shot.
1. Evian Facial Spray
Drinking Evian water is cool, but spraying it on your body is another experience. I loved using this mist before and after my flight to give my skin an extra boost of hydration. The sprays are travel-sized and perfect for your carry-on. Skip the heavy face makeup before your flight to make sure you can keep up with hydration. Once you've landed, head to the bathroom to powder up and go!
While this hydrating spray is great, make sure you don't use it mid-flight. Because the passenger cabin has low humidity, the air looks to compensate by taking moisture from wherever it can. When you mist your face during your flight, the air pulls the mist away and the mist attracts water in the deep layers of your skin leaving you even dryer!
Evian Natural Mineral Water Facial Spray Duo, $15; Ulta.com
2. Glam Rock Abracadabra Mask
Sheet masks are better left for home, but eye masks? Totally flight-worthy. The hydrogel mask fits snugly around your eyes and intensely moisturizes. It's infused with adenosine to tighten the skin and improve fine lines. Also, it's super cute! I really felt this mask working as soon as I applied it. And it's comfortable—I even fell asleep with it on! You will definitely get some looks from the people sitting next you (I was graciously crammed between two, very confused men), but who cares? You'll probably be asleep anyway. Note that there is a ton of product on this mask, so be careful not to spill when removing from the package.
Too Cool for School Glam Rock Mask, $8; sokoglam.com
3. Lucas' Paw Paw Ointment
If you ever needed proof that there is magic in the world, look no further. The ointment is made from pure Australian paw paws (yes, the fruit) and has antibacterial and antimicrobial properties. It is often used to treat minor wounds and to relieve symptoms of eczema. It makes your lips feel amazingly soft and is on my must-have list for every day as well as your flight.
Lucas' Paw Paw Ointment, $12; Beautylish.com
4. Tony Moly Lip Patch
Give your lips to the Lady Gaga treatment with this fun lip mask. This mask is great for hydration and is another one where you can really feel it working. The lip patch doesn't seal so you will have to lean your head back or hold it to you lips to make sure it stays in place, but it is so worth it. After about 15 minutes with this patch my lips felt more moisturized than ever.
Tony Moly Kiss Kiss Lovely Lip Patch, $4; sokoglam.com
Celebrity news, beauty, fashion advice, and fascinating features, delivered straight to your inbox!
Simedar Jackson is an esthetician, content creator, and lover of sci-fi fiction living in Brooklyn, New York. She is passionate about creating space for Black and Brown people in the beauty and wellness industries by providing access to culturally nuanced education and services that meet their needs. You can find them doing their skincare routine, reminding friends to reapply SPF, and watching reruns of Love Island.