The Oral History of Green Concealer
Because really, who was the first person to go, "I should put some green stuff on my face!"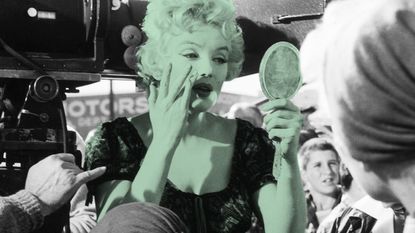 (Image credit: Getty Images)
Earlier last year, beauty vlogger and makeup artist Heidi Hamoud went viral for using green concealer to color correct the redness in her skin. It was something to gawk at as far as the internet was concerned, but it wasn't exactly news to us. Even earlier, we got Kim Kardashian beauty lessons from makeup artist Joe Blasco—he taught Kim to contour when she was 15-years-old—who introduced us to the magic powers of green concealer.
Upon further contemplation of this surprising, color theory-based technique, we couldn't help but wonder: how long has this been a thing? Well, because Blasco has clocked in over 40 years in the business (he counted Lauren Bacall and Marlene Dietrich among clients), we knew he'd be just the man to give us the oral history on the green stuff—so we rang him up. Here's what we learned.
The Old Hollywood History
Blasco began his career in the early '60s as a makeup artist representative for Max Factor, where he learned tricks of the trade that had been passed down from Jack Dawn, the head of makeup for MGM (Dawn was behind the makeup for the Wizard of Oz (1939) and Gone With the Wind (1939)). It was Dawn who helped pioneer yellow-green formulas to conceal and neutralize redness in the most famous stars of the '40s and '50s. They were created based off of techniques that had been employed by oil painters mixing paints, as well as mortuary scientists in the late 1800's and 1900's.
"Makeup artists are great copiers and they can use it to their benefit," explains Blasco.
The demand for additional color correction came as a result of the newly-minted Technicolor technology, which upped the ante for all-over makeup coverage. In other words, you could get away with a lot more when things were filmed in black and white. One of the most popular Max Factor pan-cake shades, used for stage makeup and color motion pictures, was formulated to simulate a yellowish Asian complexion, says Blasco.
Max Factor also introduced a similar product with their Erace Concealer product, which came in multiple colors including a yellowish-green. Another popular shade was Shiseido's tealish Green Veil, which Blasco used on many of his clients, including David Bowie. In fact, it's Bowie that inspired Blasco to finally make his own green concealer.
What's David Bowie Got to Do With It?
One day during the '70s, Blasco was doing Bowie's makeup for a television performance when something caught the rocker's eye.
"He sat there, looked at all the makeup in front of him and asked 'What's that?' pointing to the Shiseido Green Veil," explains Blasco. "I asked him, 'Do you want to look green?' And he said 'Yeah, I want to look green.' So I took the green veil, made him up, and turned him green. He went on stage and did his thing."
"He sung 'My TVC15' and I thought 'I'm going to make that green and I'm going to call it TCV-15 in honor of David Bowie.'"
And so he did. Blasco's TVC 15 Neutralizer (he wanted to give it a more sophisticated, scientific name) became one of his base-tone related concealers, specifically tailored for redness. It was designed to be applied directly to the skin (it already has base in it) or mixed with foundation, and since then it has become a mainstay in the kits of some of the entertainment industry's biggest artists.
But Really, How Green Are We Talking?
When it comes to choosing a shade, Blasco says you have to look at the shade or color value of the pigment, as well as the lightness and darkness of the skin.
"If you have light skin, you're going to want to create or select a green that's very light, very pale," he explains. "If the skin is darker, you're going to make or select a color that's darker, that has more green than it has yellow."
And to avoid looking Jim Carrey in The Mask, you must remember that a little goes a long way.
"It's intended for very natural appearing makeup," he explains. "You're not hiding it by covering it up, but by neutralizing it with a thin layer—AKA simply blocking the redness from reflecting out—so it doesn't look like a heavy layer of makeup."
Celebrity news, beauty, fashion advice, and fascinating features, delivered straight to your inbox!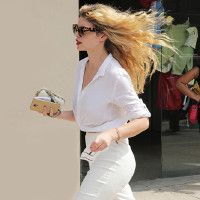 Lauren is the former beauty editor at Marie Claire. She love to while away the hours at coffee shops, hunt for vintage clothes, and bask in the rough-and-tumble beauty of NYC. She firmly believes that solitude can be a luxury if you've got the right soundtrack—that being the Rolling Stones, of course.