Why Brown Girls Have Such a Hard Time Finding Brown Lipstick
And what one makeup maven is doing about it.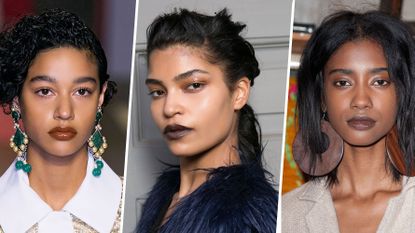 (Image credit: Getty)
Celebs and models are gracing red carpets and runways in the ubiquitous chocolate shades ringing in the season's best beauty trends. But if you, like all of us, subsequently mobbed the store searching for a brown of your own, you most likely were sorely disappointed.
As a woman of color, deeper lip shades are staples in my lipstick/gloss/stain collection. Finding them, however, is a much harder feat. Going to any makeup counter in search of a deep nude or true brown is the equivalent of pulling impacted wisdom teeth sans Novocaine. Either the shade meter ends at more-pink-than-cocoa or the salesperson looks at me like I've just asked for free YSL.
Brown lipsticks are a surefire way to avoid the tragic case of the wrong pink and the *right* shade complements a range of skin tones, immediately makes the eyes look bigger, and gives the face a lift (are you online shopping yet?). So, why are true browns so few and far between? Bobbi Brown, iconic makeup artist and the queen of earth tones herself, revealed that many brands shy away from the shade in attempts to side-step the trend pitfalls of yesteryear.
Brown lipstick was essentially the cornerstone of '90s beauty trends. And while stunning on the likes of Whitney Houston and Uma Thurman in Pulp Fiction, the general public got dealt a hand of muddy grey undertones and drying finishes that left the lips looking sunbaked. "Brown lip color is often looked at as dated or boring," says Bobbi. "But brown comes in all different shades and textures, and when paired with the right look, is a fresh and modern mistake-proof complement."
As we find ourselves in a continued obsession with matte finishes, it may seem searchers of brown lips are doomed to an eternity of rare finds, but luckily there is hope. "Long-wearing formulas used to be known to dry out your lips, leaving them looking cracked and caked. Now, with the help of ingredients like Muru Muru and Shea Butters, long-wear lip colors are creamy, lightweight and extremely wearable, so while the shade may be classic, the formula is totally modern," says Bobbi.
Not to mention, Bobbi Brown will be releasing her "Wine & Chocolate Collection" this fall featuring, you guessed it, rich brown shades (hopefully in which you can sip vino without worry).
The next time you're looking for a brown color to play up the natural tones in your lips, follow Bobbi's advice and look for shades with warmer undertones of red and blue. If you're not ready to take the dive, select a sheer gloss for a softer, everyday look.
Follow Marie Claire on Facebook for the latest celeb news, beauty tips, fascinating reads, livestream video, and more.
Marie Claire email subscribers get intel on fashion and beauty trends, hot-off-the-press celebrity news, and more. Sign up here.
Simedar Jackson is an esthetician, content creator, and lover of sci-fi fiction living in Brooklyn, New York. She is passionate about creating space for Black and Brown people in the beauty and wellness industries by providing access to culturally nuanced education and services that meet their needs. You can find them doing their skincare routine, reminding friends to reapply SPF, and watching reruns of Love Island.