CoverGirl Nura Afia on Makeup in the Middle East
"I didn't see many women in hijabs wearing makeup. And I just thought, 'I need to fill that void.'"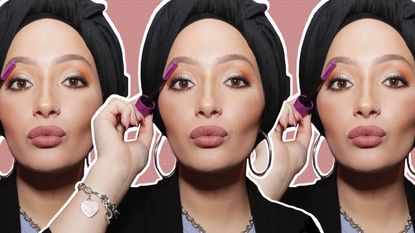 (Image credit: Design by Betsy Farrell)
At the end of 2016, 24-year-old Nura Afia became the first CoverGirl brand ambassador to wear a hijab, starring in a groundbreaking for the brand's Lashy! BlastPRO mascara alongside Katy Perry, Sofia Vergara, and James Charles (one of the Beauty Boys of Instagram) among others.
With a new, politically-charged year afoot, we spoke to Afia about her powerful role as a Muslim ambassador and changing the perception of makeup in the Middle East—as well as her 4-year-old daughter's burgeoning vlogger career and how to bake like a pro.
Marie Claire: How did you get started in beauty?
Nura Afia: Right after I got married, I started experimenting with makeup because I wasn't allowed to wear it growing up. When my daughter was born, I started making videos. I would watch YouTube tutorials while breastfeeding. What I loved about YouTube is that you could find everyday people to relate to, you know? I didn't see many women in hijabs wearing makeup. And I just thought, I need to fill that void. I started working at Sephora around the same time I started filming videos. I really went all in. Working there gave me a lot of practice on different eye shapes, skin tones, and product formulas. It's what allowed me to perfect the craft.
MC: Many traditionalists in the Middle East don't think it's appropriate to wear makeup, how do you deal with that?
NA: Growing up my parents were very conservative, so I experienced it firsthand in a sense. Makeup in the Middle East just has a very negative stereotype—especially red lipstick. They think that's what prostitutes wear back home. So every time I wear it it's like, oh god. But you know what, makeup washes off at the end of the day. It's just a matter of educating them. It's a normal thing here for most American women. I think a lot of people want to take cultural practices and make it about religion, but it's not religious.
MC: Right. And it's also not for men, either.
NA: Exactly. Men like the natural look, but we don't really care at the end of the day.
MC: What do you think your role as a CoverGirl spokesmodel does for underrepresented groups of women?
NA: It's an amazing thing because it's showing different groups of girls that they can dream to be a CoverGirl, as cliché as it sounds. I mean, look at me. Some people call it a modeling contract, but I'm really short and don't have the straightest teeth. An average girl can shoot for the stars and still be herself. You don't have to change to reach great heights anymore.
MC: There's more diversity in beauty than ever before, but in contrast there seems to be a divide in our country right now. How are you feeling about the current politics in the U.S.?
NA: Right, and people are saying it's going backwards, you know? But then I'm reminded of history and how several years ago women weren't represented at all, like with voting rights. So I do think we're moving in the right direction. And I do think it's a breath of fresh air to see a CoverGirl campaign like this.
MC: When you're creating a makeup look, how does it play into the rest of the look?
NA: I've got a huge scarf collection, so I really enjoy matching my scarves to my eye look. I like to be matchy-matchy with the colors. So like a burnt orange scarf with a matching eye, or a pink scarf with a matching lip.
MC: What's your favorite makeup technique or trend these days?
NA: I started baking and I love the effect that it gives your undereyes. I have fine lines and I was always very insecure about them. Everyone has them, but I just felt like with makeup it's accentuated. So I've been using the CoverGirl Translucent Powder underneath and it just looks so smooth and fills in my lines. I'll apply foundation, put the powder on, then I'll go and do my eye shadow while it bakes for 20 minutes.
MC: We love a good multi-task. And speaking of, you manage to do it all as a mother. Is your daughter your beauty mini-me?
NA: Oh, totally. She's four and she says things like "contour" and watches makeup tutorials on YouTube, like how to do the MAC x Troll makeup. She'll play around in the mirror at home and is like, can I use your brushes? [Laughs]
Follow Marie Claire on Facebook for the latest celeb news, beauty tips, fascinating reads, livestream video, and more.
Celebrity news, beauty, fashion advice, and fascinating features, delivered straight to your inbox!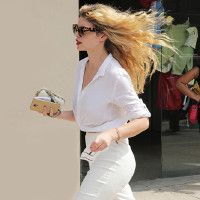 Lauren is the former beauty editor at Marie Claire. She love to while away the hours at coffee shops, hunt for vintage clothes, and bask in the rough-and-tumble beauty of NYC. She firmly believes that solitude can be a luxury if you've got the right soundtrack—that being the Rolling Stones, of course.