Take It to Work: 3 Ways to Pull Off Bright Eyeliner at the Office
Going bold can have a big payoff.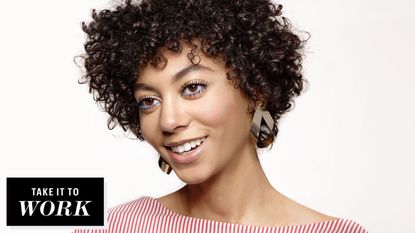 (Image credit: Jonas Bresnan)
Introducing new series Take It to Work, in which we show you how to translate the latest trends into your weekday wardrobe—and still keep your job.
Forget orange: "Blue is the new black," says makeup artist Rommy Najor. After all, like failsafe black, blue eye makeup goes with everything: "It complements every eye color and especially makes brown or green eyes more vivid," Najor explains. It also happens to be an easy style upgrade that you can incorporate in understated, small doses—or take it over the top. Whether you want to soft-pedal it with amped-up, sapphire slashes or go full-throttle with a modern, rounded wing in edgy cobalt, here's how to hit the perfect blue note like a #girlboss.
Consider this a winged liner upgrade: Three flicks look fiercer than a typical feline curve, and they're way easier to create. If you're a blue first-timer, try a pencil in sapphire, like the Rimmel London Exaggerate Smoke N' Shine Eyeliner in Blue Steel (opens in new tab) used here; it's more vibrant than navy but still a baby step away from black. Rub the tip of the liner on the back of your hand, and dip an angled eyeliner brush into it, rolling the head of the brush back and forth till the edge is coated with product and its bristles are compact and tight. To score a straight line, don't draw or move the bristles around; simply stamp the brush onto the skin, nuzzling it at the outer corner of your eye. "Get the most flattering direction by following the natural bottom of your eye as if it were to continue to keep going toward your temple," Najor says. Repeating the dip-and-stamp method, add two more lines above it.
Once your wings are in place, give them extra lift with voluminous lashes. "The fan shape opens up the eyes," says Najor, who used Rimmel London Scandaleyes Mascara (opens in new tab). "It works well on anyone's eyelashes, even wimpy ones." Starting in the center of your upper lashes, brush on the mascara. Move to the outer corner and stroke the inky color on, pulling the lashes in an outward direction. Lastly, apply mascara to the lashes on the inner corner of your eye, directing the brush toward the bridge of your nose. Leave the lower lashes bare, so they don't drag down the upward focus of the look.
Bright and bold, turquoise-lined lower rims broadcast a bright personality and unwavering confidence—and guarantee your co-workers will look you in the eyes. To get this full-coverage, vibrant color on your waterline, use eyeliner that's not waterproof. "A waterproof pencil won't stick very well on something that's wet, so it won't give you full-impact opacity," says Najor. Here, our model sports M.A.C Chromagraphic Pencil in Hi-Def Cyan (opens in new tab). "It's super creamy, saturated, and really easy to wear," says Najor, who ran the pencil back-and-forth on the eyes' inner rims.
Then step up the drama by surrounding your eyes with legendary lashes using Rimmel London Scandaleyes Retro Glam Mascara (opens in new tab). Your first stroke of mascara deposits the most product—and volume. Use that initial boost on the upper lashes at the outer corner of your eye, amping up its natural almond shape. Then work your way to your middle and inner fringe. Before you coat your lower lashes, dab the mascara wand on a tissue to take off any extra product, and then use a light touch to stroke the wand downward. Or try holding the wand vertically, dancing it back-and-forth from the inner corner to the outer corner in a window-washer motion, Najor advises.
Work in a field where big, new ideas are everything? Switch up the shape of your wing, to literally show that you're daring. "When you do a wing, you're usually playing with a triangular shape. This is just another shape to work with—it's rounded, a departure from the traditional," Najor says. Take the edginess up another notch with a liquid, cobalt liner, like Rimmel London Colour Precise Eyeliner in Blue (opens in new tab). If free-handing isn't your thing, first draw a double triangle with a pencil eyeliner: Create a dash mark from the corner of your eye (where your top and bottom lids meet) going toward your temple, add a line on the top lid that connects to the dash, and finish by drawing a line from your lower lid to the outer tip of the dash. Use your pencil to round out the shape, and then trace over it and fill it in with the liquid liner.
The best complement to a curved wing? Curled lashes of course! Try a curling mascara like Rimmel London Scandaleyes Curve Alert Mascara (opens in new tab). "This formula isn't super thick, so it doesn't weigh down the bend in the lash," explains Najor. Start by lending a "C" shape to lashes by pumping an eyelash curler from their roots to their tips, applying the most pressure at the center of the lash. Then, generously layer on the curving mascara to keep lashes lifted. Skip coating your lower lashes, where amplified fringe could overshadow the wing's delicately rounded lower edge.
Model wears Sonia Rykiel (opens in new tab) textured cotton jacket; Zara (opens in new tab) red and white striped blouse; Self Portrait (opens in new tab) lace shoulder shirt. Photographer: Jonas Bresnan; Makeup Artist: Rommy Najor; Hair Stylist: Kayla Micheli; Stylist: Vanessa Barrantes
Follow Marie Claire on Facebook (opens in new tab) for the latest celeb news, beauty tips, fascinating reads, livestream video, and more.