Beauty and Her Purpose: Miss Ghana
Lamisi Mbillah - Miss Ghana 2006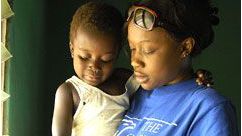 (Image credit: Miss Ghana)
Lamisi Mbillah - Miss Ghana 2006 - sat on a red wicker sofa with an air of patience and fortitude. At first glance, it was hard to imagine her holding crying children while doctors extracted Guinea Worms from their distended bellies; but as soon as she smiled, a wave of compassion and subtle strength spread across her face. I could tell within minutes that there was more to this beauty queen's pretty face and demure demeanor.
Only a few years ago, Lamisi spent her days dressed in jeans, a big t-shirt and sneakers as she sauntered to class at the University of Ghana. She cared little about her appearance or anything overtly feminine. "I had short hair," she said. "I was — what do you call it — a tomboy?" She chuckled. Lamisi was more concerned with her zoology courses and her work with turtle conservation.
For a month she traveled three hours to Nzulezu, a village built on stilts above the water. At night she would watch the clumsy turtles move slowly up the beach to lay their eggs, taking care to measure their shells and tag them. In addition to collecting data, she also helped conservationists protect freshly laid turtle eggs from predators by fencing the nests. When she was through, she would take an hour long canoe trip back to the village.
During her final year of college, while Lamisi was visiting a friend who had contracted malaria, she noticed an advertisement above a mirror in the dormitory hallway. A competition was being held that day for young women who wanted to be presenters for philanthropic causes. After interviewing for the position — though she was not convinced that she made an impression on the judges — she sat in her room reading "The Winner," by John Grisham.
Then, phone rang. One of the judges told her that she would make a great presenter, but she thought it would be better for her to run for Miss Ghana. "I just burst out laughing. It was very rude of me, but I thought it was a practical joke," said Lamisi.
After weeks of daily calls from the judge, some research on the competition, and an inner feminist debate, Lamisi finally gave in and auditioned for Miss Ghana. She never thought she could be in a beauty pageant, but she decided, "I could either keep getting calls or just try it out."
When the competition began 50 years ago in 1957, the Miss Ghana pageant honored young women of grace, beauty, and talent. The winner received a cash prize, car, clothing, and a chance to compete in the Miss World pageant. In the last decade the pageant has placed more emphasis on the social work campaigns, or platforms, the contestants choose. During Miss Ghana's yearlong reign, she must devote herself to her chosen campaign. When contestants compete in the Miss World pageant, they are judged on an international level.
Last year, Miss Ghana auditions were held on Good Friday at the Labadi Beach Hotel, so she arrived in a traditional dress that many women wear to church. "I wasn't even wearing any makeup," she said. To her surprise all of the other girls dressed in modern fashions influenced by Europe and America. "I almost walked out as soon as I got there," said Lamisi. Everyone was in miniskirts, belly-baring tops, or blouses that showed off cleavage. But they were all questioned about their attire. "If she wore a miniskirt, they asked if she thought she had nice legs," said Lamisi. When the judges asked Lamisi why she was dressed in traditional attire, she replied, "I thought Miss Ghana should represent her country." And soon enough, she did. Lamisi Mbillah was crowned Miss Ghana 2006. Editor of the arts and entertainment newspaper Graphic Showbiz and veteran director of the Miss Ghana pageant, Mr. Nanabanyin Dadson recalled Lamisi's achievements as Miss Ghana: "Last year's Miss Ghana won a special award at Miss World. She won "Beauty with a Purpose." During her year of reign, she educated people about a disease called guinea worm."
Dadson looked serious as he leaned back in his chair. "Guinea worm is terrible," he said. "So she went 'round educating people on how to avoid catching the disease." He then smiled and said, "Her campaign was very, very successful. She helped a lot of people."
Lamisi was born in Bawku, in the Upper East Region of Ghana. She remembers the first time she became aware of guinea worm, when her mother told her she must only drink water at home and she was not allowed to play near the dam. "I thought my mother was like God — her eyes were everywhere, watching me. So I made sure to listen," she said.
Eighty percent of guinea worm cases are in Northern Ghana. Lamisi feels particularly tied to the region because it is where she was born. She also believes poverty in Ghana will persist without access to clean water. Even after winning Miss World's Beauty with a Purpose award, Lamisi plans to continue her role as an ambassador of the Guinea Worm Eradication Program. The organization works with groups like UNICEF, WHO, and the Jimmy Carter Center.
"I will keep working until the 80 percent is gone," she said. Lamisi's social work is not without perks.
In February, she met President Jimmy Carter and his wife, Rosalyn. "I met them in Tamale when I was with my children." She smiled and added, "You don't have to give birth to be a mother." When she met President Carter she was awestruck. However, she was also honored by the kindness and generosity bestowed upon her by villagers despite the dire circumstances they face. "These people walk four to five kilometers for a bucket of dirty water," she implored, "and they still have hope."
Lamisi spoke of a 9-year-old girl in Savalega, a village in the most guinea worm-endemic district. Every morning when Lamisi went to the clinic, she could hear children crying while doctors changed their bandages. "I had to hold them," she said sadly. "I was breaking down and they were breaking down. I just wanted to take the pain away." After the childrens' bandages were changed, Lamisi found a little girl named Sadia, crying in a corner. Lamisi comforted Sadia by talking with her. "I want to be Miss Ghana one day," said Sadia. "I want to be just like you."
Lamisi explained the rush of emotion she felt, as questions flooded her mind. Does she know how my feet hurt from these high heels? How could she compete with the others? She has missed school and the poor quality of education in the village! How can she realize her dream? Lamisi thought. "You can do even better," she told Sadia. After encouraging Sadia, Lamisi still could not get past her own doubts. "Our futures are all uncertain, but we can plan. For Sadia, it's literally one day at a time," she said as her brow furrowed slightly. But Sadia suddenly surprised Lamisi with an act of determination and gumption, which continues to inspire her today.
Even with the bandages wrapped around her thin legs, Sadia stood up and began to walk like a model. Her tiny hips swaggering and her head high, Sadia said proudly, "I know I can be Miss Ghana. I'm going to fight guinea worm." And she smiled.
Lamisi said that she often thinks about sadia. She explained, "If you have the crown, it empowers you to do extraordinary things. You must benefit society and help disadvantaged people. Otherwise what's the point? Beauty alone doesn't count."
Celebrity news, beauty, fashion advice, and fascinating features, delivered straight to your inbox!