25 Old Hollywood Beauty Secrets That Are Too Good Not to Use
Classic for a reason.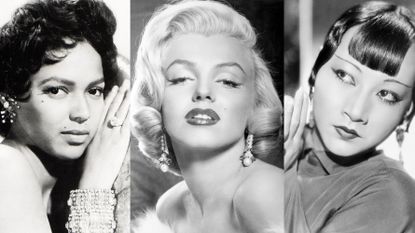 (Image credit: Getty Images)
If you think today's stars go to great lengths in the name of beauty, I have news for you: It's nothing compared to what the screen sirens of yore did for vanity's sake. From DIY techniques that you can easily add to your routine to some more drastic approaches that we wouldn't necessarily recommend today, we've uncovered the super-sneaky beauty secrets from Hollywood's Golden Age and given them a modern adjustment. Ahead, the best old Hollywood beauty secrets to try for yourself.
1/50
Marilyn Monroe's Lip Plumping Technique
To make her lips appear fuller, Monroe would have her makeup artist apply five different shades of lipstick and gloss in order to create dimension. Darker reds went on the outer corners while lighter hues were brushed on the middle of the lips.
2/50
Fenty Beauty by Rihanna Lipstick Trio
It's easy to mimic Monroe's full lips with this Fenty lipstick trio. Top it off with lip gloss to complete the bombshell look.
3/50
Elizabeth Taylor's Exfoliation Method
Elizabeth Taylor took a page out of Cleopatra's book, as both women made a habit of shaving their face. These days, there are ways to do so (that don't require a razor!) to remove the fine baby hairs and the surface layer of skin cells, which gives the skin a facial-like glow.
4/50
StackedSkincare Dermaplaning Facial Tool
Today, the beauty tip that kept Elizabeth Taylor's skin looking young is known as dermaplaning—and it's one of the hottest beauty trends as of late. The micro-razor removes dead skin cells, debris, and peach fuzz hair all while softening and smoothing your skin. While salons across the country offer dermaplaning services, you can achieve the same results at home with this tool.
5/50
Audrey Hepburn's Eyelash Separating Tip
The secret to Hepburn's long, Bambi lashes? After applying mascara, her makeup artist, Alberto de Rossi, would use a pin to separate each individual lash, according to Audrey Hepburn, An Elegant Spirit: A Son Remembers. Now that's how you get clump-free lashes.
6/50
KINGMAS KINGMAS 3-Piece Brush Set
If you don't have time for Hepburn's technique, this comb set will give you the same results without having to painstakingly cater to each individual lash.
7/50
Carole Lombard's Nose Straightening Hack
During her career, Lombard was injured in a car accident that left her nose slightly curved. Before she put on her makeup, she'd draw a thin white line down her nose. She believed it made it look straighter, according to Marlene Dietrich: The Life.
8/50
Maybelline New York Liquid Illuminating Highlighter
Whether Lombard knew it or not, her beauty hack is essentially strobing. It's easy to accentuate features and give the illusion of contouring with a liquid highlighter, like this illuminating one from Maybelline New York.
9/50
Grace Kelly's Blush Trick
Contrary to popular belief, contouring is not a new technique, nor was it invented by Kim Kardashian. Like her fellow actresses, the Princess of Monaco often used blush to define her cheekbones with one shade for underneath her cheekbones and a slightly darker shade dusted on the apples.
10/50
e.l.f. Cosmetics Multi-Blush Palette
Use a palette, like this one from e.l.f. Cosmetics, to find shades that'll compliment your cheekbones.
11/50
Rita Moreno's Acne Solution
When Rita Moreno was a young actress, she battled with breakouts. Her doctors recommended a harsh treatment that included ultraviolet light and an acetone alcohol rub. She does not recommend it—and for the record, neither do we—so she developed her own technique for banishing blemishes. "I used to use one of those rough, nasty brushes to scrub my face every day. It was very harsh, but exfoliating every day helped a lot," the Puerto Rican film star told Fox News. "I would definitely say that exfoliating was really my main beauty trick."
12/50
Clarisonic Skincare Facial Cleansing & Pore Minimizing Skincare Device
If you want to try Moreno's acne-fighting method, the Clarisonic facial cleansing brush is the way to go. The vibrating bristles help to invigorate pores and give a deeper cleanse that will prevent bacteria from building up and causing breakouts. Pair this with their pore and blemish acne cleanser for an even deeper clean.
13/50
14/50
Charlotte Tilbury Mini Pillow Talk Lipstick & Liner Set
Charlotte Tilbury's lipstick and liner set ensures that both shades will be an exact match.
15/50
Marlene Dietrich's Cheekbone Surgery
The German-American actress had plenty of tricks up her sleeve, but she was most notorious for having her molars removed to further accentuate her cheekbones and using surgical tape to give herself a temporary face lift.
16/50
NuFace Mini Facial Toning Device
We don't recommend trying any of Dietrich's drastic beauty approaches at home, but we can appreciate her desire to tighten her facial muscles. This mini facial toning device delivers a powerful zap to tired or sagging muscles.
17/50
Dorothy Dandridge's Lipstick Trick
Dorothy Dandridge's acting talent was undeniable, but it was also her beauty and style that captivated the public. To compliment her complexion, the actress would mix classic red lipstick with an orange shade to create a coral lip color. The unique hue was entirely her own and instantly became her signature look.
18/50
Lipstick Queen Coral Lipstick
We can't know for sure, but we have a feeling Dandridge would be obsessed with Lipstick Queen's coral shade.
19/50
Rita Hayworth's DIY Hair Mask
Hayworth's wavy red mane was part of her signature look so, naturally, she had to keep it in tip-top shape. She did this by applying oil to her hair after every wash, wrapping it in a towel, and leaving it in for 15 minutes. Afterwards, she'd wash it out with hot water and lemon juice to remove any leftover residue.
20/50
Kiehl's Olive Oil Restorative Hair Mask
Hayworth wasn't wrong in using the healing properties of olive oil, whose vitamins can have a nourishing effect on dry and damaged hair. This restorative hair mask from Kiehl's is one of our favorite products featuring this ingredient.
21/50
Greta Garbo's Eyeshadow Trick
To make her eyes look more theatrical, Garbo put a thin layer of petroleum jelly on her eyelids underneath a dark eye shadow. She also lined her eyes with a mixture of jelly and charcoal pigment.
22/50
Urban Decay Eyeshadow Primer
There's nothing wrong with Garbo's technique and using good ole petroleum jelly, but eyeshadow primers will do the same trick, while guaranteeing lasting wear.
23/50
Mae West's Moisturizing Routine
The '30s star has been using coconut oil daily throughout her life. She would apply it to her face as moisturizer to give her skin a youthful glow.