Short or Long Hair? 12 Celebrities Go Head to Head in a Battle Between the Lengths
Do we have to choose?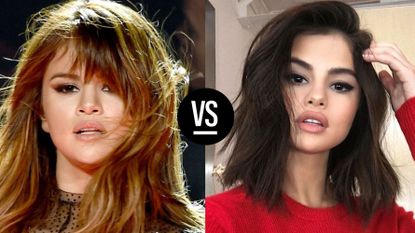 (Image credit: Getty, Instagram, design by Betsy Farrell)
Marie Claire Newsletter
Celebrity news, beauty, fashion advice, and fascinating features, delivered straight to your inbox!
Thank you for signing up to Marie Claire. You will receive a verification email shortly.
There was a problem. Please refresh the page and try again.
For every girl who keeps her hair long, there are five more who are like, "f*ck it." (To be clear, it's your head, you can do whatever you want.) Ahead, for the purpose of inspiring some friendly debate and the observation of different vibes, 12 celebrity side-by-sides.
1/12
Beyoncé
A bob with curtain bangs? Or superstar mermaid lengths? "We'll take her any way we can get her!" —all
2/12
3/12
Selena Gomez
It might have been a reaction to a tough period in her personal life, but we daresay her collarbone-skimming cut is her best, most true-feeling look yet.
4/12
Jennifer Lawrence
Pixie JLaw? Or JLaw with extensions? Why not both?
5/12
Katy Perry
Another case of post-life-change hair, but it's not too out-there to say most of us still think of Katy Perry with long raven locks.
6/12
Kim Kardashian
Because of the frenzy surrounding it (and the incredibly inconvenient time, cough cough), some of us will never forget when Kim Kardashian Got a Haircut. But she does always go back to long.
7/12
Kylie Jenner
It's a bit of a different story with this Kardashian, as she experiments with her look more frequently (here's why), but maybe she's just trying to accomplish the same thing as we are with this slideshow: to prove that girls can do both.
8/12
Miley Cyrus
Her platinum crop has become a signature, but do you miss Miley with hair that reaches her shoulders?
9/12
Natalie Portman
Never forget her V for Vendetta buzz cut (that grew out into an ace pixie).
10/12
Scarlett Johansson
There's a rather vocal camp that's calling for ScarJo to grow her long-on-top crop out, but do you agree?
11/12
Kristen Stewart
KStew = one of the coolest, shortest heads of hair in the game—especially after she buzzed it. Kind of weird to think of her with anything else, but maybe you were into it?
12/12
Rihanna
Nobody in Hollywood loves playing with her hair more. And nobody better exemplifies the point that it's not about thinking if you can pull it off—it's about just going for it.
Celebrity news, beauty, fashion advice, and fascinating features, delivered straight to your inbox!
I'm the Digital Visuals Editor for Marie Claire and I help pick the most interesting, relevant and prettiest photos for our site.