Beauty Around the Clock: Rosie Huntington-Whiteley
The Rose Inc. founder on her new foundation, go-to workout, and the hair loss shampoo she swears by.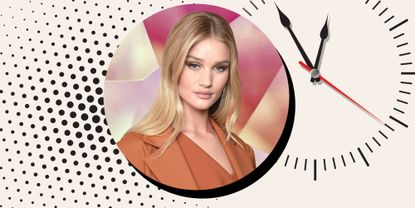 (Image credit: Future)
Marie Claire Newsletter
Celebrity news, beauty, fashion advice, and fascinating features, delivered straight to your inbox!
Thank you for signing up to Marie Claire. You will receive a verification email shortly.
There was a problem. Please refresh the page and try again.
Welcome to Beauty Around the Clock, Marie Claire's weekly peek into the daily lives of some of the most game-changing men and women in their industries. Ever wonder how they get it all done in a day? Here's your answer.
Rosie Huntington-Whiteley has no shame in her makeup game. She's fascinated with artistry, obsessive about perfecting her brand's own formulations, and always on the hunt for a new beauty hack. "I'm either a makeup artist's most annoying client or their favorite client because I'm literally watching them the whole time, analyzing everything they do and watching them pick up every product. I ask them every single thing about it," the model exclusively tells me. "I think there's a frustrated beauty editor inside of me."
Call it a fascination, a passion, a hobby—regardless, she decided to turn her love for beauty into a career. Enter: Rose Inc, her namesake brand which launched in 2018. Since then, the brand has launched stellar lip products, concealers, bronzers, and most recently, a foundation. "The transformative nature of makeup and how it can lift somebody's mood, someone's demeanor, somebody's state of mind—I've always really loved that. Launching a beauty line, for me, was very natural."
Her passion isn't just centered around creating products—it's testing them. She has an extensive hair care routine, isn't above using a beauty tool, and has quite the collection of classic fragrances. Her happy place? Right in front of the bathroom sink, or in the tub (she has a masking and basking ritual).
To get the full breakdown on Rosie's beauty routine, read ahead.
Rise & Shine
I have human alarms. I have children, so they generally wake up between six to seven in the morning. My other half [Jason Statham] is a morning person. He's usually up beforehand. If he's not on set filming, we'll all get back in bed for a minute with the baby and she'll have her bottle because she's still a baby-baby. My son usually comes and joins us for a moment and we all just hang out for a little bit in bed, which is really sweet.
Then, I have my coffee. I am a human corpse without my coffee. Thankfully, Jason makes an amazing coffee. I really love to drink a bit of celery juice and water in the morning if I can, too.
Morning Maintenance
This actually sounds really gross, but I don't wash my face in the morning. I use rose water from Santa Maria Novella. I'll take a cotton round, really douse it, and smooth it across my whole face, wake my eyes up, and wake my complexion up. I put some eye drops in and brush my teeth—then I usually assess what my skin needs. Typically in the morning it'll be my brightening serum, hyaluronic acid, and a moisturizer. I like our hydration replenish for when my skin is feeling a bit more inflamed and I want a cooling gel-like texture. On days where I feel like I really need some kind of weight, I might use something with a bit more body. I'm a big fan of the SkinCeuticals 2:4:2 cream. I always finish off with an SPF. We launched one at the beginning of the year and it's fantastic—it acts a bit like a primer and is very hydrating with a luminous finish.
Signature Look
My makeup always depends on what I've got going on for the day. If I'm just heading out to the gym and then into the office, I'll probably just put on my tinted serum and a bit of my concealer. I'll do my brow, a bronzer, a blush, and some of my lip treatment. If it's a day where I need to be more on camera or I've got more important meetings, I'll grab my new foundation. It's the Soft Light Skin Smoothing Liquid Foundation, which gives me a more medium to full coverage finish. It has a lovely soft matte finish and feel. The ingredients are really going to visibly brighten the skin and reduce the appearance of redness and pores. It also has ingredients in there like Manuka black pepper and Magnolia complex which actually balance the microbiome on the skin. Then it has our beautiful squalane, which is a hundred percent plant-derived moisturizer. That gives it this weightless hydration. It doesn't feel dry or chalky or cakey. It's very nice and buildable.
For me, I'm striving for a beautiful, healthy looking complexion. Then, it's about having a great blush moment or a bronze and a lip and a brow. That generally sees me through day to day. I leave all the fun, more experimental stuff to the experts.
Fitness Fix
Working out has been part of my life since I can remember. My mom was a fitness instructor in the nineties—very much like an aerobics instructor with the Princess Diana outfit, the whole thing. I grew up sitting at the back of her workout classes. It always makes me laugh because she used to have an "L"l and "R" written on the top of her trainers so she could tell her left from right. Fitness has played a part in my life ever since I can remember, so once I left home, I started going to the gym every day. Now that I have children, I unfortunately don't get to go every day like I would like to, but I definitely go at least four times a week.
I switch things up when I'm here in LA. I've always worked out with a trainer, Simone De La Rue. She does the most incredible workout because it's a high intensity cardio with some gentle weights and a lot of Pilates movements. My body just loves that workout so much. When I'm in London, I do a lot of weight training, circuit training, and I love to do Pilates as well.
Self-Care Ritual
Locking myself in the bathroom…Actually though, I try and get an early night in. The kids go down and then I peel off to the bathroom for some me-time. I might put a podcast on—I like to call it masking and basking. I'll light a candle, maybe run a bath, have a hot shower, put a face mask on, call a friend, whatever it is.
Signature Scent
We created a signature scent for Rose Inc. It's in our body care. It was a fun sort of experimental process to kind of actually figure out what my signature scent is. I worked with a nose and he had me smell 50 different kind of scents. I actually weirdly leaned into a lot of herbal stuff, which is kind of bizarre because I wouldn't have thought that. I have a few iconic fragrances that I've always worn. Lately I've been wearing Maison Crivelli Hibiscus Mahajad and people keep asking me what it is because it smells amazing. I also really like Gypsy Water and Coco Chanel.
Beauty Icon
For me, that's someone who's makeup I covet most. I'm talking about red carpet makeup. For me, that person is Zendaya. I feel like she has really modern but gorgeous glam all the time and I love the way she wears her makeup. She's a goddess and she's always got a bit of a twist. It's always something interesting with a classic finish that's always gorgeous and beautiful. You could probably put anything on her face though and it would look amazing.
Backup Career
I think I would have been a makeup artist actually. I knew from really early on that I liked beauty. While I have a beauty company now, I think I probably would've evolved into more artistry. I also might have done something with graphic design. When I was creating Rose Inc, I became obsessed with graphics and topography. I never understood how much it meant to me until we started creating the website.
Hair Help
I only wash my hair two or three times a week. It's out of complete laziness. I'll get a good two days and then on the third day it's scraped back in the bun. I use a lot of the Olaplex products. I love how much they rebuild the hair structure. I've had broken hair over the years, and I found Olaplex to just be a really great bonder and strengthener for the hair. I also use a brand called Nioxin, which is a hair loss shampoo. It was a little secret after the babies—you definitely need all the help you can get.
I'm obsessed with the AirStrait from Dyson. And I think the AirWrap is one of the greatest advances in technology. It's so brilliant. I use that to style my hair.
P.M. Routine
I usually save my body care routine and more extensive skincare for the evening. I might get out some of my tools. Then I get into bed and try to read or watch something and chill out.
Celebrity news, beauty, fashion advice, and fascinating features, delivered straight to your inbox!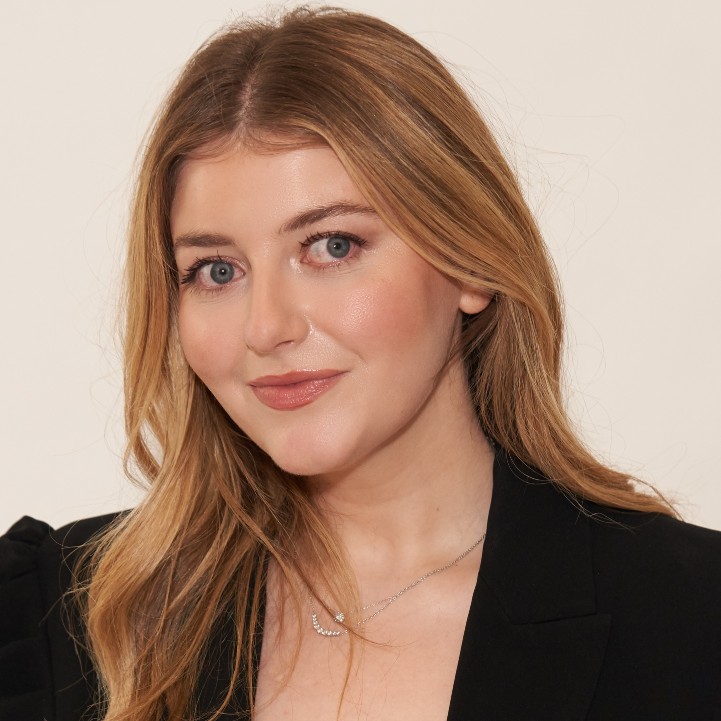 Samantha Holender is the Beauty Editor at Marie Claire, where she reports on the best new launches, dives into the science behind skincare, and keeps up with the latest trends in the beauty space. She has previously written for Us Weekly, Popsugar, Makeup.com, Skincare.com, and Philadelphia Wedding. Follow her on Instagram @samholender.