14 Sephora Gift Sets That Are *Actually* Worth Your Money
Did I mention they're all on sale?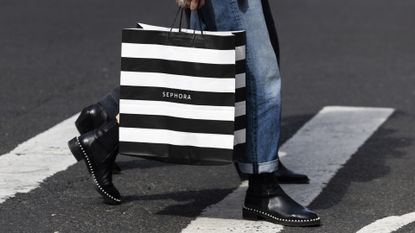 (Image credit: Getty Images)
Calling all savvy shoppers: Sephora is having a huge sale that's too good to pass up. The retailer's Savings Event officially kicked off on October 27 and runs through November 6, meaning you can score your favorite luxury beauty brands at a major discount, just before the holidays come around, too.
Here's how the sale works: Using the code TIMETOSAVE, Sephora Rouge members can access the sale during its entire duration and earn 20 percent off. Sephora VIB and Beauty Insider members can access the sale starting on October 31, however, VIB members earn 15 percent off whereas Insider members earn 10 percent off. As an added bonus, everyone will earn free shipping, no code required, regardless of member status.
This sale is truly a special one. Sephora Beauty Director Melinda Solares explains that this sale happens just twice a year, is open to all Beauty Insider members, and comes at the perfect time to restock your favorite products or get a headstart on your holiday shopping. "Here's the really cool part—you can literally snag the deals right from your couch using Same Day Delivery, order online, and pick it up in-store," she adds. "I personally love Same Day Delivery because it allows for more self-care time in my day to focus on me!"
While it's a great time to stock up on your beauty must-haves, I'd argue it's an even better time to start your holiday shopping with Sephora's gift sets. From top brands like Summer Fridays, Charlotte Tilbury, Living Proof, and more, these sets are a crazy good value made all the better with the sale. To make your shopping a bit easier (there's a whopping 784 value and gift sets, by the way) we took the pleasure of rounding up the very best of the best. From skincare, makeup, haircare, and more, these are the Sephora gift sets that are actually worth adding to your cart.
Sephora Favorites Holiday Makeup Must Haves
Often times with gift sets you get one or two products that don't hit the mark, but that is not the case here. Every single one of the 11 products included in this Sephora Favorites set is a real winner. Standouts include a full-size Beauty Blender sponge and a LAWLESS Forget the Filler lip gloss. You also get to try mini versions of cult-favorite products like Youth to the People's Kale and Green Tea Cleanser, Charlotte Tilbury's Flawless Setting Spray, and my personal favorite, Dr. Dennis Gross' Alpha Beta® Extra Strength Daily Peel. With a value of $184, this set it well worth its $58 price tag.
Living Proof Perfect Hair Day Dry Shampoo Duo Set
Considering just one of these full-size dry shampoos is at least $31, this set is practically a steal. This set includes two(!!!) full-size bottles of Living Proof's cult-favorite dry shampoos, one of the original formula and one of the Advanced Clean, to tackle any kind of bad hair day you may be having. Use the original Perfect Hair Day dry shampoo to add texture and body while cleaning roots, then use the Advanced Clean formula for a fresh, out-of-the-shower look and feel. As an added bonus, you also get a mini size of the brand's top-rated hair-strengthening treatment. All in all, this set is one hell of a deal.
Surprise, surprise! While Solares admits its tricky to choose her favorite Sephora giftset, one that comes to mind isn't beauty related at all. Instead, Solares called out Maude's Vibe + Shine set, which includes the brand's best-selling external vibrator and a mini of the Shine. organic lubricant. " I absolutely love Sephora for offering sexual wellness products and unapologetically advocating for everybody's sexual self-care, especially women's," Solares says. "Whether it is for a friend, partner, or yourself, this is a gift that will keep on giving!"
Sol de Janeiro Brazilian Bum Bum Body Obsession
To put it simply, I'm obsessed with Sol de Janeiro's Bum Bum line. The brand's Cheirosa 62 scent is delectable with notes of caramel, pistachio, and vanilla, plus it lasts all day, especially when you layer these products together. The real draw here is the full-size Brazilian Bum Bum Cream (which is worth $48 on its own, by the way). A little bit of this fast-absorbing cream goes a long way, so this jar's going to last you for a while. The perfume mist is also a major win in this set—it's a great bottle to keep in your purse for whenever you need a perfume boost throughout your day.
Tarte Maracuja Juicy Lip Plump Best-Sellers Duo Set
Just about every beauty fan on TikTok (myself included) is obsessed with these plumping lip glosses from Tarte and for good reason. These little tubes work wonders at hydrating and plumping your lips, without any stickiness or the dreaded tingling that can come from lip plumpers. They also leave a long-lasting juicy shine, as the name suggests. These best-selling rosy and mauve shades look great on just about every skin tone, too. With just one tube retailing for $24, this is a buy-one-get-one deal you don't want to miss.
Dr. Dennis Gross Skincare The Holiday Peel Vault
As I previously mentioned, I'm a huge fan of Dr. Dennis Gross' Alpha Beta peels and so is Solares. She says: "The Dr. Dennis Gross Alpha Beta Peel Pads might be the skincare item I have recommended the most in my 8-years at Sephora! These pads are incredible for exfoliating and revealing smooth, radiant, hydrated-looking skin. My favorite thing about them? I have found they work magic without irritation (even for people like me who have skin sensitivities). This set comes with the extra strength pads and the daily pads, so they easily cater to individual exfoliation needs."
K18 Biomimetic Hairscience Damage Control Duo Set
Another brand the TikTok girlies can't get enough of is K18. The brand's viral Leave-In Molecular Repair Hair Mask works wonders on damaged hair, whether you've had one too many rounds of bleach or you're committed to heat styling. This mask reaches the innermost layers of your hair to reconnect damaged bonds, which in turn helps to bring back smoothness, softness, strength, and volume to damaged hair. For a full size, this mask originally goes for $75, so for an extra $5, you get a mini size of the Leave-In Molecular Repair Hair Mask to reduce frizz and add shine.
NEST New York Holiday & Birchwood Pine Candle Set
Anyone who has had a NEST New York candle in their home knows they are nothing short of luxurious. Not only are these candles gorgeously decorated, but they smell just as good. The Holiday Classic candle has the best scents of the season wrapped up into one candle with notes of pine, cloves, citrus, and a hint of vanilla. Meanwhile, the Birchwood Pine candle is perfectly reminiscent of a winter forest with notes of pine, balsam, and birchwood. This holiday set would make for the perfect gift for a loved one, but I wouldn't blame you if you kept it as a treat to yourself.
Maison Margiela 'REPLICA' Mini Coffret Set
This Maison Margiela gift set will be a huge hit with any perfume lover in your life, guaranteed. It includes a set of five best-selling fragrances that are unisex, layerable, and long-lasting. From the fresh, tropical scent of Beach Walk to the spicy sweetness of Jazz Club, there's a fragrance for every season, mood, and preference. While these bottle are technically minis, they are a great size and would look so chic on anyone's vanity. If you're unsure of your recipient's tastes, you can't go wrong with this set.
Dr. Dennis Gross Skincare Light It Up Facewear Pro Bundle
Yes, I know this set is pricy, but hear me out. First and foremost, this set includes one of our favorite LED light therapy masks, DRx SpectraLite FaceWare Pro, which retails on its own for $455 and has a ton of anti-aging and acne-fighting powers behind it. To sweeten the deal, this set also comes with three of Dr. Dennis Gross' hero anti-aging products, a cream, an overnight peel, and an eye cream, all packed with retinol and ferulic acid to literally transform your skin. If you've had your eye on this mask for a while, there's no better time to make the purchase than when it's on sale.
Summer Fridays The Skincare Set
I have yet to come across a Summer Fridays product I didn't immediately fall in love with and I'd wager you'll feel this same after trying out this set. It includes the best-selling Jet Lag mask, a hero product for restoring dry, dull skin (I like to use it as my nighttime moisturizer while traveling). You'll also get to try the brightening CC Me Serum, a favorite of MC's E-Commerce Editor, Julia Marzovilla, for fading acne scars, as well as their vitamin C eye cream and the viral Lip Butter Balm, which I will never stop recommending. With these products, your skin will be more glowy and hydrated in no time.
Grande Cosmetics Lash and Brow Serum Fantasy Set
If you want to achieve the most luscious lashes and brows of your life, then this set is a no-brainer. Speaking from personal experience, Grande Cosmetics' lash serum transforms short and stubby lashes, giving them a spidery-long, lush look. The brow serum works just as well to fill in sparse brows and get the bold look of your dreams. I love how this set includes a full-size GrandeMASCARA, which conditions and strengthens your lashes while you're wearing makeup. This entire lineup works to enhance your eyes and brows day and night, so trust me when I say it's worth every penny.
Charlotte Tilbury Charlotte's Superstar Glow Kit
Somehow, this Charlotte Tilbury set is still in stock so I would get it while you still can. If you have yet to try these crazy-viral glow wands, allow me to tell you what all of the hype is about. The shade Pinkgasm leaves the most gorgeous, lit-from-within look that works well on every skin tone. Meanwhile, the shade Spotlight delivers a shimmery champagne glow that lights up the face like a disco ball. Each melts seamlessly into the skin and all you need is a little dab to get glowy. After one application of these glow wands, you'll realize why they are constantly selling out.
Sephora Favorites Mini Holiday Lashstash To Go Mascara Set
As someone who never tires of trying out new mascaras, I love when Sephora offers these mascara discovery sets. For $28, you get a set of five mini sizes of best-selling picks from Benefit, Lancome, Too Faced, Tarte, and Milk Makeup. Here's your chance to try a variety of mascaras, from tubing formulas like the tartelette tubing mascara to the world-famous Better Than Sex mascara, to figure out what suits you best. The real kicker here, though, is that it also includes a voucher for a full-size version of your favorite. Basically, this set pays for itself.
Meet the Expert
Melinda's career in beauty started in the Makeup Merchandising Department at Sephora, working directly with some of the fastest growing brands on the market and developing their upcoming product launches. She then discovered a deep passion for video content on Sephora's Social Media Marketing Team where she ideated and created beauty tutorials for Sephora's YouTube (1M+ Subscribers) and built Sephora's IGTV video program (20M+ Followers). Soon after, Melinda was made one of the first ever members of #SephoraSquad, a crew of unique, unfiltered, sorry-not-sorry storytellers with a diverse range of followers, points of view, and interests.One of Melinda's most passionate interests outside of beauty is mental health. She is an advocate and is on a life-long wellness journey that she strives to share with others to positively impact their well-being and awareness.As an expert in beauty, Melinda advanced to her role as a Sephora Beauty Director and the Latinx/Hispanic community group Consumer and Business Lead where she continues to teach, inspire fearlessness in the beauty community, and strives to ensure that we all belong to something beautiful at Sephora.