What to Know Before Getting Traptox, According to Dermatologists
Botox in your traps can help with chronic pain—but don't go signing up for the treatment just yet.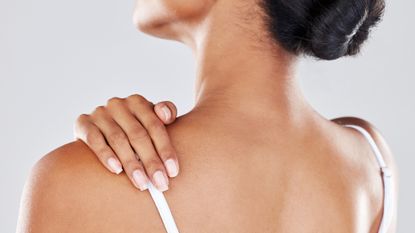 (Image credit: Getty Images)
Marie Claire Newsletter
Celebrity news, beauty, fashion advice, and fascinating features, delivered straight to your inbox!
Thank you for signing up to Marie Claire. You will receive a verification email shortly.
There was a problem. Please refresh the page and try again.
I'm going to surmise that if you're here, you're familiar with Botox—at least as it pertains to the face. That is its FDA-approved use after all; Botox is a neurotoxin designed to relax facial muscles, and as a result, reduce wrinkles. Of course, it's found popularity with a number of off-label uses. Botox can stop you from profusely sweating, prevent teeth grinding, or even lift the tip of your nose. Most recently though, it's been shooting to popularity because of its abilities to improve posture, slim the neck, and relax the shoulders when injected into the trapezius muscles. Dubbed Traptox (aka, trapezius Botox) or Barbie Botox (thanks to its slimming aesthetic effect), the treatment has been rising to popularity in dermatology offices and blowing up on TikTok (the hashtag has 29 million views).
The buzz is warranted—Traptox can be transformative, curing chronic headaches or pain, boosting confidence, and even correcting bad posture that's come about from years spent hunched over a laptop. But, it also comes with a handful of restrictions and risks that aren't all so talked about. Your movement can be restricted, there can be weeks of discomfort, or, in rare cases, breathing and swallowing can be impacted.
To get the full breakdown on the pros, cons, and other must-knows about Traptox, read ahead. I spoke to top dermatologists who have experience with the treatment, ahead.
First Things First: What Is Traptox?
It's a catchy name, but "Traptox" is a pretty straightforward nickname—it's a combination of two words: "Trapezius," a muscle that runs from the back of the neck to the shoulders and down the back; and "Botox," a neuromodulator that causes muscle paralysis. "A Botox injection can temporarily relax an over-tense and thickened muscle in the neck, which is called the trapezius," explains board-certified dermatologist Dr. Robyn Gmyrek. As a result, tension can be relieved and the muscle can thin out.
Injections into the trapezius muscle for aesthetic purposes isn't approved by the FDA, but Botox is approved to treat chronic migraines, which often includes injection into the trapezius muscle, explains Dr. Gmyrek.
What Is the Point of Traptox?
"When we have chronic poor posture, constant shrugging of the shoulders due to stress or habit, do excessive weightlifting exercises, have poor sleeping positions, or are always sitting hunched over, the trapezius muscle is overused and becomes inflamed and enlarged," explains Dr. Gmyrek. This can lead to pain, spasms, chronic headaches, or a bulked-up appearance. By injecting the muscle with a neuromodulator (read: Botox, Dysport, Jeauveau, Xeomin, or Daxxify), the area is paralyzed and able to relax.
From an aesthetic perspective, the muscle paralysis allows the trapezius muscle to thin or atrophy, which actually leads to a longer looking neck (hence the name Barbie Botox). "Treating the trapezius muscles with neurotoxin can create a longer-looking neck and helps to relieve tension," explains board-certified dermatologist Dr. Elizabeth Houshmand. "The treatment of the trapezius muscles with neurotoxin relieves muscle contractions and shrinks the muscle."
Am I a Candidate for Traptox?
"The ideal candidate is a person who is having chronic neck or upper back pain caused by muscle tension or spasms who is otherwise healthy, without neurologic disease, breathing difficulties, and is not pregnant or breastfeeding," explains Dr. Gmyrek. It's also an option for anyone who wants to elongate and slim out their neck area.
Here's where things get complicated, though. Even if the above sounds like you, don't run and sign yourself up. Just because you meet the qualifications doesn't mean Traptox should be your first course of action. The effects of Traptox can affect your day-to-day activities. It can weaken the muscle and limit mobility, so it's probably not the best bet for anyone who enjoys weightlifting, rock climbing, or strength training. The muscle is weakened as a result of the treatment, and those seemingly run-of-the-mill activities will be more difficult. "You will weaken traps and then you will be using alternate muscles which may cause pain in other areas and thickening of those muscles," says Dr. Gmyrek.
Instead, it's worthwhile to try doctor-recommended exercises, stretches, and behavior modifications. "I think stretching and range of motion movements are very important. Making desk adjustments (moving your laptop higher, supportive seating etc) are all things you can do ergonomically to avoid being hunched. Of course, strengthening those muscles can be done on your own or working with a physical therapist," advises Dr. Houshmand.
Does Traptox Hurt?
Similar to facial Botox, you might experience mild redness, soreness, or bruising for the first few days following your treatment. What's different? The kick-in time. "The muscle weakens over a two to three-week period, so tightness and soreness are possible as the muscle fibers that are not yet weakened are trying to contract," explains Dr. Houshmand.
It's also going to require more effort to move muscles in normal motions. "This movement will slowly be regained when the neurotoxin starts to wear off," explains Dr. Houshmand. "It takes some getting used to as the muscle doesn't have the same force."
What Are the Risks of Traptox?
Let's start off with the side effects you *strongly* want to consider, shall we? Because the trapezius muscle plays a large role in how you move your head, neck, and shoulders, weakening the muscle is going to seriously impact how you rotate and tilt those parts of your body. "You can experience some limitations in your ability to move your head, neck, and shrug your shoulders," says Dr. Gmyrek. There's also a chance you can end up with substantial asymmetry. "Many of us have one side that is stronger than the other based on the way we utilize our muscles and if Botox is injected and one side responds more than another this can lead to greater improvement on one side and a crooked appearance," she adds.
On a more serious note, if the injection gets diffused or the injection is misplaced, you can end up with damaged nerves or detrimental restrictions in your range of motion. "There are many important muscles and structures in this area," explains Dr. Gmyrek. Should the injection be off, or if too much toxin is used, it can affect muscles that heavily impact swallowing and breathing abilities, which can be life-threatening.
How Much Does Traptox Cost?
If you're getting Traptox to help with pain management or migraines, it's possible your insurance will cover your injections. If you're looking at this for aesthetic purposes though, get your wallet ready. You're looking at anywhere from 30 to 100 units of Botox, which will cost you anywhere from $500 to $1,000 depending on your location.
How Long Will Results Last?
Apologies in advance, but my answer for this one is a little, well, vague. It depends on a number of factors, including the type of neuromodulator your doctor uses, how strong your muscles are, and how quickly you metabolize. Traptox can last as little as three months or as long as a year.
Meet the Dermatologists
Dr. Elizabeth Bahar Houshmand is a double board certified dermatologist specializing in cutaneous laser surgery and the dermatologic care of patients with a special interest in Cosmetic Dermatology, Laser Medicine , Acne, Hair Loss, and Melasma. Dr. Houshmand's completed her undergraduate degree as a Presidential Honors scholar from New York University and graduated medical school with prestigious clinical distinction honors. She completed an Internal Medicine Residency at Georgetown University Hospital and is Board Certified in both Internal Medicine and Dermatology. She completed her Dermatology Residency at Wright State University and served as chief resident. Dr. Houshmand received several prestigious scholarships through the WDS and ASDS has trained with pioneers in the field of cosmetic skin treatments and dermatologic surgery. She was selected by the AAD as one of three dermatology resident recipients of the prestigious AAD International Grant. She is an international speaker, trainer, author, and medical news correspondent and an internationally recognized leader in cosmetic dermatology. This varied educational background and training brings Dr. Houshmand's wealth of knowledge on the newest and latest treatments in medical, surgical, and cosmetic dermatology to her patients. Dr. Houshmand is fluent in English, Spanish and Farsii and enjoys utilizing her skills in providing optimal care for her patients of many diverse backgrounds, believing that being able to connect with them on a personal level allows her to create a strong, trusting relationship with her patients and provide them with optimal care.
Dr. Robyn Gmyrek is a Board Certified dermatologist that has received national recognition for her contributions to cosmetic dermatology, including Castle and Connolly America's Top Doctors, New York Magazine's 2013-2020 Best Doctors, and inclusion in the 2013-2020 lists of Super Doctors. Before joining UnionDerm Dr. Gmyrek was on the faculty of Columbia University Medical Center where she was Division Chief of Cosmetic Dermatology and founded Columbia University's Cosmetic Skin and Laser Center. At Columbia, Dr. Gmyrek also was the Director of the Resident Cosmetic Clinic, instructing the resident physicians in cosmetic procedures, and was in charge of the Fourth Year Medical Student Electives in Dermatology. Dr. Gmyrek received her Bachelor's degree from New York University where she graduated Phi Beta Kappa and Magna Cum Laude. She went on to complete her medical school education at Columbia University, College of Physicians and Surgeons. After graduation, she finished an internal medicine internship at Cornell University – New York Hospital. Dr Gmyrek then returned to Columbia's College of Physicians and Surgeons where she completed her dermatology residency training, served as Chief Resident in Dermatology, and in 2000 joined the full time faculty of the Department of Dermatology. Dr. Gmyrek specializes in cosmetic and general dermatology. She has lectured nationally on techniques including laser surgery, Botox injections, sclerotherapy for leg vein removal and filler injections for correction of wrinkles. Dr. Gmyrek combines her dermatologic medical knowledge and compassionate nature to provide comprehensive treatments to patients. Moreover, she is a frequent contributor to national skin care and beauty media, including: Allure, SELF, The Coveteur, Health, and Oprah.com. Dr. Gmyrek is a Diplomate of the American Board of Dermatology and an active member of the American Academy of Dermatology, the American Society of Dermatologic Surgery, the Women's Dermatologic Society, the New York Dermatologic Society and the American Society for Laser Medicine and Surgery.
Celebrity news, beauty, fashion advice, and fascinating features, delivered straight to your inbox!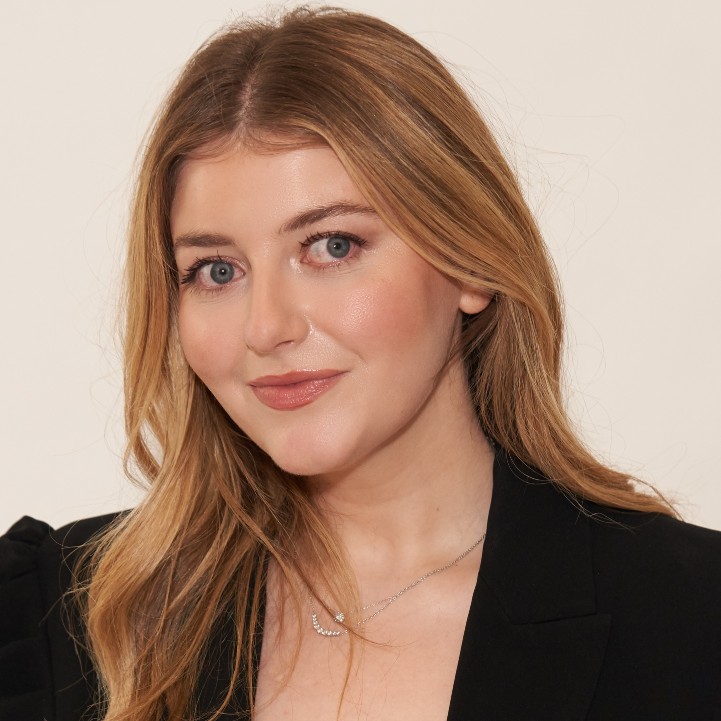 Samantha Holender is the Beauty Editor at Marie Claire, where she reports on the best new launches, dives into the science behind skincare, and keeps up with the latest trends in the beauty space. She has previously written for Us Weekly, Popsugar, Makeup.com, Skincare.com, and Philadelphia Wedding. Follow her on Instagram @samholender.