The Perks at These Top Startups Will Make You Rethink Your 9-to-5
LinkedIn released their list for 2017's 50 Most Sought-After Startups and the work perks are unreal.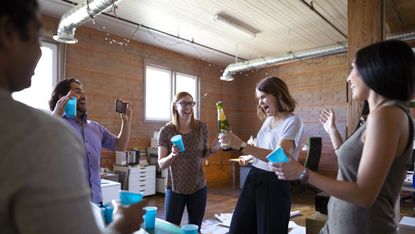 (Image credit: getty image)
Marie Claire Newsletter
Celebrity news, beauty, fashion advice, and fascinating features, delivered straight to your inbox!
Thank you for signing up to Marie Claire. You will receive a verification email shortly.
There was a problem. Please refresh the page and try again.
Startup companies have a long history of stepping up their perks at work, and LinkedIn has taken notice. The social networking company released their 50 Most Sought-After Startups List for 2017 on Wednesday, and the insane perks will make you want to quit your day job.
While most of the companies on the list were founded in San Francisco (after all, Silicon Valley is the mecca of startups), New York and Chicago came in second and third. Another interesting fact about this year's honorees is that about 12 percent of the companies listed have women at the helm, which is more than three times the number of female CEOs for the traditional Top Companies list released earlier this year, LinkedIn said. Editor-in-chief Daniel Roth said they also took into consideration "how well those companies were attracting talent from the Top Companies" when compiling the startups list.
And the perks are one of the reasons these companies are all attracting new employees. Startups have a reputation for setting a new standard for office culture, and the companies ranked this year are leading the pack in fun and innovative ways. Check out five companies that are taking work perks to another level, and this year's full LinkedIn Top Startups list below.
Casper
LinkedIn Ranking: #49
Description: Direct-to-consumer mattress retail
Main Headquarters: New York City
Perks: Sleeping on the job is acceptable. Casper's New York City headquarters allows their employees to do work while lounging on the company's famous mattresses or they can even take an afternoon snooze. This gives a whole new meaning to the phrase "power nap."
Houzz
LinkedIn Ranking: #9
Description: Home remodeling
Main Headquarters: Palo Alto, California
Perks: Comfort is king at Houzz. All employees are given a pair of branded slippers to wear around the office, which sure helps save money on a shoe budget for work.
Credit Karma
LinkedIn Ranking: #48
Description: Personal finance

Main Headquarters: San Francisco, California
Perks: The company's office space gives you all the reasons to want to stay and work late. They recently opened an onsite spa where they offer manicures, pedicures, and massages, and have rooms dedicated to music "jam" sessions, nap nooks, an art room, a library, and a coffee bar.
G2 Crowd
LinkedIn Ranking: #20
Description: Business software reviews
Main Headquarters: Chicago, Illinois
Perks: Bitmojis are not just for your phones at G2 Crowd—they're used as office décor. Each new employee gets a personalized Bitmoji, which is hung in the entrance of the office in their first day.
Snowflake Computing
LinkedIn Ranking: #38
Description: Cloud-based data warehouse
Main Headquarters: San Mateo, California
Perks: This tech company knows the value of experiencing the great outdoors. In accordance with their name "Snowflake," the company hosts an annual ski trip to Lake Tahoe every February making it easy for co-workers to create an office bromance like the one below.
LinkedIn's 50 Most Sought-After Startups List:
1. Uber
2. Airbnb
3. WeWork
4. Lyft
5. Slack
6. NIO
7. Rubrik
8. Dropbox
9. Houzz
10. Convoy
11. General Assembly
12. Stripe
13. Glossier
14. Flexport
15. Aryaka Networks
16. Pinterest
17. GRAIL
18. Duo Security
19. Udacity
20. G2 Crowd
21. Blend
22. Opendoor
23. Cybereason
24. Cylance
25. CrowdStrike
26. Uptake
27. Affirm
28. Katerra
29. Ring
30. Convene
31. Coursera
32. Stitch Fix
33. Wish
34. Robinhood
35. Darktrace
36. Sprout Social
37. Virgin Hyperloop One
38. Snowflake Computing
39. ThoughtSpot
40. Zenreach
41. Cohesity
42. Pendo
43. Moda Operandi
44. Databricks
45. Skuid
46. Glint
47. Docker
48. Credit Karma
49. Casper
50. Elastic
Celebrity news, beauty, fashion advice, and fascinating features, delivered straight to your inbox!
I'm Eileen, the digital news reporter at Hearst Digital Media. As a member of the newsroom, I report on a wide range of news, including entertainment, politics and lifestyle. I also cover red carpet events for over 20 of Hearst's magazine brands. I previously held positions at CNN, Facebook and MTV, where I worked as a digital producer, writer and on-camera host. Fun facts: I'm fluent in Spanish, a BU alum, and love fashion and travel.