How the Female Founders in Meghan Markle's Closet Launched Their Companies
Meghan loves their products—and we love their startup stories.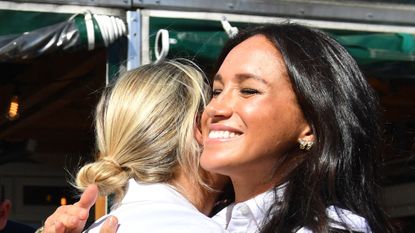 (Image credit: WPA Pool)
Every time the Duchess of Sussex steps out in public, her legions of fans take stock of her outfit's every detail and do their best to mimic her look. It's known as the Meghan Markle Effect, and it's helped quite a few female founders find new audiences and take their companies to even greater heights. Meet the women whose chic designs have found their way into Meghan Markle's closet.
BIANCA GATES Cofounder and CEO, Birdies
HOW SHE GOT HER START:
Growing up, fashion was a representation of status for Bianca Gates. Her parents were Latin American immigrants and she says they didn't have a lot of money. "When I got to be of an age where I could babysit and I was able to afford name-brand products, I felt confidence." Gates set three goals for herself: make money, gain independence, and do good work to help others. She commuted by bus to University of California, Irvine, from her parents' Orange County home and, after working in sales post-graduation, she eventually landed at Facebook.
WHEN SHE LAUNCHED:
The idea that eventually became Gates' company, Birdies, started as more of an obsession. "Why are we going around barefoot entertaining friends and family at home?" she remembers asking herself constantly at parties for years. "So four years ago, my husband was just like, 'This is silly. You've been talking about this social slipper problem for a while, why don't you just solve the problem?'" That night, she put her kids to bed, poured herself a glass of wine, and Googled "how to make shoes." She says the journey "started literally from there. We launched in 2015."
WHAT SHE MAKES:
"I took the softness of the slipper, I checked the cushioning of a sneaker, and I took the aesthetic of a beautiful luxurious upper," she said. "I pushed those things together and I found a factory that could help sort of creating this new type of footwear." The first batch of shoes, Gates says, was far from perfect; the process taught her the difference between "done" and "perfect." Despite their flaws, that first shipment helped Gates secure outside investment, which allowed her to hire a team to improve the design and quality of the shoes. Today, Birdies manufactures flats and slides in a variety of colors and patterns, ranging from $95 to $165.
THE MEGHAN MARKLE EFFECT:
When Birdies first launched, Gates was searching for a celebrity she thought encompassed the ethos of her brand. At the time, Markle was best known for her role on the USA drama Suits. "She wasn't a big movie star, but she really embodied the brand. She was a feminist and feminine. She was divorced, but that didn't define her. She was independent. She went after her dreams, and she was also just a good human being—a humanitarian," says Gates. "I was like: This is Birdies." Gates sent Markle a pair of shoes in 2016 and the actress posted her support on Instagram, then continued to wear the brand, often being photographed by paparazzi.
"On Cyber Monday, two years ago, [Prince Harry and Markle] announced their engagement," Gates says. "The press went crazy with all of her favorite brands. It just exploded the business." Markle later announced her pregnancy while wearing a pair of Birdies, and also wore the brand during trips to New Zealand, the Redwood Forrest, and to an all girls' school in Morocco. "She gives the brand credibility and she's the right person to do it," says Gates. "We credit her so much for sharing the brand on a global stage when we did not have the budget or the resources to do it on our own."
SERENA WILLIAMS Founder, S by Serena Williams
HOW SHE GOT HER START:
Williams has dominated the tennis court over the past two decades, not just with her athletic prowess, but also with her bold looks: neon-colored dresses and beaded hair, one-piece cat suits, an all-white trench coat, a denim Nike skirt. Through her endorsement deals with Puma and Nike, as well as a deal with the Home Shopping Network, Williams began creating her own designs.
WHEN SHE LAUNCHED:
In September 2018, Williams broke out on her own to create S by Serena Williams, dropping her line at New York Fashion Week.
WHAT SHE MAKES:
Williams's line includes 1990s-inspired styles, accessible in price and size. Her personal flare is celebrated throughout the collection with designs in animal prints, shades of neon, jewel tones, and sequins.
THE MEGHAN MARKLE EFFECT:
Williams and Markle have been friends for years. The tennis star was in attendance when Markle married Prince Harry in May 2018 and Markle flew to New York in September 2019—just a few months after giving birth—to support Williams at the U.S. Open. That support has also extended to Markle's wardrobe, which includes pieces from Williams' line. In October 2018, not long after Williams launched S by Serena, Markle wore one of the brand's oversized gray plaid blazers on a trip to Australia with Prince Harry. "From motherhood to friendship and business, she is a constant source of support," Williams says of Markle, adding that the Duchess embodies what she wants to do with her brand. "When I'm designing for each collection, I start by visualizing the kind of person who embodies everything the S by Serena brand stands for. Strong, bold, confident—these are all qualities of a person I am keeping in mind from the sketching process to fabric selection, all the way to fittings. Meghan personifies this for women across the world."
MISHA NONOO Cofounder and CEO, Misha Nonoo
HOW SHE GOT HER START:
Born in Bahrain, Nonoo was raised in London and educated in Paris before moving to New York in 2009 to work at a small tailoring company. "I learned everything from sourcing fabrics to pattern-making to production," Nonoo told Rebecca Jarvis of ABC News earlier this year. "And I happened to, on the side, two years later, make eight jackets and coats for myself, and I didn't really have any business plan but I guess, maybe, I was thinking about how I could commercialize it."
WHEN SHE LAUNCHED:
In 2011, Nonoo didn't have a business plan, but she did have a $150,000 product order from a woman who spotted her at brunch in one of the jackets she'd crafted—and that was enough of an incentive to kick Nonoo into action. She spoke with her father, who worked in finance, and he helped advise her on how to get her business off the ground. "I did every single aspect of it whilst having another job and they were like, 'Why does she disappear in the middle of the day for like three hours at a time?,'" Nonoo said in that same interview with Jarvis. "I was packing every single box and probably bagging it."
WHAT SHE MAKES:
Nonoo is known best for her signature Husband shirt, a crisp, white oversized cotton poplin button down with silver snap buttons. The shirt is perfect for dressing up denim or tucking into a skirt, and our digital director Sally Holmes thinks it is The Perfect White Button-Down, period. For $185, customers can get the shirt in its traditional white, or go with pinstripes, black, or navy.
THE MEGHAN MARKLE EFFECT:
Nonoo and Markle became fast friends at a lunch in Miami for Art Basel eight years ago. Since then, Nonoo has become a trusted confidant of Markle, and Markle has become a reliable model of Nonoo's pieces. On her first public outing with Prince Harry (a relationship rumored to have been sparked by Nonoo herself), Markle wore Nonoo's famed Husband shirt.
In September 2019, Markle and Nonoo released a capsule collection called the Smart Set in collaboration with Smart Works, an organization in the U.K. that helps women access professional clothing for job interviews and work.
SARAH FLINT Founder and Creative Director, Sarah Flint
HOW SHE GOT HER START:
Flint, who got her undergraduate degree at F.I.T., attended the Ars Sutoria school in Milan, where she learned alongside students whose families have been making shoes for generations.
WHEN SHE LAUNCHED:
Flint set out to solve a problem she saw all the time with high-priced designer shoes. "I wanted to make women's luxury shoes, where they didn't have to choose between looking good and feeling good," she told Marie Claire in May. "I felt like it was so insane that you pay $800 for a pair of shoes and they would be so painful…and you'd never wear them." Flint started her namesake brand in 2013, at just 25 years old, making a shoe that prioritized comfort as well as design. After some pushback from buyers about the viability of such a product, she was able to place her product at Barney's, and her brand took off from there.
WHAT SHE MAKES:
Flint sources the materials for her sandals, pumps, boots, and flats from Italy, where artisans also manufacture the shoes. She's adopted a direct-to-consumer model, which keeps her prices—ranging from $344 for flats to $725 for boots—in check. This holiday season, Flint released five limited edition Emma pumps, one of the brand's most popular styles. The shoe comes in black velvet with a gold heel, red suede with a tortoise heel, grey suede with a black heel, houndstooth print, and cognac crocodile.
THE MEGHAN MARKLE EFFECT:
Markle has been a fan of Flint's shoes since her days on Suits and helped put Flint on the global stage when she wore Flint's Natalie flats during one of her earliest outings with Prince Harry at the Invictus Games. "We were able to build up this kind of prestige," says Flint. "Sitting on the shelf next to Manolo Blahnik and Hermès, getting the Amal Clooney's and Meghan Markle's of the world—the majority of those types of things are very challenging for direct-to-consumer brands to get without spending a ton of money."

For more stories like this, including celebrity news, beauty and fashion advice, savvy political commentary, and fascinating features, sign up for the Marie Claire newsletter.
RELATED STORIES
Celebrity news, beauty, fashion advice, and fascinating features, delivered straight to your inbox!