2 Top CEOs on What Leadership Means in This Moment
PayPal's Dan Schulman and The American Red Cross' Gail McGovern talk to Marie Claire's EIC about mentorship, and how a diverse team gave them a competitive advantage.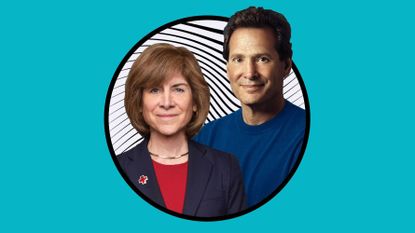 (Image credit: Marie Claire/Getty)
Marie Claire Newsletter
Celebrity news, beauty, fashion advice, and fascinating features, delivered straight to your inbox!
Thank you for signing up to Marie Claire. You will receive a verification email shortly.
There was a problem. Please refresh the page and try again.
When star executive Gail McGovern first met a young and ambitious Dan Schulman, it wasn't mentorship at first sight. "I vividly remember calling him Don," laughs McGovern about the pair's awkward introduction at a telecom award ceremony in the late '80s. But even then, Gail recognized something in Dan that was unmistakable: the qualities of a natural leader.
Now the trailblazing president and CEO of PayPal, Dan Schulman draws from his decades-long mentorship with McGovern as he leads with a values-driven commitment to his employees. "It's about creating the best management team possible and creating competitive advantage," says Schulman. And since he took the helm of the brand in 2014 and McGovern (who is now also the president and CEO of The American Red Cross) joined PayPal's board in 2015, the tech and finance giant has become a leader in equal pay initiatives, and has most recently made a $530 million pledge to support Black-owned businesses.
The two executives sat down with Marie Claire's editor-in-chief Aya Kanai to discuss what leadership means today and how an emphasis on diversity plays a key role in company success.
---
On Discovering Values-Based Leadership
---
Aya Kanai: Gail, how did you identify Dan as a leader?
Gail McGovern: Dan doesn't do well with compliments, but honestly, he is extraordinary; he's tough, he's strategic, he sets high objectives, and he expects his team to make them. He always seems to be able to figure out what the future is going to bring.
AK: Dan, I think that you were a true pioneer when it comes to putting the employees needs first. Did your relationship with Gail influence your path towards this style of values-driven leadership?
Dan Schulman: I think so much of what Gail said about me, I would echo about her. I learned from Gail what it means to be my authentic self in the workplace. So many people have a "work persona" and a "personal persona," and you're so much more powerful when you can bring your whole self to the work environment. That's who Gail is.
She was always this rockstar that I looked up to and admired but she was also the only leader that I saw that had a heart as big as her intellect. When I met her and got to know her, she really took me under her arm. I could only have imagined and hoped that she would become my mentor.
AK: Dan, when you were creating the pioneering Employee Financial Wellness Program—which, among many things, increased wages and expanded benefits for PayPal employees when it was launched in 2019—did Gail's council influence you at all?
DS: I think that the only way you have sustainable competitive advantage is to have the very best employees working for you. And the only way the very best employees will work for you is if they believe in what you're doing—they believe in the values, and they know that you care about them, and respect them and listen to them, and that they matter.
From my mentorship with Gail I learned that you can't do it alone. She established personal relationships with her teams both as a group and individually. And I saw what sort of competitive advantage that brings when you have this focus on your employees, not on yourself.
---
On Building Competitive Diversity
---
AK: How do you think that diversity and inclusion can be promoted in C-suite positions?
GM: As soon as I was able to get to a vantage point where I could make a difference, I tried really hard to promote women because there were none at the executive level. I tried to embrace diversity and inclusion because I understood what it's like to be in an organization where there isn't a lot of diversity or people like you. I think for women in particular, there's this thought that, "If I work really really hard, somebody will notice, and they'll promote me." But I think we all have an obligation to look for bright, shining stars.
AK: And Dan, how can men in executive roles help to promote diversity in the next generation of leadership?
DS: You need to demand it!
The first board member I recommended to join PayPal's board was Gail. Until that point, the board was 100% white male. Today we're 50% diverse in terms of gender. Why? Because we demanded it. Yes, there were tons of really qualified, very good, white males who could have come on to our board, but we found unbelievable women and people of color who joined us and helped broaden our views of the world. I'm so proud of our board—it's a symbol of who we are as a company. Throughout PayPal we're almost 60% diverse, and I think that's a large part of why we are as successful as we are.
AK: And of course now, there's now a sense of urgency to achieve diversity and equality at every level.
DS: I can't believe we're still talking about equal pay. How can you not pay women and people of color the same amount white males earn? When I came in to PayPal and I asked "Are we paying equally?" we did a study and, of course, found that we weren't. I understand it's hard, but that is not an excuse.
There was then this big number that we needed to address. People were like, "Well you could kind of close the gap over like three years," and I was like "Nope. Close it next month, and then every year let's be sure that we go back and do that again across ethnicity and across gender."
I think about the competitive advantage that we gain by doing that, and I think about the degree of passion that we unleash inside the company as a result of it. If more leaders would understand that this isn't about saving money—it's about creating the best management team possible and creating a competitive advantage—we could solve this issue very very quickly.
---
On Establishing an Enduring Mentorship
---
AK: What advice do you have for young people who are looking for a mentor? You have been lifelong advisors to each other, and it's clearly benefited you both so much.
GM: It's not like you say, "I'm going to go to the store and buy a mentor now." The people that senior people want to mentor are the ones that show promise. When I look for somebody that I want on my shortlist, I always just look for two things: smart and nice. There are very few levers that you have when you're running an organization other than staffing the right people. And so putting a lot of attention on that is going to benefit the company and ultimately benefit yourself too.
DS: There's a difference between mentorship and somebody calling you up for advice and council. A mentor is somebody that you'll be in a relationship with for years going forward. It's not the occasional "What would you do here?" or "I'm thinking about two different jobs, which one should I take?"
What happens in any good mentorship is you become friends because you trust them and they trust you. When Gail is on my calendar, that's my favorite call of the day. I look forward to it because we're going to catch up on each other's lives, we're going to compare experiences, and we're just going to learn from each other. It's one of those things that has grown to be a deep friendship.
GM: Dan and I are really at a point in our careers where we learn from one another. We recently had a call and I took note of a couple of things he's doing to get us through these incredibly challenging times, and I shared things with him the things that I'm doing. It's great to have a colleague like that and it's just been a privilege to be able to watch him and emulate his the behavior myself.
Celebrity news, beauty, fashion advice, and fascinating features, delivered straight to your inbox!
I'm Aya Kanai, Editor in Chief at Marie Claire. I am a native New Yorker (born and raised!), people think that's weird but it's actually NBD. Before I became a fashion editor I was a puppeteer, so yeah, I'm only qualified to work in a very few industries. I work in fashion but I don't wear heels cause I'm already tall.