Black Girls Breathing Is Creating a Safe Space for Black Women
Founder Jasmine Marie reflects on how she's managing a business and preserving her mental health during this stressful time.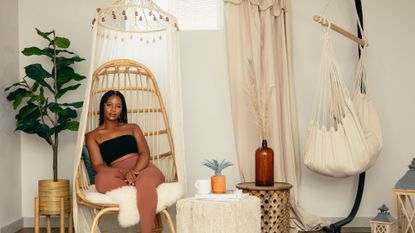 (Image credit: Gerald R Carter Jr)
Jasmine Marie is the founder of Black Girls Breathing—an Atlanta-based community that encourages Black women to nurture their mental, emotional, and spiritual health through meditational breathwork. Here, in her own words, Jasmine shares how she's leading her business during the pandemic, the importance of preserving Black women's mental health—including her own—amid COVID-19, and the systemic racism our country continues to face.
When I graduated from New York University (NYU), I was working at a consumer products goods company in global haircare. The beauty world can be crazy. It was in that time of extreme stress and pressure that I was introduced to breathwork. I went to a very non-traditional church, First Corinthian Baptist Church in Harlem, and my pastor had a personal breathworker. When the community center at the church was finally launched, breathwork was one of the free classes they offered to the community. I started going, and I was doing that for about four-and-a-half years before I decided to get trained so I could teach it. I created the concept for Black Girls Breathing in October 2018, and I finished the training in November 2018. I was just waiting to get my group training so I could officially launch everything.
Breathwork is not the same as regular, mainstream meditation. It's an active meditation. It's used to help soothe and heal your nervous system and your nervous system's response to any triggers that it may have, like trauma or just being exposed to all that's happening in our world. Once I started training, I kept seeing a lack of diversity in the breathwork community—even amongst the facilitators. Not all of them wanted to bring this tool to communities that really needed it outside of where the work has traditionally been centered, like L.A. and New York, so Black Girls Breathing toured to six different cities last year. The surprise cities that jumped out, as far as really taking to the work, were Houston and Dallas. They really showed up for us. I was surprised because those aren't huge wellness cities, but we had two classes in Dallas and they were both sold out.
When you think about chronic stress and the access to different wellness tools and healthcare, Black and Latinx communities are not really equipped to deal with the mental and emotional stress and chronic adrenal fatigue that they face. This shows up in physical health, too. When you look at the numbers, you see that Black women are the group that's mostly impacted from continuous chronic stress. There are studies that have been done to show links between cortisol and breast cancer and fatality from breast cancer, high blood pressure, heart disease, stroke, the list goes on.
That's why I was inspired to create Black Girls Breathing—to make breathwork resonate and feel accessible. I've worked with communities from elite colleges to juvenile detention centers. Sometimes in the ways that certain wellness practices are taught, it can feel inaccessible and like, "Oh, this isn't for me" or "Oh, I haven't been doing this for years, so I don't feel comfortable." I know that's how some people approach breathwork. My goal has always been to teach the tool in a way that it feels like it resonates, so it doesn't feel out of touch.
We've offered virtual breathwork classes since our inception, but when COVID-19 hit this year, it was super clear to me that our community—especially since Black and indigenous people are dying from COVID the most—needed an opportunity to practice the work for real. My spirit was just pushing me to think bigger. People are going through different financial stressors and losing their jobs, so we wanted to make it so that we could offer our work for free or at a $5 to $25 sliding scale rate. The cost pre-COVID was $25 per class and we hosted one donation-based session in April. We had a bunch of allies in the breathwork community buy up all those spots for us to donate [to other people] and rally around our crowdfunding campaign. Instead of just doing it for a year, it's changed our entire business model. Now we're really strategizing how we operate.
The money we're raising right now gives us that runway to keep operating the way that we've been, while giving us the time to get the ink on the dotted line for corporate partnerships and set up money from organizations and determine how that will sustain us. [As a Black-owned business], we know that we're not getting the same opportunities to capital, and that makes us even more inventive in the way that we fund our ideas and fund our missions. When I first created Black Girls Breathing, I wasn't going to wait for a venture capitalist to say yes or no about what I was planning to do. Crowdfunding has been empowering in that way where I was just like, You know, we could definitely use the community and these everyday people who do care and may have $50 or $100 to spare to help grow our mission. That's what we've been doing, and that's what we plan to keep on doing.
I'm the only one teaching classes right now. There are things that I've learned from doing the work [within the Black community] that were not taught in my training simply because my instructors had not been exposed to working with this population. I definitely plan to expand the class facilitators when it's time. Right now, I'm being very purposeful in how I lead. When I eventually bring on more facilitators, I would want them to lead in the same way because that's how we've been able to grow our community. It's about how [people] feel when they show up.
When I lead sessions, I like to lead in the moment. We leave the first portion [of the class] very much open for discussion, a reflective aspect, and communal dialogue. I don't have a script or anything. I lead based on the group because each group is different. I usually do an energy read and ask the participants how they're feeling, what's been coming up for them. I just try to get participants to lean into their body, and lean into what their body may be calling for them to do at the moment.
I can always feel our group's energy, whether we're in person or online. Energy is energy, especially in this practice. When you're connecting with the group, you feel it. I love hosting virtual classes, and the fact that it makes our work even more accessible. We've had so many women who are handicapable who may not be able to travel to a place and lie down on the floor and practice breathwork, but instead have their setup at home where they can still do this work in their own way. Because we've been in quarantine, I've noticed the power of feeling like a part of a community and being able to see other people's faces when they've been inside and haven't been able to have access to friends and family like they used to.
I've also had to relearn and learn during these times. I'm learning that what used to work self-care-wise has completely shifted and changed. I found myself seeing the shift and adjusted my practice. I no longer offer individual sessions because I just wasn't able to with what's happening and the severity of situations people are facing. I had to preserve my energy: If I'm offering all these group classes and then also doing corporate meditations, I need to cut my practice and modify it for a way that works for me as well, so I can continue to do this work. I'm just trying to be kind to myself because I'm also navigating what's going on outside of my home.

Ultimately, breathwork is about your relationship with your body. That helps us navigate so many other situations in our lives—listening to what our body needs at any given moment. Other times, you just need to feel seen and feel that mirror reflection in this work as you do it and use it to navigate different life challenges. Black Girls Breathing will always be that resource. But after a session, when people are at work and something stressful happens, like a microaggression, they have a tool they can tap into and use. We want to better equip people's spiritual and emotional and mental toolbox so that they can pull it out and use it when they need to. There's just something about space being made for you, and a different sense of accountability when people make space for you.
If you're interested in learning more about Black Girls Breathing and want to book an upcoming virtual session, click here.
RELATED STORIES
Celebrity news, beauty, fashion advice, and fascinating features, delivered straight to your inbox!
Rachel Epstein is a writer, editor, and content strategist based in New York City. Most recently, she was the Managing Editor at Coveteur, where she oversaw the site's day-to-day editorial operations. Previously, she was an editor at Marie Claire, where she wrote and edited culture, politics, and lifestyle stories ranging from op-eds to profiles to ambitious packages. She also launched and managed the site's virtual book club, #ReadWithMC. Offline, she's likely watching a Heat game or finding a new coffee shop.