How to Afford a Post-Pandemic Getaway
We break down one reader's travel spending plan.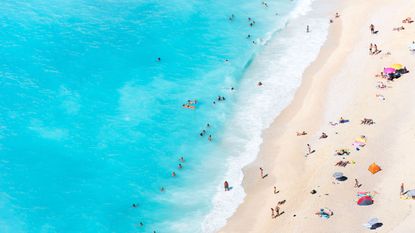 (Image credit: Matteo Colombo)
Marie Claire Newsletter
Celebrity news, beauty, fashion advice, and fascinating features, delivered straight to your inbox!
Thank you for signing up to Marie Claire. You will receive a verification email shortly.
There was a problem. Please refresh the page and try again.
After the year we've had, we all need a vacation. Pronto. With vaccines becoming more widely available in the U.S. and abroad, the global tourism industry (which lost an estimated $1.3 trillion in 2020, according to the World Tourism Organization) is finally on the mend. Victoria, a 26-year-old e-commerce manager and the founder of travel and lifestyle blog At Your Leisure NYC, is plotting her summer escape from concrete-covered Manhattan to somewhere a little more lush. Mindy Yu, director of investments at personal-finance app Stash, and Patricia Johnson, trip designer at Reco, a travel concierge service by Tripadvisor, share tips for helping Victoria make her PTO pay off so she won't have to pay up.
Victoria's Financial Snapshot:
Annual Salary: $65,000
Monthly Take-Home Pay: $3,414
Savings: $15,753
Debt: $0
Average MonthlyExpenses: $3,050 (including rent)
Annual Travel Budget: $2,500
Allocated for small, sporadic weekend trips and two larger vacations a year.
Budget for This Trip: $1,000
Victoria is hoping to visit some-where tropical, like Tulum, Mexico, for a long weekend. When she travels, she prefers to spend her money on experiences and local food; she can live without luxury accommodations and seats in first class.
Memories: Priceless
Cliché but true. According to Victoria, spending on life experiences and creating meaningful memories mean traveling has an ROI that can't be quantified. For her, wanderlust is a worthwhile investment.
Pick the Right Spot ...
Tulum, Mexico, might not be the best destination for Victoria; since it's a trendy luxury location, hotels can cost more than $500 a night. Instead, she should try Belize, a country on the Caribbean coast of Central America that is generally more cost friendly. Even better: With a population of just 390,000, the second largest reef system in the world, and more than 200 islands to explore, Belize is the perfect place to relax (or snorkel) socially distanced. —P.J.
... And Right Time to Go
During shoulder season (the time between peak and off-season at any given destination), you'll get a better deal—plus, it will feel less touristy. For Belize, that means late spring to early summer. You can have the Mayan ruins (like Caracol, one of the most famous ancient archaeological sites, hidden inside the Chiquibul Forest) all to yourself. —P.J.
Avoid Holiday Weekends
Holiday weekends are often the most expensive time to fly and book hotels. If you have unused vacation time at work, travel during the week, which can reduce costs. You'll snag flight deals if you travel on a Tuesday or Wednesday, historically the cheapest days to fly, over Sunday, the most expensive. —M.Y.
Build a Vacation Fund
Divide the expected cost of your trip by the number of months you have before leaving to figure out how much money you'll need to save. This may mean dialing back on your discretionary spending leading up to your trip. The first costs I'd cut are unused subscriptions. —M.Y.
Or Get Your Trip for Free
Well, kind of. Consider getting a credit card that earns you points that can go toward airline miles or your favorite hotel chain. By using it regularly, you may end up flying or lodging for free. —M.Y.
Enjoy Local Activities
Yes, sunning yourself on the beach is a bargain at $0, but a place like Belize offers low-cost, high-fun activities too. For example: In Ambergris Caye you can book a food tour for as low as $45. (The islands generally accept U.S. dollars.) For the same price, spend a half day at Hol Chan Marine Reserve and Shark Ray Alley, a reef and local wildlife area, where you can kayak along the coast. Inexpensive yet memorable. —P.J.
This story appears in the Summer 2021 issue of Marie Claire.
RELATED STORY
Celebrity news, beauty, fashion advice, and fascinating features, delivered straight to your inbox!
Megan DiTrolio is the editor of features and special projects at Marie Claire, where she oversees all career coverage and writes and edits stories on women's issues, politics, cultural trends, and more. In addition to editing feature stories, she programs Marie Claire's annual Power Trip conference and Marie Claire's Getting Down To Business Instagram Live franchise.