What Travel Exec Ruzwana Bashir Wears to Work
The founder and CEO of experiences booking website Peek.com has the chic casual look on lock.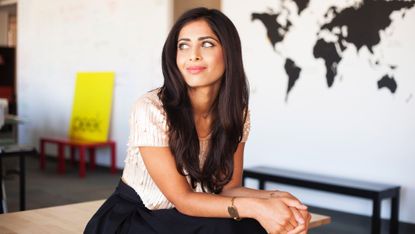 (Image credit: Courtesy)
Marie Claire Newsletter
Celebrity news, beauty, fashion advice, and fascinating features, delivered straight to your inbox!
Thank you for signing up to Marie Claire. You will receive a verification email shortly.
There was a problem. Please refresh the page and try again.
Ruzwana Bashir knows a thing or two about dressing for anything the day might throw your way. As the co-founder and CEO of Peek.com, an experiences booking platform (think: Airbnb for wine tastings, kayak tours, hot air ballon rides, and much more), she's constantly on-the-g0 and trying new experiences, some of which end up on the website. (A favorite—and must-try for spooky season—is a candlelit tour of the catacombs beneath Basilica of St. Patrick's Old Cathedral in New York City.) Armed with a stylish pair of Chelsea boots and a strong print, she's always up for anything.
Bashir, who first caught the travel bug after a summer spent volunteering in rural Tanzania, was inspired to launch Peek.com when a girl's trip became too stressful. "I was planning a birthday trip with my friends to Istanbul," she says. "I spent 20 hours trying to find fun experiences for us, like renting a boat and doing a food tour, and it was a big hassle to look up all the reviews and call them to book. I thought that there had to be an easier way, but I couldn't find one, so I decided to build it." Build it she did: Peek.com launched in 2011 and quickly caught the support and backing of investors like Twitter's Jack Dorsey.
For obvious reasons, people were not traveling during the pandemic. Peek.com had nearly zero bookings in April 2020—a far cry from the $1 billion worth of bookings they banked in early 2020. So the company revved up their efforts to partner with small businesses: They helped small businesses secure loans (totaling nearly $30 million worth of loans), then developed new software (PeekPro) to help partners safely streamline ticketing, booking, and check-ins.
With fewer people jet-setting, Bashir also shifted Peek.com's focus to local activities, catering less to tourists and more to people who want to experience their own neighborhoods. Instead of say, booking tickets for a museum across the world, users can now easily discover which neighborhood hotspot is hosting a socially-distant outdoor festival, or where to meet up for a walking tour. Not only did local experiences help get adventurers off the couch, but the model worked for Peek.com, too: The company bounced back to $50 million in sales just months after rock bottom. They also leaned into online experiences. This past year, Bashir launched Peek Virtual, a platform that helps companies book virtual team bonding experiences (like mixology masterclasses or virtual escape rooms) for their employees.
Below, the self-described "travel junkie" shares what she wears to get things done, her travel must have, the new shoes she wears for walking meetings, and more.
Her Morning Routine:
My least favorite aspect of my job is early morning meetings. I'm a night owl, so I often end up staying up late working and become a bit sleep deprived! I love to work at night; that's often when I do my best work. So in the morning, I usually try to squeeze in as much sleep as possible; I am typically at my desk within 15 minutes of waking up. But I do make sure I have a cup of tea (English breakfast or matcha) in hand before jumping into my inbox and planning out my day.
Her Getting Dressed Strategy:
It depends on what I'm doing that day. I'm currently working from my apartment in New York City, so that has certainly changed things. I now have more casual go-to outfits for day-to-day, and more elevated pieces for big meetings or for events where I'm speaking. I think clothes provide a way to show off your creative side, so I often wear bright colors or prints and statement jewelry or heels.
Her Daily Work Uniform:
Given the heat in the city, my go-tos now are printed floral sundresses from Dolce & Gabbana and silk tops with high-waisted skirts. I've started doing walking meetings, so my flats collection has definitely expanded—Soludos "Good Vibes" sneakers, classic white Air Force 1s, and Nicholas Kirkwood Casati boots. In winter, I'll throw on a Brunello Cucinelli cashmere sweater with high-waisted, wide-leg pants.
Her Workwear Accessories:
I'm obsessed with Nadine Ghosn's playful bracelets and rings, which I wear everyday. I'm normally carrying one of several Anya Hindmarch small crossbody bags I have, too—they instantly brighten your mood with their smiley faces or rainbow motifs
Her Shopping Strategy:
I like to take a Marie Kondo approach to new purchases, sticking to things that bring me joy and feel somehow unique or special. When I buy something new, I always try it with a few other things in my wardrobe, so that I have some looks in mind for it. That makes it much quicker to get dressed in the morning, as I know which items go well together.
Her Favorite Designers:
I have to admit I'm not very loyal to a specific designer so I have pieces from many, from Proenza Schouler and Christopher Kane to Gucci and Markarian. I think Zara has great affordable pieces, too, but I'm very small (5' foot 2" on a good day), so it always feels like a huge win when I can find something cool there that fits me!
Her Go-To Power Outfit:
A Roksanda Ilincic coral dress that I pair with a Lizzie Fortunato necklace, Manolo Blahniks, and a pale blue Celine handbag.
Three Words to Describe her Personal Style:
Playful, colorful, and bold.
What She Always Brings on the Plane:
Shop Ruzwana's Wardrobe:
When it comes to the products Marie Claire recommends, we take your faith in us seriously. Every product that we feature comes recommended by a MC writer or editor, or by an expert we've spoken to. Learn more about how we review products.
Celebrity news, beauty, fashion advice, and fascinating features, delivered straight to your inbox!
Megan DiTrolio is the editor of features and special projects at Marie Claire, where she oversees all career coverage and writes and edits stories on women's issues, politics, cultural trends, and more. In addition to editing feature stories, she programs Marie Claire's annual Power Trip conference and Marie Claire's Getting Down To Business Instagram Live franchise.