Chasing Sanitation: An Inside Look at the Unsung Heroes of the World's Dirtiest Streets
Get a behind-the-scenes look at the street's unsung heroes: the fine-looking men and women of the Department of Sanitation.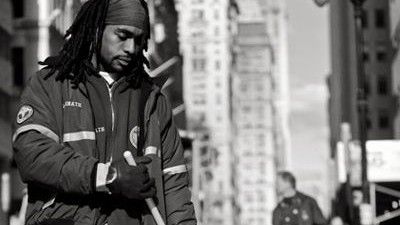 (Image credit: Liz Ligon)
When two Tennessee transplants set out in a rusty van chasing the fine-looking men and women of the Department of Sanitation of New York to capture the behind-the-scenes stories of the street's unsung heroes, they weren't sure what to expect. Two years and 20,000 photos later, Lisa Dowda and Liz Ligon's visually-arresting site Chasing Sanitation showcases the strength, pride, infectious grins, and impressive biceps of the DSNY in ways they never imagined.
Now, with the promise of an upcoming art exhibit just within their reach, they have four days left to raise the last of the cash to make their goal of a gallery opening a reality. Below, some more "dirty talk" from the ladies about their favorite subjects on garbage day … and your own chance to win a date with one of New York's strongest.
What inspired the two of you to start "chasing" after the Department of Sanitation?
LD: It really started on a summer night in 2007 when I was walking home at midnight from Park Slope to Sunset Park. Some tatted-up sanitation worker stopped to make sure I was safe while I was waiting for a bus that never came. I had never noticed the sanitation workers before — and then I couldn't stop seeing them. They were everywhere, and I couldn't stop thinking about how beautiful they were — their strength and physicality — so I put a proposal together, and a little while later, Liz jumped on board as the photographer.
LL: She explained that these men and women were hot — that was the first thing — and secondly, that they were way friendlier than anyone she'd met — and we're from the South (Lisa's from Memphis, I'm from Nashville), where folks are known for being friendly. But even that first day out, I was hooked.
What's the average reaction when you tell people that you're spending your weekends working with the DSNY?
LD: Oh, they laugh. Immediately! Then they see my WTF face and go, "Really?" Or sometimes I'll field questions like, "Oh, are you a sociologist?" I shrug and say, "These people have amazing stories and what you don't know about them is a lot." The men and women that work on your street are straight-shooters — and you'll never laugh harder! They're adventurous, mischievous — you'll want these people at your parties and barbecues!
LL: What I love is that almost always, that same person will follow up with me and say something like, "I've been thinking about your project…" It always gets people thinking — some are interested in behind-the-scenes stuff like where all the garbage goes, some recognize what a critical job it is in a city of eight million — but mostly it reminds them the humanity of the people who do this for a living. Of course, no one ever believes that they're gorgeous until they look at the photos on the site. One friend emailed me after she'd logged on and said, "I winked at the sanitation man this morning!"
When you ambush a sanitation worker with your camera and notebook, what's their first response to all the attention?
LD: Every single one of them tells us that they're not supposed to talk to the media — which means the city has trained them well.
LL: Eventually they always point to their partner or another sanitation worker and say, "This guy loves having his picture taken."
LD: Roy DiMaggio was definitely shy and he was all, "I'm the most unphotogenic guy." So we begged him to participate and now his shots get some of the best responses.
LL: I also love it when I see a subject after we have met them on a "chase." It's like old friends. I was on my way for a run in Prospect Park one morning and Jasmine went by in a truck. She yelled, "I remember you!" and leaned down to give me a hug.
The hours for this project have to be hell. What's your schedule like?
LD: It's crazy, exhausting, unpredictable, and practically a comedy routine. I've interviewed sanitation workers on their 15-minute break on the corner of Bryant Park in the pouring rain during Fashion Week, under a cheap bodega umbrella. It's constantly fun.
What are some of the biggest misunderstandings that the public has about the men and women who do this for a living?
LD: That they don't have families and friends and fathers and mothers and bosses that they're all trying to please or provide for. That they don't read Dickens on the weekends or were child actors or haven't kicked their drug habit or that they can't do any better. That they don't have houses and cars that are cleaner than yours.
LL: They'll be the first to tell you this — to most New Yorkers, they just represent a traffic jam.
LD: But it's the best family in the city. And the fact that they fly under the radar, because of the built-in risk of the NYPD and FDNY, means that they kind of cling to each other even more. They know each other in each garage, from the Bronx to Staten Island.
What are some of the things that sanitation workers do for the city that the average person doesn't think about?
LD: They're New York's housekeepers. The streets are the hallways. They save kids, animals, old people. Some of them have run into a building on fire or reported a kid wandering the streets without supervision. They know the people in the neighborhoods they serve, but we don't know them.
LL: This department is incredible. Cleaning up after the Yankees won the World Series last year and their ticker tape parade — I've never seen anything like it. Huge crews of sanitation workers descended upon Broadway with handheld machines and trucks and giant vacuums, and in less than two hours, you would never have known how many thousands of people were just there, or the hundreds of pounds of paper. One SanMan showed me a photo of Derek Jeter passing right by him.
And you're so close to an exhibit. How to do you envision the big event?
LD: We want the photos to be big and lush. We want to give back to the DSNY and the union to show them what we see.
But this exhibit only happens if you get a certain amount of donations, correct?
LL: The kicker of Kickstarter.com is that we get all or nothing. You can give here.
And there's a surprise you can win when you donate?
LD: We thought it would be a super-fun idea that if one person, or even a whole bunch of people, went in on a $1,500 donation that they could win a date with one of New York's strongest, along with a framed print of your evening. So, if it's one person or a whole gaggle of marketing girls — whatever! Other prizes include books, T-shirts, autographed prints. We just want to make sure everyone gets a little love.
LL: And if you don't have a lot of love to give, even a $10 donation gets you on the guest list for the exhibit opening.
Your website's tagline is "Falling in love with New York's strongest." At what moment did you feel the love?
LD: That first day in 2008 at the D&D Diner when we ran into Johnny Doz and his partner Mark on break, I fell in love. I don't know about Liz, but I feel like I've already run to Vegas with the entire department, gotten married in a drunken fit, and now we're shopping for co-ops.
LL: I fell in love with this project immediately. Strong arms, grit and movement — it's such a challenging and fun project to shoot. Any photographer should want this gig!
All photos taken by Liz Ligon.