10 Reasons Why Being More Miranda Hobbes and Less Carrie Bradshaw Will Get You Promoted
Let's face it: Miranda Hobbes was kind of a badass.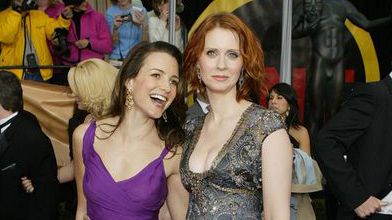 (Image credit: Getty)
Marie Claire Newsletter
Celebrity news, beauty, fashion advice, and fascinating features, delivered straight to your inbox!
Thank you for signing up to Marie Claire. You will receive a verification email shortly.
There was a problem. Please refresh the page and try again.
Sure, we all loved Carrie's cute outfits, but while she was running around Manhattan in a tutu, Miranda was busy making bank. Here are all the reasons why you should channel a little more Miranda on a daily basis.
1. She's efficient. As a partner at a law firm, Miranda works long hours. But by staying organized, and keeping distractions at a minimum—no texting!—she plows through her legal briefs and negotiations. Staying on task while you're in the office can be a challenge, but ultimately, it will pay off. Your boss will be impressed when you hand in that report a day early, and you'll feel less stressed knowing that you have one item crossed off your to-do list in the morning.
2. She's not afraid to say when you're wrong. Miranda will be quick to speak up when a colleague suggests that the firm settle when she knows for sure that they could win in court. She's not intimidated by her colleagues, and you shouldn't be either. Just because someone has been working there longer than you have, or is *gasp* a man, doesn't mean that his plan is the right one for the company.
3. She works hard AND plays hard. Rarely do we see her without a drink in hand or flirtatious man by her side. And while she may seem a little aggressive, making sure you have a healthy work-life balance is essential. Take time to plan nights out with friends, boyfriends, and family.
4. She doesn't apologize for being successful. Miranda makes no apologies for drinking her coffee out of her Harvard Law School mug. Take a page her from confidence playbook and let your successes be the thing that makes you stand out. With that kind of pride in your work, other people won't think, "Wow, she's arrogant." Instead, they will think, "Wow, she's great. I need her on my team."
5. She cares about partnerships. They say it takes a village to raise a child. Miranda learned that all-too-real lesson when Brady was born, but she was a team player long before she was a mother. Just because you want to be a mom one day doesn't mean you can't maintain your professional relationships now so it pays off later. It's pretty difficult to be made partner at a firm when no one thinks you're supporting or looking out for them. The more people who consider you an ally, the more help you'll have when you need it most.
6. She doesn't let a bad haircut stand in the way of her success. And wow, she has had some brutal ones. But a bad hair day, or a coffee stain on your top should not actually affect your work day. In fact, pretending not to care about them is the best way to keep others from thinking you sweat the small stuff. If you're not worried about it, they'll assume it's no big deal, and everyone will get on with their day.
7. She knows how to say, "No." This is one of the hardest things to say in life, kind of like "I'm sorry," or "I've had enough cake," but knowing when you have too much on your plate and saying "no" is actually a good for your career. What good is taking on 20 projects when you only have time for 10? Instead of just saying yes and dropping the ball on something later, think ahead about what you can realistically do, and more importantly, what you can realistically do well.
8. She is always realistic. Sure, some people may call her cynical, but really, Miranda sees things as they are. And while she may take it to the extreme sometimes, managing your own expectations—especially in the workplace—is always a good thing. If you're hoping to get a promotion, but heard that three people from the marketing department just got laid off, don't assume that you'll be up for that gig any time soon. You will only be disappointed.
9. She can adapt to just about anything. The death of her mother, a traumatic break up, a new baby. Whatever unexpected challenge popped up in her life, Miranda still showed up and delivered at work, even if she did have to eventually cut back to only 60 hours a week. Showing your boss that you can be flexible when something unpredictable happens proves you can be trusted with projects and that you won't let a sudden change deter you from delivering excellent results.
10. She does things her way. Miranda knew what she wanted from her career and stayed focused. When life became unpredictable she didn't waver on her objective. Set realistic goals for yourself so you'll be less likely to burn out. Don't let the successes of your friends worry you or get you down. Honestly, they're probably just as worried about their careers.
Celebrity news, beauty, fashion advice, and fascinating features, delivered straight to your inbox!