Michelle Christensen
The next Philippe Starck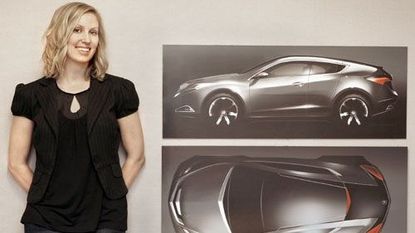 (Image credit: Marie Claire)
Michelle Christensen, 29, senior designer, GM
Résumé: Michelle Christensen blew away car company recruiters with her innovative sketches as a student at the Art Center College of Design in Pasadena. She was scooped up by Acura in 2005, where she became its first female exterior car designer and won a major in-house design challenge. Now at GM — which recently poached her from Acura — she's upending the male-dominated car design industry.
Background check: "Growing up, my interests ranged from sketching prom dresses for friends to wanting to work in a pit crew for a racing team. In junior high I learned about exterior car design; it was the perfect melding of my interests in design, cars, and working with my hands."
Big break: "In 2006, when Acura challenged company designers to create a car that filled a hole in the market, my sketch for the exterior won — and became the blueprint for the ZDX [above], which went on the road last year."
Surprising inspiration: "I love shoes — I have about 30 pairs. Their complex form relates really well to cars. Alexander McQueen's are my favorites — his triple-buckle boots inspired the ZDX design. They are strong and functional-looking but still sexy. I'm constantly doing inspirational online shopping for heels. Interesting surfaces or shapes can influence how I sketch a bumper."