Everything Science Says You Should Do Before an Interview
In lab coats we trust.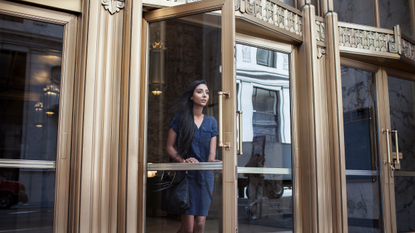 (Image credit: Archives)
Marie Claire Newsletter
Celebrity news, beauty, fashion advice, and fascinating features, delivered straight to your inbox!
Thank you for signing up to Marie Claire. You will receive a verification email shortly.
There was a problem. Please refresh the page and try again.
Okay so honestly? Interviews suck. But our favorite life-hack whisperers (scientists) have figured out exactly how to make them suck just a *little* bit less. Here's what years of research says you should do right before you take the big breath and walk through the door with a smile on your face:
Sometimes stress can do great things for our focus, but that racing heartbeat and OMG-I-can't-breathe feeling common before a critical interview can slow you down and blow your chances. Research published by the Journal of Business and Psychology discovered that talking slower is the most obvious sign of anxiety and makes you seem less confident, leading employers to pass you over despite an impressive résumé. So next time, cope with stress by doing the natural thing: talking quickly.
The early bird gets the worm, apparently even in the job search. A study from Psychological Science found that interviewers evaluate applicants based on the performance of previous applicants seen in the same day. The better others do, the worse they rate the following interviewees. Knock them off their feet in the beginning of the day and set the bar high to increase your chances of entering the second round.
It's not always work and no play. Research published in the American Sociological Review found that employers preferred a candidate they could see themselves hanging out with over one who is simply qualified for the position. This is 2015, after all, so get internet stalking.
Experts suggest the most important factor for job seekers during the interview stage is a positive outlook. You know, confidence. Like Beyoncé.
You should also check out:
10 Must-Do Tips to Ace Your First Job
5 Leaving-for-a-Job-Interview Excuses You Should Never, Ever Use
Celebrity news, beauty, fashion advice, and fascinating features, delivered straight to your inbox!
Simedar Jackson is an esthetician, content creator, and lover of sci-fi fiction living in Brooklyn, New York. She is passionate about creating space for Black and Brown people in the beauty and wellness industries by providing access to culturally nuanced education and services that meet their needs. You can find them doing their skincare routine, reminding friends to reapply SPF, and watching reruns of Love Island.