The Creator of Your New Favorite Sunglasses on How She Dropped Her Day Job to Start Her Own Business
Within a year of its launch, Ahlem Minai-Platt's eyewar line is already a celebrity favorite. Here, she shares the secrets to her crazy impressive success.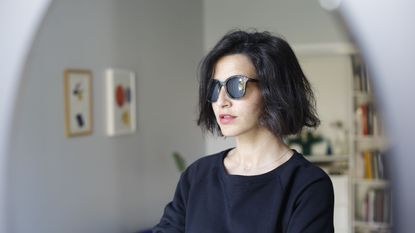 (Image credit: archive)
What's it like to start your own brand and, within a year, see it sold all over the world, with stars like Jessica Alba and Reese Witherspoon rocking your designs? That's the story of Ahlem Minai-Platt, who launched her eponymous eyewear line Ahlem last April.
Minai-Platt worked in the fashion industry for a decade before deciding to follow her lifelong dream of starting a sunglasses company. Now she lives in L.A. and works in her studio there, but it's Paris, the city where she was born and raised, that inspires her designs. Each pair of Ahlem's unisex frames is made by hand in a factory in France. Her collections are a bold take on classic sunglass shapes with striking features like vibrant flecks of color and geometrically shaped nose bridges.
She clearly loves the path she charted for herself, speaking with both candor and modesty about her impressive success (her first buyer was, NBD, super chic Parisian department store Colette). Here she sounds off on her decision to start Ahlem, the importance of product authenticity, and road tripping up the West Coast to sell her sunglasses to stores.
What made you decide to start your own company?
"I used to work for Acne as a retail developer for France. Then I worked for Prada Group as the buyer for Miu Miu in France. After Prada, I opened a company called Retailist – that was my first entrepreneurship experience. I had discovered brands opened and then died for the small things that are missing sometimes, like DNA, real stories, and honesty. So, I created Retailist to help brands to have a strong image out there. But I always wanted to do eyewear just because I have a true love – and I hope it's not cheesy to say that – but I have a true passion for glasses. It's the only thing—clothes go, bags, hair…but the glasses…"
They tie it all together.
"It's the signature of what you are. Sometimes you see this amazing, good-looking guy, and he has these horrible glasses, like, 'Why did you put those on yourself?' Just before my wedding, I drew a pair of glasses and a friend of mine is like, 'Oh, you should do it.' We came back from our honeymoon, and I had that small voice of my friend. My husband and I talked, and we Googled 'factory in France.' We found one, we visited, we fell absolutely in love with the people there. Real craftsmen. This town has been making glasses for three hundred, four hundred years. It's the real way to do it. That's why I started the company. Because I found the matching honesty, the matching love, the matching interest for eyewear."
You're tapping into this want in our generation to know the story of where a product comes from.
"Yes. It's exactly what you miss sometimes. When I was young, I didn't grow up with brands. My mom, when she wanted cashmere, she would go the cashmere brands. When she wanted leather, she would go to the leather maker. It's doing something well. It's the history of it."
So, what have some of the biggest challenges been?
"I don't know. It's, again, I don't want this to sound really cheesy, but it was meant to be, you know? In January 2014, I launched the company on paper: I finished my drawing and finalized the factory. A few weeks after that, I saw the first mock-ups, so not even really a prototype. Since then, it's been like, 'whoosh.' I thought [getting orders from stores] would be a challenge, and it wasn't even. Colette was our first company in Europe. Please don't think it's a snobby thing to say."
It's amazing. So, what inspires you? Where do you find your inspiration?
"Paris. It's really home. Paris is about a sense of who you are rather than what you are wearing. With my glasses, I try to have a design that you can wear every time. It doesn't hide you, but displays your personality. It's a real Parisian way to think."
What have some of the best parts of starting Ahlem been?
"Oh my god, everything. I mean, meeting you today. Seriously though. Meeting you today, and there were people yesterday. I was in New York last July, and I knew Jessica Alba had bought my glasses in Beverly Hills. And, honestly, I never see her wearing them, and my husband and I were walking here and we pass a big advertisement of Jessica Alba, and I was like [jokingly], 'Jessica, where are my glasses?' Same day, I receive a text from my friend that says, 'I think I saw Jessica Alba in your glasses.' It was one of the highlights. But again, having an order from Colette is a highlight, having an order from an amazing store in Portland is a highlight, today...everything is a highlight."
How did you become successful on an international level?
"It's word of mouth. In Australia, I have a distributor. One day I received an email to my office saying, 'Hey, we saw your glasses. We want to represent you. We represent Garrett Leight and Moscot.' And I was like, 'Oh my god!' So we have a Skype meeting and we click right away. They distribute all of my eyewear in Australia now. In Singapore, I really wanted to work with one specific store, Inhabit, so I visited them. I do multiple fairs and meet [distributors] there. And for the U.S., I travel. Last month, my husband and I had a road trip from L.A. to Vancouver. I met with seven West Coast and Canadian stores and all of them ordered on the spot, which was amazing."
You're your own salesperson.
"Exactly. My collection is handmade. It's very limited. I really want to pick the people I work with. I really want to create strong partnerships. I want to see the people and talk to them, and see how they will display, how they will sell the glasses."
What are your plans for the brand going forward?
"I have new lines coming out every six months. I do new colors every two months. I'm opening a co-op shop in San Francisco. It's a store owned by this woman who told me, 'You know, you are a woman in eyewear, and there are not many. First of all, I love your product, but I really want to support you as a woman.' I realized, 'Yes, you are right. There are no women in eyewear. There were, but they were always bought out by big companies.' So yes. I'm doing this with her. It should be done in May."
I'm the features editorial assistant at Marie Claire. Before working at MC, I spent time in the production department at The New Republic and writing about politics for Bustle. When I'm not writing, you can find me museum-hopping, practicing mediocre yoga, and stalking pugs on Instagram.