What Silicon Valley Gets Right About Women and Motherhood
Netflix, IBM, Google, Apple—the tech giants are making waves for working moms. Why won't Corporate America follow suit?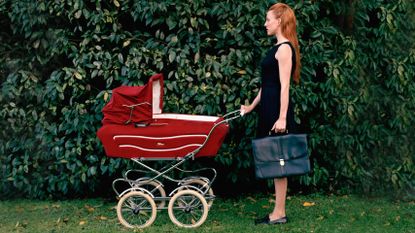 (Image credit: Getty Images)
Marie Claire newsletter
Celebrity news, beauty, fashion advice, and fascinating features, delivered straight to your inbox!
Thank you for signing up to . You will receive a verification email shortly.
There was a problem. Please refresh the page and try again.
Ah, the problems of being A Working Mom. Even as recently as 10 years ago, women were told basically one thing when it came to balancing motherhood and career: "Suck it up." Hide your belly for fear of getting the boot. No complaining. And no help. Part time? Never heard of it. How did they do it? They just did.
Honestly, a lot of corporate culture is still painfully behind when it comes to equality in the workplace for parents. But Silicon Valley is doing its own thing, making massive strides with an impressive new set of initiatives that seem astoundingly forward-thinking—even if they just put us on pace with much of the rest of the world (opens in new tab).
Netflix made news this week (opens in new tab) for announcing that they will now offer "unlimited" maternity and paternity leave for their 2,000+ staff. Did I mention it's *paid* leave? This is an interesting choice for a company that's not particularly set up to capitalize on employees being able to work from home, but CEO Reed Hastings embraces the motto of "freedom and responsibility." It's certainly a way to empower.
IBM recently joined the ranks (opens in new tab) with a new alley-oop for breastfeeders: Working moms who spend most of their time on the job, traveling from city to city, can now take advantage of a new benefit—they can ship their breast milk home on IBM's dime. It's worth noting that this comes at the bidding of a female CEO.
Various other companies have taken Facebook and Apple's lead since the announcement last year that they would offer egg-freezing as a perk (opens in new tab). As this and other fertility treatments (opens in new tab) often run upwards of $20,000, this is a positive perk—and one expensive enough that it shows how seriously the company takes its employees reproductive rights.
Google's actually been in the game for years—and not because it's good politics, but because it's good science. "We formerly had a maternity-leave policy of 12 weeks of fully paid and vested leave, but science better informed our decision-making in 2007," Google spokesperson Roya Soleimani told the Atlantic in March (opens in new tab). "Twelve-week-olds are at a very different place developmentally than are 18-week olds, so we changed our maternity leave to 18 weeks. It just felt like the right thing to do. After our policy change, we also found that returning moms left at half the rate they were leaving at previously."
An influx of fashion tech companies like Tradesy, Rent the Runway, Tieks, and Gilt Groupe have helped increase the numbers of women at the proverbial tech table—which increases the awareness of women's issues for the whole community along the way. Ballet flat phenomenon Tieks pride themselves on their female millennial retention due to their adaptability and catering to the needs of their workforce, which is made up primarily of young women.
But there's been a negative undercurrent to this conversation in recent years. Are these policies just a way for famously bottom-line-oriented companies to keep women at the office longer, to work them hard enough that they have to wait to get pregnant? Sure, there's legitimacy to that concern—but the truth is, some women want to work hard, and they want to have kids, and these policies provide a way for them to do both.
Silicon Valley is at the forefront of change, and it likely always will be. Inventing the future is its job. But encouraging that change more nationally—and making it stick—will prove to be a challenge. Which is why it's up to us, fittingly, to keep pushing.
Jesse Draper is the host of Emmy-nominated tech series The Valley Girl Show (opens in new tab)
Jesse Draper is a technology personality and creator and host of Emmy-nominated "The Valley Girl Show", as well as CEO of Valley Girl, Inc. She has produced and distributed over 300 interviews with some of the greatest minds in business, entertainment, and technology, including Sheryl Sandberg, Supreme Court Justice Sandra Day O'Connor, Jessica Alba, Will.i.am, and former Google CEO Eric Schmidt. She will also appear as a regular mentor on ABC Family's new show Startup U, airing in August. She splits her time between Silicon Valley and Santa Monica and is a graduate of UCLA.