How to Avoid Career Burnout, According to the Real-Life Olivia Pope
Arielle Patrick knows a thing or two about staying sane when work gets crazy.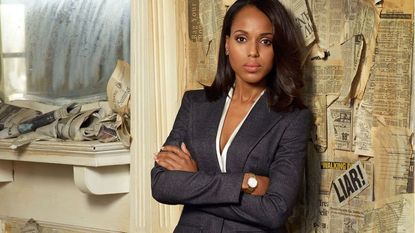 (Image credit: ABC)
Whether she's working 18-hour days at one of the biggest PR agencies in the world or spearheading Yellowstone National Park's first millennial fundraising effort, Arielle Patrick thrives on staying busy and is at the top of her game.
Patrick might only be 26 years old, but she already manages a team that undertakes crisis management for major financial corporations—while somehow finding time to do pro bono and charity work on the side. She's the U.S. Publicity Director for She Leads Africa, an NGO in Nigeria that provides female entrepreneurs with financing and a networking community, and next on her calendar is chairing the Audubon Society Young Members gala for the second time this spring.
So what exactly makes her, essentially, Olivia Pope IRL? For starters, the majority of her work is highly confidential. "I deal with special situations ranging from litigation issues to major transactions to more personal issues, like a personal scandal with a high profile leader or misconduct," she said. "When faced with issues that obviously hurt some parties in some capacity, I help my clients do the best they can, both for the business and for the general population. There are many solutions to choose from that carry various risks."
It's a high-stress position and one that's taught Patrick how to manage her time effectively so she can maximize her (many) working hours while also making room for her philanthropic passion projects. Here, she shares a few of the key lessons she's learned to avoid career burnout.
"I am the kind of person who works around the clock, so the way to relax and recharge is sometimes to switch my focus. Brainstorming for something different or exercising my brain in a different way recharges me. I always have a notepad with me for commutes and free moments. I'll even be in a fitness class, and I will make it my mission to come up with new ideas."
"Always rely on your resources, which are often people. If I'm having a really bad day and I'm going to crash, I'll call my mom, dad, brother, or best friend. A lot of times, those conversations will inspire me in some way. Rely on other people to support you and add other perspectives. Sometimes just listening to how someone else's day is going can put things into perspective. I think a lot of people burn out because they just focus on themselves."
"Take a personal day if you really need to—the world will not crumble. Recently, I was working on a deal for a client that took four days. I slept four hours over those four days, and at the end of it, I went to sleep for literally 24 hours. I turned off my phone and said I am not feeling well, we'll talk in a day.
It's also about knowing when to say no. When I first started out, I said yes to everything and got overwhelmed. I'm at the point where I get asked to do a lot of charity work. Now I decide what's important to me and then follow that passion."
Follow Marie Claire on Instagram for the latest celeb news, pretty pics, funny stuff, and an insider POV.
Celebrity news, beauty, fashion advice, and fascinating features, delivered straight to your inbox!
I'm the features editorial assistant at Marie Claire. Before working at MC, I spent time in the production department at The New Republic and writing about politics for Bustle. When I'm not writing, you can find me museum-hopping, practicing mediocre yoga, and stalking pugs on Instagram.