The Power of Sorry: The New CEO of Lands' End Explains the Lessons She's Learned While Rising to the Top
Italian-born Federica Marchionni addresses that Gloria Steinem catalog controversy.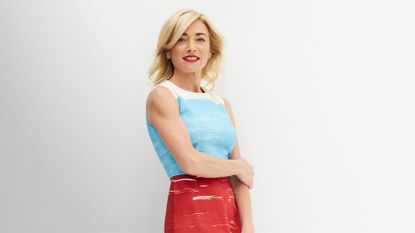 (Image credit: Eric LaCour)
In February 2015, Italian-born Federica Marchionni, the former head of Dolce & Gabbana USA and senior vice president of Ferrari, was named CEO of Lands' End. Her task: Amp up the style quotient of a brand best known for its khaki-and-canvas roots. This past February, she ignited a firestorm by featuring legendary feminist and outspoken pro-choice advocate Gloria Steinem in the Lands' End spring catalog. (The move angered the brand's more conservative customers.) Now, she shares her side of the story and other lessons she's culled as a fashion groundbreaker.
My mission for Lands' End is to build a meaningful global lifestyle brand. We just launched our Canvas collection this spring. It was designed in America and developed in Italy. It's a line that appeals to a younger, more fashion-conscious customer, and makes Lands' End a more robust brand. Kids are with us until they are about 12 or 13, but then they don't return to us until they are parents. The moms who shop for kids don't shop as much for themselves. So I said, "Whoa. We can make something to appeal to the customer base we already have, but then expand."
Our founder used the catalog to give customers information about more than just our products. So we decided to do a series of interviews with people involved in important causes. We wanted Oprah and Derek Jeter, too. Our intention was to have different voices representing different things.
One of the biggest topics in the world right now is women's equality. It's something I take personally. As CEO, I am asked, "What are you wearing?"—do they ever ask this question to men? So with only women's equality in mind, we had the opportunity to have Gloria Steinem in the catalog wearing Lands' End as the first in the series. Everyone at the company was happy with it.
The catalog went out on a Friday. Early the next week, we realized there was a problem. People were coming out very strongly against us on Facebook, saying, "Oh, you are for abortion." That was never our intention—we didn't even mention abortion. I come from Rome, and I know the church. We took a stance to support women's equality. We were surprised. No one felt good about it.
As this was happening, I had to go to California to give a speech at Stanford University. I was trying to remain focused and prepare for the talk, which, ironically, was about perfectionism. I'm always saying that perfection doesn't exist. Excellence is good enough. It was a good lesson for me to give myself at the time.
Our customers told us that the [Steinem] feature was not something they appreciated. It's not our intention to offend anyone, so we decided to take the interview off our website and issue an apology. This made people on the other side of the abortion debate angry. But, again, we never intended to raise that issue.
People say, "Well, you apologized, so you are a coward." Apologizing is not weak. Apologizing is good. Apologizing is power. Apologizing is being brave. By saying sorry, I am not saying I don't support women— that's a different thing. Our objective was to raise awareness of women's equality. And we did that.
I was not the obvious choice [for Lands' End]. I grew up in Italy in a very little country village called Santa Severa. But the first time I went to Lands' End headquarters—in Dodgeville, Wisconsin—it was like going home. They all look like my family. My cousin, my uncle. All very good people whom you can trust completely and you can love.
I am a self-made person, the first in my village to graduate college. I have had to be strong. I started my career in mobile, working for Samsung and Ericsson. I met the designers [Domenico] Dolce and [Stefano] Gabbana by chance, on a plane. When I told my boss I was leaving to work for them, he said, "You are playing Russian roulette with your career!" But I went for it anyway.
I worked my way up in the Italian world. On my first day at Ferrari, I was the only woman in a board meeting, and the chairman asked, "Who is that woman?!" It ended up being an amazing experience. I was the head of everything that was not a car— sweatshirts, bikes, toys, watches—negotiating deals with CEOs of other brands.
[The Steinem controversy] isn't the first bump I've experienced in my career. Not that I'm used to it, but I can say that I have experienced it. My approach is to stay calm in the moment and stay close to my people—you're stronger together. But I wasn't worried about myself. I was worried about my people.
Customer service is at the heart of Lands' End. I knew this before I became CEO because I myself was a customer. I bought my son's school uniforms there and have always been impressed. Even in this online age, the Lands' End toll-free number is one of the most important parts of our business—and one of the things we are most proud of. I felt devastated for the customer service team since they were the ones on the phones, and they'd never really faced this kind of crisis. I left California and took a red-eye to Wisconsin to be with them and let them know we'd get through this together.
A few months have now passed. I would not say we are out of the storm just yet, but I think we are out of the peak. Our team has come together. They now see me as one of them. That's what you get when you share a problem like that. So even if we still have critics, we know that we have heart. We can do anything.
This spring, under Marchionni's direction, Lands' End rolled out a new sport line, a bold step forward for the Wisconsin-based brand:
1. Blue Bra Top, $59; 2. Pants, $65; 3. Bra Top $55; 4. Shorts, $49; 5. Sneakers, $60; all available landsend.com
Hair: Eloise Cheung at Kate Ryan Inc for Aveda
Makeup: Thora at Kate Ryan Inc for Chanel Rouge Coco
This article appears in the July issue of Marie Claire, on newsstands now.