How to Score a Job at ModCloth
When the hiring manager gives you advice, you listen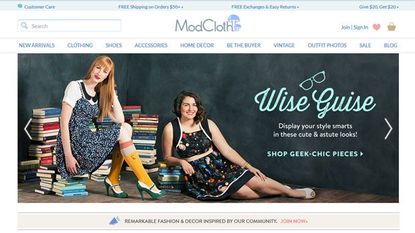 (Image credit: Courtesy of Website)
This summer marks the one-year anniversary of ModCloth's plus-size clothing launch. The vintage-inspired online fashion retailer celebrated this milestone by starting a conversation on why clothes matter. Ninety percent of women polled said what they wear affects how they feel. These women feel way more confident when wearing an awesome outfit.
ModCloth was founded back in 2002 by Eric Koger and Susan Gregg Koger with the idea that fashion is for all women, regardless of their shape, size, or characteristics. Gregg Koger's goal is fashion inclusion, adding a full range of sizing into its existing line rather than an offshoot of the brand for its curvier customers. Marie Claire's own Nicolette Mason, the fashion blogger behind the monthly column "Big Girl in a Skinny World," is partnering with ModCloth on an inclusive collection that will be available from size XS to 4X. Mason's line debuts October 6!
Gregg Koger's inclusive attitude impacts how she manages her employees as well. The ModCloth team is collaborative and supportive — the fashionistas and engineers work together on big ideas to build the brand. In terms of company culture, it seems that the friendships in the office make work worth going to, even more than the free snacks, ping-pong, potlucks, and clothing exchange racks. We spoke with ModCloth's Senior Vice President of People Susan Otto about how to land a job at ModCloth. Here are her five tips.
Know Who Represents the Brand

One question that comes up often during interviews is, "If you could pick one celebrity to be the face of ModCloth, who would it be and why?" It's not just for fun, this question tells us a lot about whether the candidate has researched our brand.
Be Disruptive

But not in the way you're thinking. ModCloth is doing something really different in the fashion industry by giving community members a voice and various ways to engage with us. Our employees have an interest in fashion an ecommerce but also in changing the industry.
Celebrate...Everything!

The ModCloth staff (all 500 employees) is a team, and we celebrate our wins together. We also celebrate all the holidays — even those you might not know about. Some recent ones have been Donut Day, Pi Day, and Hot Dog Day. Give us a holiday and we will celebrate it! All the offices in San Francisco, Pittsburgh, and Los Angles are decorated in fun ways for the occasions.
Follow Breaking Fashion News

The company blog, Story by Modcloth, covers culture and fashion news. New designers are always on our radar, and we cover fashion week trends, post street style pics, and share tips and how-tos.
Bring Your Dog to Work

ModCloth is a dog-friendly office and our founder's pug Winston can be found all over our website, so we loved it when one candidate dropped off a résumé for their dog along with their own.
How to apply: http://www.modcloth.com/about_us/careers/openings
Find More Jobs at:
Celebrity news, beauty, fashion advice, and fascinating features, delivered straight to your inbox!