Want a Job at Facebook?
When the hiring manager gives you advice, you listen.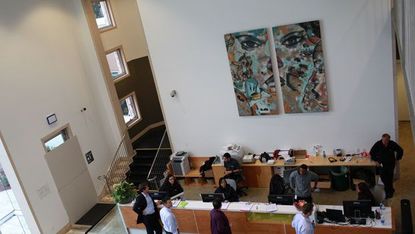 (Image credit: Courtesy of Facebook)
Imagine working on a campus inspired by Disney Land complete with nine restaurants, a sweet shop, a video arcade, and a meeting spot called Hacker Square. This is the reality for Facebook employees working at the Menlo Park offices in California, where company culture is top priority.
Mark Zuckerberg founded Facebook on February 4, 2004. In the last 99 days alone, the average user spent 1,683 minutes (more than 28 hours!) liking pictures, stalking friends, and sharing life updates. As an employee, your goal is to keep Facebook users happy and coming back for more by writing code to fix tech kinks, updating layouts and programs for increased user engagement, and collecting information about Facebook users' behavior for analysis. Facebook provides employees with three meals a day, reimbursement for laundry and dry-cleaning bills, and monthly gym membership in exchange for their hard work. (And did we mention there's an on-campus candy shop!)
We hear that Facebook receives around 250,000 job applications a year and referrals are highly considered — you can automatically see if you have Facebook friends at the company during the application process. Marie Claire spoke to Facebook Recruiter Amanda Talbott about how to ace the interview and score the job. Here are her five tips:
Code Your Application

It's helpful to see what someone can actually build. We had an intern candidate make us a video on why we should hire him, complete with cool graphics and examples of him solving some sample coding problems. The link to this video was on his resume with a very compelling sell of why we should check it out.
Brush Up on Your Math Skills

One question we ask our software engineer candidates is 'given any array of size N in which every number is between 1 and N, determine if there are any duplicates.' The candidate has to solve the problem on a dry-erase board. The most important part of the question is how you approach it, not weather or not you get the right answer.
Have Critiques or Suggestions About Facebook

All of our employees, even the non-technical ones, are key beta testers of Facebook and can give feedback on what is and is not working for them. Be familiar with Facebook as a company before the interview and do a few searches to see what is new.
Be Genuine

As an employee of Facebook, it's assumed that you use the social network to interact with your family and friends as well as your colleagues and management. Relax and show us who you are. Show us that you've got something unique and special about you. We serve one of the largest global customer bases in the world. And the more you can help us do that, the better you'll fit in here.
Only List Skills if You're Truly an Expert

Stating you're a pro at CSS and HTML can get you far at a company like Facebook, but they will test your knowledge during the interview. Facebook is known to match a candidate with an interviewer who can tell if you buffed up your résumé with technical skills you don't actually have. Stand out by showing off your true talents.
How to apply: Facebook.com/careers (opens in new tab)
Related:
How to Get a Job at Gansevoort Hotel Group (opens in new tab)

Score a Job in Fashion: GILT.com Is Hiring (opens in new tab)

Land a Job at AHALife.com (opens in new tab)
Photo Credit: Courtesy of Facebook