How to Score a Job at Gansevoort Hotel Group
When the hiring manager gives you advice, you listen.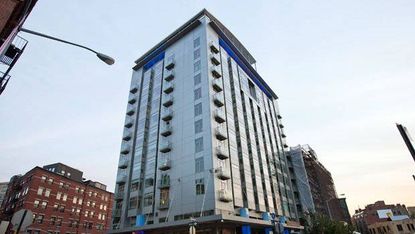 (Image credit: Getty Images)
Marie Claire Newsletter
Celebrity news, beauty, fashion advice, and fascinating features, delivered straight to your inbox!
Thank you for signing up to Marie Claire. You will receive a verification email shortly.
There was a problem. Please refresh the page and try again.
Women run the scene at Gansevoort Hotel Group properties. They fill most of the high-level management positions at the hotels in New York and Turks & Caicos, and coincidentally make up the entire digital department. This is a unique occurrence in the hotel industry, and one we love to see! You can join the team and work your way up the ladder, too — there are open positions on their front office team.
Gansevoort Hotel Group properties are known for their vibrant nightlife. With the May 22 launch of Nightswim NYC, when world class DJs play their favorite records every Thursday night at the Gansevoort Park Avenue NYC rooftop pool bar, the hotel group stands out as a summer hotspot for tourists and locals, alike. It's no surprise that the Kardashians call Gansevoort Hotel Group's flagship location, Gansevoort Meatpacking NYC, home when they take New York.
No two days are the same at Gansevoort. Employees work to redefine the contemporary hotel experience by providing guests with luxury service, whether they are inside the hotel or out on the town. We spoke to the Corporate Director of Sales & Marketing for Gansevoort Hotel Group, Suzi DeAngelis, on how to launch your career in hotel management. Here are her five tips:
Polish Your Public Speaking Skills

We expect candidates to have excellent communication skills. The interview comes down to presentation. Some candidates get nervous and start repeating themselves or give lengthy answers. We want to see that they can communicate with the guests and their colleagues effectively, even when under pressure.
Make Sure to Read HotelChatter.com the Morning of Your Interview

Following industry news is important. HotelChatter.com, Hotels Magazine, and even various hospitality interest groups on LinkedIn help us stay up on the latest in the business. We also recommend following Mashable, A Hotel Life, High Snobiety, and various culture, fashion, art, and music blogs and keep in tune with current happenings. It's important to have a finger on the pulse of the city.
Build Your Core and Upper Body Strength

Guest attendants are consistently helping guests with their bags or delivering boxes to their rooms. We expect them to be able to lift at least 20 pounds, work standing for at least 8 hours, and quickly get around the property. It's important that our staff is aware and capable of these types of physical requirements.
Excel at Taking #tourist Instagram Shots

Check out the Gansevoort's Instagram feed. You'll see perfectly filtered images of New York City's landmarks, from the Empire State Building to the ice skating rink at Central Park, alongside photos of brightly colored cocktails posing on the hotels' roof deck. Our Digital & Social Media department is a creative renegade arm to the traditional corporate hotel environment. They chat about the latest technology trends so we can develop exciting social media campaigns, events, and guest engagement.
Know Your Way Around New York City (or Turks & Caicos)

Last month our Front Office team had a scavenger hunt to challenge our employee's knowledge of Gansevoort's surrounding neighborhood. If a guest asks where to go while in town, we want our staff to point them in the right direction.
Click here to see current vacancies.
Related:
How to Land a Job at GILT.com

How to Get a Job at AHALife.com
Photo Credit: Getty
Celebrity news, beauty, fashion advice, and fascinating features, delivered straight to your inbox!