7 Ways to Save Money
A new book offers realistic rules for saving — and spending — it.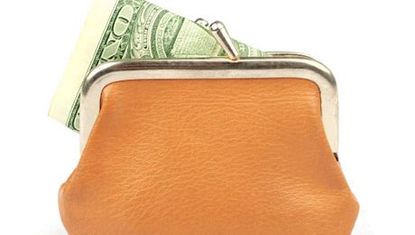 (Image credit: Grigory Bibikov)
As a correspondent at TheStreet.com, Farnoosh Torabi was tired of financial-advice books that tsk-tsked her jeans splurges and offered 101 ways to spice up ramen noodles. So, at 27, she wrote

You're So Money: Live Rich Even When You're Not — full of solid advice wrapped in

Devil Wears Prada

attitude. Here, she talks us through the current economic tumult — the country's and our own.
STOP FREAKING OUT.

"Markets go up and down. Twentysomethings shouldn't be concerned about what will likely be a yearlong recession," Torabi says. If you're heavily invested in domestic stocks, you might want to switch in some foreign mutual funds or Treasury bonds. Just don't pull out of the market altogether: "Your money's safer there in the long run than in your checking account, where you'd just spend it."
STOP MAXING OUT.

To keep your credit score from tanking, Torabi suggests a 30 percent rule — use only that portion of the card's limit. Since the Fed recently slashed rates, your mail will be flooded with zero-APR card offers, but check the fine print: Many start you off with a low ($500 to $1000) credit line, so it's easy to pass that 30 percent mark and watch your score take a hit.
HAVE THE MONEY TALK WITH YOUR GUY. TODAY.

"Marriages end over money," Torabi says. So it's never too early to find out if your goals match your partner's. "I'm not suggesting you ask, 'How much bank do you make?' But say, 'How much do you think is enough for you to happily live on?' Whether he says, 'Money doesn't buy happiness' or '$300K a year, plus 15 percent bonus,' you've got your answer."
LET THE U.S. TREASURY PAY OFF YOUR AMEX.

If you have debt, put your government rebate check toward that. If you don't, put the cash into your 401K. If your 401K is fat and you're debt-free, Torabi says to follow the Fed's advice: Spend to stimulate the economy — i.e., buy that iPod Touch and feel patriotic doing it.

THREE WAYS TO SPEND CLEVER

1. SKIP THE GYM.

Dump your membership for now and re-up in the summer, when rates are lowest.
2. NEVER OPEN A BAR TAB WITH YOUR CREDIT CARD.

Tipping 15 to 20 percent when you close out comes to much more than the dollar per drink you'd drop if you paid cash.
3. SEEK OUT BYOB EATERIES.

A $10 bottle of red at the liquor store costs $29 at the restaurant; end-of-month hangover a given.
Celebrity news, beauty, fashion advice, and fascinating features, delivered straight to your inbox!