How I Spend My Workday
Whether you're a desk jockey or an on-the-go exec, you're probably at your job more than you are at home. So what are you doing there? We followed five women to see what their 9-to-5 is really like.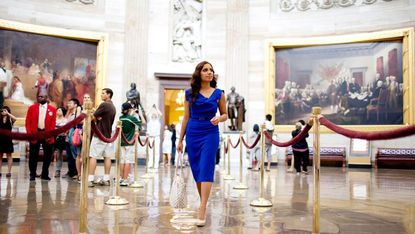 (Image credit: Melissa Golden )
Marie Claire Newsletter
Celebrity news, beauty, fashion advice, and fascinating features, delivered straight to your inbox!
Thank you for signing up to Marie Claire. You will receive a verification email shortly.
There was a problem. Please refresh the page and try again.
Rina Shah, 28 Washington, D.C.

Occupation: President/founder of Rilax Strategies, Inc., a political consulting firm

Annual Income: $85,000

5:50 a.m. I wake up automatically — no alarm clock — and check my BlackBerry and then websites like Politico, Roll Call, and The Hill. One of my clients is Fred Karger, the first openly gay Republican campaigning for president. He lives on the West Coast and is a night owl, so I have to be available to him. I work out of my two-bedroom condo. There's a gym in my building, so I'll do 30 minutes on the treadmill in the morning.

10 a.m. Time to walk over to Capitol Hill to meet with other conservatives and schmooze with reporters. Since I work primarily with older men, I have to dress conservatively — knee-length skirts and blazers, though I always rock 4-inch heels.

1:30 p.m. Back home, answering e-mails or drafting an op-ed piece. Usually, I eat a frozen meal from Trader Joe's while watching MSNBC or Fox News. I'll continually check in with Twitter to keep tabs on what Congress is up to.

3:30 p.m. If the afternoon gets stressful, I'll throw on a bikini and hit the pool on my apartment rooftop for an hour. It's been said that D.C. is the Hollywood of ugly people. I beg to differ.

6:30 p.m. I usually head over to Capitol Lounge on Pennsylvania Avenue for a drink. It's a playground for young staffers who want to see and be seen. When I need to mix with real GOP power players, l go to the members-only Capitol Hill Club. They waived the initiation fee for me because I'm a member in good standing of the D.C. Young Republicans. You see people like Speaker of the House John Boehner there.

8:30 p.m. Dinners are opportunities to get back out there and network, so I'll usually snack on appetizers at fundraisers or arrange a fancy three-course dinner with a potential campaign donor. I'm rarely ever home before midnight.
Stefani Rash, 28 Wilmington, Delaware

Occupation: Sales executive with the Wilmington Blue Rocks, a minor-league baseball team

Annual Income: $25,000

5:30 a.m. I read that your true weight is reflected first thing in the morning, so when I wake up, I step on the scale. I used to be overweight, and now I'm very conscious about everything. Then I'll get my 2-year-old daughter up and ready for school. My husband is a nurse who works the night shift. I'm in charge of the morning routine.

9 a.m. I handle ticket sales for large groups, like children's birthday parties or big corporate events. I'm like a party planner — I have to make sure the game goes off without a hitch and the fans are happy. On game days, I wear khakis and sneakers since I'm basically running around the stadium like crazy all day.

12 p.m. If the team has an away game (every other week), I'll spend my lunch hour at their gym. I have to be physically fit for this job because I'm always moving equipment.

1 p.m. I spend the afternoon getting ready for the game, prepping our dining areas, and stocking the ticket booth.

7 p.m. When the first pitch is thrown, I walk around the stadium greeting people, handing out raffle tickets, or putting out fires. Sometimes I have to deal with drunk and aggressive fans — some of them women! It's a good thing I'm naturally patient and like to problem-solve.

7:30 p.m. I sneak away to my office for dinner — a turkey wrap, which is fast and filling. At the end of the seventh inning, we break for activities. A popular one is Hurl the Pearl, where fans try and throw foam balls into a car that's driving around the field. It's my job to pick up all the stray balls once it's over so the players can resume the game. It's exhausting, but I like to stay active. It keeps me from eating!

11 p.m. I'm wired when I get home, so I'll watch an episode of The Bachelorette that I've DVR'd, maybe do some crunches during the commercial breaks. Fitness never stops!
Caroline Walters, 26 Phoenix, Arizona

Occupation: Graphic designer at Bluefish Design Studio

Annual Income: $43,000

7 a.m. Mornings are when I get stuff done — pay bills, water plants, or clean my apartment, all while watching the Today show. I work in an artsy office, so I can have fun with my wardrobe. Usually I wear cropped pants, a cool T-shirt, and heels.

9 a.m. My firm designs company logos and websites. Our office space is very sunny, with large windows, high ceilings, and no cubicles. Instead, there are 15 or so desks scattered around, so we're able to talk throughout the day and bounce ideas off each other. It's a laid-back atmosphere. Twice a year, the boss takes us to Mexico for a "team building" weekend. We're all friends, so it's not weird, except on the first Monday back you think, Um, my coworkers have seen me in a bathing suit!

11:30 a.m. This is about the time when my artist's block strikes. I need to be creative, but because of my deadlines, I can't just sit around and wait for inspiration to strike. To get my brain going, I usually click on my favorite websites, like Pinterest and Brand New. Sometimes we take field trips to the companies we're working for. Once, we visited a spa we were potentially going to work with, and everyone got their eyebrows waxed.

2:30 p.m. I've found that my brain works best after lunch, so this is when I start working on new projects. My computer has a giant screen, so I put on a pair of headphones, turn on some country music, and lean back in my chair to get a better visual perspective on my logos.

6:30 p.m. If I'm not on the treadmill — and let's be honest, the treadmill happens only sporadically — I'll go to happy hour or meet up with my girlfriends for drinks. My last relationship ended in December, so I'm having fun being single. Afterward, I'll head home and make dinner for me and my roommate.

9 p.m. Right now I'm also freelancing on the side, designing my friend's wedding invitations and programs. So I'll do that after-hours, maybe look at fashion sites like Refinery29 or veg out on the couch watching Real Housewives. I'll watch anything on Bravo.
Kelly McNearney, 30 Los Angeles, California

Occupation: Account executive in digital media at ESPN

Annual Income: $200,000 (on average)

8 a.m. Traffic is terrible in Los Angeles, which means my commute is grueling — sometimes it can be an hour and a half each way. I always listen to NPR on the way to work, and when I'm stuck at traffic lights, I catch up on e-mails on my BlackBerry, since my inbox starts filling up at 4 a.m. My office is in Burbank, on the 25th floor, with a great view of Universal Studios and the Warner Bros. lot. Sometimes it feels like I'm on a movie set all day.

9:30 a.m. I start prepping for my daily meetings first thing. I sell advertising for ESPN Digital Media, which includes ESPN.com, ESPN mobile, and apps for all handhelds. A typical day finds me making several 45-minute PowerPoint presentations to as many as 15 people each time — it's a good thing I love public speaking so much. I work with 40 advertisers, which is a lot!

12 p.m. When I'm not eating at my desk or out with coworkers, I often schedule client lunches at restaurants with a California-style menu — in other words, lots of avocado-based dishes. After that, it's video conference calls with our sales teams in Detroit and New York to discuss marketing strategies or what our competition is up to, and then I'm driving to sales meetings all over town with clients like Lexus, Toyota, and Sony Pictures. I'll pitch them new products we're working on, like WatchESPN — which lets you watch live games online — or our latest mobile app, called Bowl Bound, for college football fans.

3:30 p.m. This is typically when I have to deal with a crisis, which can occasionally derail my entire day. For example, right now an advertiser sent us a concept that was just too racy for ESPN. It's a problem because sometimes we don't see the concept until after we do the deal, which involves hundreds of thousands of dollars. Sports companies are more conservative than people think. I'm sure I'll have to get on the phone and salvage the situation. And sometimes I'm not even at the office when something goes wrong. Twice in the past two months, I've received calls from screaming clients as I was boarding a plane! Luckily, I found a happy solution before take-off.

6 p.m. It's schmoozing time. My relationship with clients is very important to me. In this industry, you spend more time at work than you do with your friends and family, so you end up forming friendships with many of these people. I'll take clients to a Lakers or Dodgers game, or the latest hot spot for dinner or cocktails. If there's any problem getting in, I usually say, "I'm Kelly from ESPN." It works every time. I get to entertain clients at the World Cup or the annual ESPY Awards, which is just the most glamorous event of the year in my business. Last year I saw Justin Timberlake, David Beckham, and Oprah.

8 p.m. On days I don't have to be with clients, I'll meet my girlfriends for dinner or grab takeout on the way home, or my boyfriend cooks me dinner. It's great because he never makes the same meal twice. I usually watch a movie, and then fall asleep by midnight. I try not to check my BlackBerry an hour before bedtime, otherwise I end up dreaming about my clients!
Nancy Hanks, 30 Chicago, Illinois

Occupation: Principal of Genevieve Melody Elementary School

Annual Income: $115,000

8 a.m. Just because I'm a principal doesn't mean that I have to look frumpy. I wear a cute dress, blazer, and Tory Burch flats to work. The minute I step out of my car in the school parking lot, I have people vying for my attention. Kids stop me on the way to the building to say hello, offer to carry my bags for me, or tell me about a problem, or staffers try to grab me for a few minutes. I don't mind — I like being accessible to everyone.

9 a.m. I stroll around to each classroom to check in. We provide free breakfast to the kids, so sometimes I'll sit down and eat with them. But mostly I observe instruction. Sometimes the teachers get nervous when I show up, but I'm not there to say, "Gotcha!" Sometimes a teacher is caught off guard and does the "dog and pony" show — they don't have a lesson plan for the day, but they'll pretend that they do and make something up on the spot. I can always tell when this is happening — but it's rare. My teachers are wonderful!

1 p.m. I'm bad about eating a proper lunch. I'll just snack on a granola bar while returning e-mails and calls. I might have to discipline a student or deal with a "helicopter" parent who storms in, upset that we disciplined her child. In that case, the parent and child are usually the spitting image of each other! I don't run my school like that, so if I need to, I'll call security and have the parent removed.

2 p.m. Afternoons are reserved for management training sessions and meetings, but I try not to get bogged down in administrative duties. I'm young and short, only 5'2". I also look young, and people are always surprised to find out that I'm only 30 because most principals are in their 50s. And my secretary is the same age as my mom! So I try to have a strong presence and assert myself so people won't perceive me as fragile or weak, even when they tower over me. People will challenge your decisions in ways they wouldn't if you were a man. And sometimes male staffers expect women to retreat in meetings, but I don't play into those stereotypes.

6 p.m. At home, sometimes I'll keep tabs on my students' Facebook pages, making sure nothing inappropriate is being posted. After that I can easily spend the rest of the night watching TV, checking on Gilt Groupe or eBay, or catching up on celebrity gossip. I'm often so energized that I don't go to sleep until 2 a.m.
Celebrity news, beauty, fashion advice, and fascinating features, delivered straight to your inbox!