MC@Work: Getting to Know Orit Gadiesh
As chairman of top consulting firm Bain & Company, Orit Gadiesh reveals her secrets for succeeding in a mostly male profession — and what former boss Mitt Romney is really like.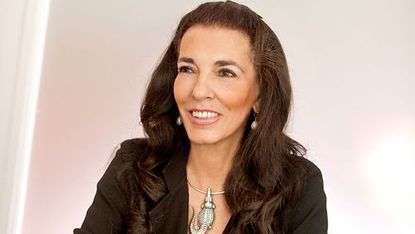 (Image credit: Courtesy of Subject)
You were born in Israel and served in the Israeli army as an aide to then Deputy Chief of Staff Ezer Weizman, who later became the nation's president. What was that like?

I worked in the war room bringing messages back and forth. Communications were very different than, say, what you saw with President Obama during the Osama bin Laden operation. We were just listening to walkie-talkies from the front lines. I saw people like the minister of defense and the chief of staff making important decisions without perfect information, which served me well later. I don't think you need to have perfect information to get people to change, which is what Bain is all about. I also learned not to be intimidated by important people. We worked in close quarters, and I saw them falling asleep, needing a cup of coffee. That gave me confidence.
After your compulsory service, you attended Harvard Business School, though you barely spoke any English. Still, you managed to graduate with honors. How did you pull that off?

That first week, I thought I wasn't going to be able to do it, but then I decided I'd never given up on anything before, so I wasn't going to now. My first case study was 11 pages and took me four hours to translate. What took everyone else an hour took me three. During exams, I used to sit in the front row so I wouldn't see everyone finish before me. But I was never shy about asking questions. I was the only woman in my study group, and there was one guy who always used difficult words when he talked. Every single time I didn't understand a word, I'd ask him to explain. But it got much easier the second year.
Early on at Bain, the CFO of a steel company you were advising told you that women were considered bad luck in his industry. You responded that he ought to send you around to all his competitors!

In consulting, it's very important that the client feels comfortable. So you don't get upset — you try to change things. And the best way is with a sense of humor, or with little tricks that I developed on the spot. Once, I was interviewing another steel exec — this was an industry where there weren't women — and every time I'd ask him a question, he'd look at the other consultant I'd brought with me, a guy named Paul. So during the coffee break, I told Paul, "When he asks a question, look at me. He's not going to talk to your ear, so he'll have to look me in the eye and start including me." And that's exactly what happened.
In the early '90s, Bain was on the verge of bankruptcy after several partners cashed out. Mitt Romney was brought in to turn things around. You reported to him. What kind of boss was he?

He was smart, thoughtful; he actually cared about the people he worked with. I don't know how people describe him now, but he was way beyond Mr. PowerPoint. He was negotiating with the banks, and what he did was extraordinary. He did turn the company around.
During this period, you delivered a stirring speech to the demoralized Bain staff, which earned you a standing ovation. When giving a speech, how do you win over your audience?

First, I write my own speeches. I don't read anything anybody else has written for me. I work hard on them because I think a lot of speeches are actually boring — and I have listened to many speeches. So I try to make it relevant to the audience in front of me. I don't use fancy phrases, and I think that makes a difference.
As a female head of a major consulting firm, you're a rarity. Why do so few women make it to the top of your profession?

We do have a higher percentage of women working in our company than our competitors. Early on, we started paying attention to that. But this is a tough job, for both men and women. It's time-consuming. There's a lot of travel, and there's a high threshold for success — it's not enough to be smart. You have to have empathy. And yes, you have to spend quite a bit of time away from home. [Gadiesh is married to British writer Grenville Byford. They have no children.]
Do you agree with Facebook's Sheryl Sandberg, who, during a speech at Davos, suggested that young women aren't ambitious enough?

There are men who aren't ambitious enough. We've all sat at tables with them. The fact is, flexibility helps — that's how Sheryl Sandberg can leave work at 5:30 every night and then work later. The more flexibility you have, the easier it gets. We built a lot of flexibility into Bain's system. But it's not a debate I choose to get into. I think what Sheryl says makes sense to some people, and some people aren't built like that.
You've sat at countless negotiating tables working through deals with your clients. Have you found that women are as strong at negotiating as men?

Most of my negotiations have been with men. I did what I did, and they did what they did, and then we shook hands after. I don't speak for all women. I like seeing them come up through the ranks, and I'm very supportive and glad when I see another woman succeed. The thing about being a woman doesn't occupy me. I've grown up wanting to be good at what I do. I didn't want to be the best female consultant — I just wanted to be good.
You read 100 books a year. Where do you find the time?

It's a real pleasure for me. Other people watch TV; I read books. I carry a whole library with me on my Kindle. I am curious by nature. And you end up bringing a lot of aspects of what you read about and think about into your work. Last month I was in India, China, the U.S., Russia, and Ireland, and next week I'm going to Turkey. You can't work in those places without understanding the politics, the history, the way people socialize and work. The best book I ever read was The Man Without Qualities by Robert Musil. It takes place in Vienna in 1913, before World War I. I have occasionally advised CEOs to read it, since I can't think of a better book about bureaucracy.
You were on the road 169 days last year. What's your best packing tip?

I stick to black. The longest I've traveled was for five weeks in several countries. I don't bring a change of shoes, and I can go with two jackets and two pairs of pants, all black. It's very convenient and makes my life simple. I can't imagine trying to pick out a new outfit every day.
Marie Claire email subscribers get intel on fashion and beauty trends, hot-off-the-press celebrity news, and more. Sign up here.