MC@Work: Wall Street's Woman on Top
What does it take to get ahead in the most cutthroat industry in America? We asked Marianne Lake, the new chief financial officer at JPMorgan Chase, the largest bank in the country.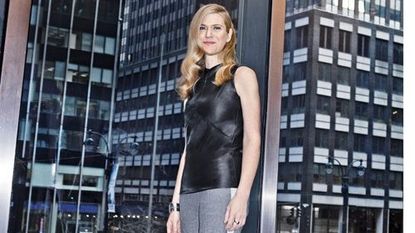 (Image credit: Charlie Engman)
MARIE CLAIRE: Last year, you were named chief financial officer of JPMorgan Chase, making you one of the most powerful women on Wall Street. Did you know you were in line for the job or did you have your sights set on it?
MARIANNE LAKE: I've worked at JPMorgan for 14 years. It was something that was on my radar. The one thing I did to help myself was to really take opportunities during my time here to get a broad view of the firm. I worked in the corporate, investment, and retail arms, which isn't typical, and moved from London to New York in 2004. It was all a really helpful experience, but I didn't orchestrate [the promotion].
MC: Your predecessor, Doug Braunstein, left the post in the wake of the "London whale" scandal, in which JPMorgan's European bankers lost some $6 billion on bad trades. What kind of impact did that have on the firm?
ML: The organization did the right thing in trying to fix the issues, learn the lessons, and move on. We need to continue doing the work that regulators want us to do.
MC: Given the scrutiny JPMorgan was under, did you have any hesitation about taking the job?
ML: Not by the time I actually got the offer. This was the role on my list. It would have been irresponsible to go through the whole process, then get cold feet at the end. I thought hard about the impact this job would have on my life, and whether it was what I really wanted, before I threw my hat in the ring.
MC: What's a typical day like for you?
ML: No such thing. There are 7,800 people globally in our finance organization. I make sure we have the right staff and infrastructure, that our processes are efficient, that the numbers are right, and that the reporting is good. Then there's the business management aspect, working with Jamie [Dimon, JPMorgan's CEO] on everything from what's happening in the firm or industry to responding to what's in the news that day. Every day has a bit of everything.
MC: You report directly to Dimon. What's your relationship like?
ML: Our offices are right next door, and we're in and out of each other's offices multiple times a day. Every Friday night we try to sit down together and go over things, but it's not always necessary. We're usually on the same page.
MC: Why are women at your level still such a rarity on Wall Street?
ML: It's very hard to have a big answer to that question. Obviously it's true that as you go up the ranks, the number of women starts to decline. Whether that's because of "self-deselection" or other barriers—I think that depends on the firm, the industry, and the person. I've never felt that being a woman was a competitive advantage or disadvantage.
MC: What's your take on Facebook Chief Operating Officer Sheryl Sandberg's observation about the "ambition gap" between young women and men?
ML: I don't know if it's true. Sheryl's obviously smart and has done the work to support that idea, but I don't know all the data. There might be some truth to the idea that men are much more likely to self-promote. But if you are capable and do great work, your work will speak for you. I don't consider myself a massive self-promoter, and I don't feel I've ever had to behave in a way that didn't come natural to me in order to progress.
MC: You are the single mother of a one-and-a-half-year-old son, having chosen to have a child on your own. How do you manage, given the intense demands of your job?
ML: So far, so good. I rely on a small circle of friends and my great nanny. In the mornings, I try to spend anywhere from 15 to 60 minutes with my son. Failing that, I try for 30 to 60 minutes together at the end of the day. I try to make that work, but if I can't, I just move on. You can't beat yourself up about it. I never worried about raising a kid on my own. I'm 42, not 20 with my eyes closed. The circumstances aren't traditional, but I didn't hesitate to do it.
MC: It sounds very challenging.
ML: It's also been a massive opportunity to learn and grow. I think there are always phases in life when things get intense or difficult, whether it's the sheer volume of work or personal circumstances. And I've definitely had tough moments. The way I approach them is just to tell myself that this too will pass, and take it one day at a time. Soon enough, you look back and see the forest for the trees again.
Celebrity news, beauty, fashion advice, and fascinating features, delivered straight to your inbox!