So...I Cried at Work
Shedding tears at work can be one of life's most embarrassing experiences, but sometimes, it's the only way to get through the day.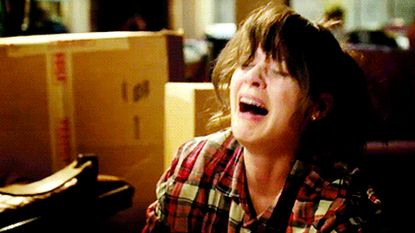 (Image credit: Courtesy of Fox/Giphy)
It's hard to forget my first time. Twenty years from now, I'll remember exactly where I was, how it happened, and how nervous I felt. In fact, I was so nervous I rushed down 32 floors of an office building just to do it. I'm referring to the very first time I cried at work.
I was two months into my very first job at a fashion magazine. Major mistakes were made, deadlines weren't met, and I was sure I would be asked to never return to the office again.
Since then, I can proudly share a carefully curated list of quiet, almost-invisible places to shed a tear, or in my case, a river of tears. For one, there's never a soul inside the lobby of the freight elevator. The caveat? It smells grotesquely like a garbage disposal. A staircase works, too, but it's hard to avoid messengers dutifully trekking from one floor to the next (Note: You also may find another fellow crier in your midst.)
So, after several tries, I've nailed it down to the one, most discreet, person-proof spot: the bathroom, next to the mailroom, behind the vending machine. It's here that I sought an escape my first time, and it's here that I continue to run when I'm feeling most overwhelmed.
Let's make one thing clear: I try, as often as possible, to keep calm, cool, and collected. The fashion industry is one of the toughest to succeed in and seasoned editors know that those with the thickest skin prevail. And while it's easy to strike your emotions aside, I'm the first to advocate the need to let it all go and run to the one spot you feel safe in. (Sometimes you just need to).
Today, there's an insurmountable pressure to lean in and stand up for your best interests. Yes, it's absolutely not professional to sulk around the office carrying a box of Kleenex. But it's also not healthy to let your feelings accumulate and burst into panic—exactly why running to the bathroom and bursting into tears isn't a clear sign of weakness. Instead, it takes strength to admit you've made a mistake. However, the real signs of courage show when you can consider what the issue is and clean up your mess and move forward.
The need to want to cry comes from stress and often feeling like you're not good enough. But the truth is, your boss probably thinks you're wonderful. Think of any evaluation by your boss as an opportunity to grow. Ask yourself, "How can I improve?" and "What can I do to make my life, and my boss's life easier?" You were chosen from a pile of candidates because something special sparked interest. They likely want to foster your talents and watch you grow and learn from your mistakes.
So I'm just going to say it: YES, it's okay to run to the bathroom and cry. But once you've had your moment, wipe the tears away show you have no fear by following a few tips:
1. Take a deep breath. It's too easy to feel weighed down by that massive to-do list, but take it one step at a time. At the end of the day, you'll survive.
2. Remember, your boss hired you for a reason. Don't underestimate yourself. You nailed the interview and you have something valuable to share. Think of yourself as a necessary asset.
3. Don't dwell. Keep moving. Everyone makes mistakes, and will continue to make mistakes throughout their career. Learn from them and grow.
4. Make a friend. Work will be very tough and not as exciting if you don't form friendly relationships with your co-workers. Friends and family may have your back, but a trusted colleague shares the same point of view and will understand your frustrations.
5. Leave it at the office. Not all jobs offer the luxury of leaving it all completely at the office, but try not to think about what happened between 9 and 5. If you screwed up, let it be and show up with a game plan the next day.

More Work Advice for the Young and the Restless

Why Twentysomethings Shouldn't Worry About Picking a Career
10 Things I Learned From My First Job
5 Tips to Surviving a Terrible Manager
Marie Claire email subscribers get intel on fashion and beauty trends, hot-off-the-press celebrity news, and more. Sign up here.
As the Senior Editor of OprahMag.com, I'm a jack-of-all-trades, overseeing our entertainment coverage (we cover TV shows like The Politician and Big Brother, movies such as J.Lo's Hustlers and Lena Waithe's Queen and Slim), features, news items, and— as her number one fan—all of Lady Gaga's whereabouts. I proudly edit Coming Out, a series where LGBTQ+ change-makers reflect on self-acceptance. And I edit our Weird or Wellness series, which I highly recommend you read on the weekend. Prior to O, I began my career in the fashion department at Marie Claire, and eventually moved on to InStyle, where I dabbled in social media and covered events such as the Grammys, Toronto International Film Festival, and New York Fashion Week. A native of Miami, I received my journalism degree from the University of Miami. One time, Rosario Dawson complimented my hair and asked to touch it. I let her.