The Best Career Advice Julia Louis-Dreyfus Ever Received
The Emmy winner, who returns to HBO this month for a third season as the bumbling Veep, reveals her first job, best financial advice, and knack for nailing a questionnaire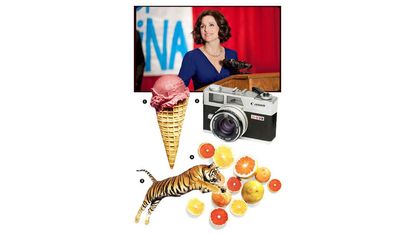 (Image credit: Unknown)
Marie Claire newsletter
Celebrity news, beauty, fashion advice, and fascinating features, delivered straight to your inbox!
Thank you for signing up to . You will receive a verification email shortly.
There was a problem. Please refresh the page and try again.
FIRST REAL JOB: I was an ice cream scooper at Swensen's Ice Cream Parlor in Washington, D.C. Great workout for the arms. I didn't know how to work the cash register and subsequently quit/got fired. My boss was an 18-year-old dick.
BEST CAREER ADVICE: Have fun at all costs (given to me by my high school physics teacher, Mr. Coyne).
BEST FINANCIAL ADVICE: I'm still waiting for it.
EARLY IN MY CAREER, I WISH SOMEONE WOULD HAVE TOLD ME: "You're right."
I STILL GET NERVOUS WHEN: A wild animal is about to attack me, or if I have to make a toast at a party.
MY MORNING ROUTINE: Up at 5:30. Run 12 to 17 miles. Swim 5 to 7 miles. Three or 4 jumping jacks.
STANDARD BREAKFAST: Ten eggs over medium, a loaf of bread, and half a grapefruit.
FITNESS REGIMEN: I don't give it much thought.
IF I WERE VEEP, MY SECRET SERVICE CODE NAME WOULD BE: You Darling Girl.
MY ASSISTANT WOULD DESCRIBE ME AS: A horrible, horrible bitch. No offense to myself.
ON MY DAY OFF, I: Huh? What does this mean?
AFTERNOON PICK-ME-UP: A nap, and the other half of the grapefruit.
READING LIST: This questionnaire.
MY GREATEST WEAKNESS: Questionnaires.
ON MY DESK, I KEEP A PHOTO OF: Myself.
UNDER MY DESK, I STORE: All the other photos of myself.
I WISH I HAD MORE TIME TO: Take photos of myself.
Follow Louis-Dreyfus on Twitter @officialjld (opens in new tab)
PUNCH-LINE PRO: You'll never go wrong DVRing Julia Louis-Dreyfus. Here, her most memorable LOL moments.