Till Debt Do Us Part
When she married her husband, she took on his debt, too.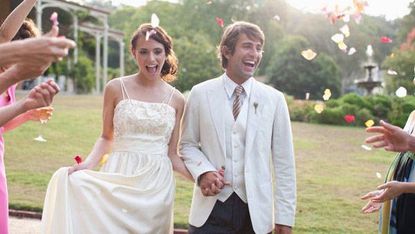 (Image credit: Tom Merton/OJO Images)
Marie Claire Newsletter
Celebrity news, beauty, fashion advice, and fascinating features, delivered straight to your inbox!
Thank you for signing up to Marie Claire. You will receive a verification email shortly.
There was a problem. Please refresh the page and try again.
When I graduated from a private liberal arts school in 2006, I thought I had gotten away scot-free. Thanks to savvy parents and a generous grandma, I graduated without any student-loan debt. But then I fell in love with Aaron, who had taken out $30,000 in loans to finance his film degree. When we got married in 2009, his monthly $250 bill became mine, too. So instead of squirreling away to buy a home, we've spent our first years of marriage chipping away at his debt. It doesn't change how I feel about him, but it does add an extra layer of stress. His $30,000 ball and chain feels like it will be around forever.
Part of tying the knot is tying yourself to another person's economic reality, and now that likely includes sharing your honey's student debt. Meanwhile, more than one in five young people are hesitant to get married because of financial concerns. "Debt is emerging as a potent cause of conflict in relationships," says Stephanie Coontz, director of research and public education for the Council on Contemporary Families. "And it's a major deciding factor in whether a relationship moves forward to marriage."
Even if matrimony isn't in the cards, dating while in debt can be a downer. Maia, 28, was flabbergasted when a guy suddenly broke up with her because "he didn't want to marry me." He wouldn't explain further, so she started digging. Then she saw it on his online dating profile: The thing he feared most was falling in love with someone in debt. She'll never know for sure, but she suspects her $200,000 student debt pushed him away. "I am scared it's a liability in terms of getting into a serious relationship," she says. "You're merging your lives together in every sense of the word."
The hesitation can also go the other way. Clara, 22, recently stopped dating a guy because he had a ton of student loans and "no idea how to manage it all." It's not like she's after a rich dude—"I'm currently dating a broke musician," she says. It was more about the fact that her ex's worry over debt was "so stressful and unappealing that I was completely turned off."
But for some couples, paying off debt brings them closer together. When Steph, 25, met her boyfriend, it didn't occur to her to be worried about his finances. But as things turned serious, so did her man's commitment to paying down his debt. His determination "felt totally sexy and mature to me," Steph says. Later, when she was mulling over graduate school, he assured her that "it wouldn't be just my debt, it would be our debt," she says. "As strange as it sounds, his willingness to work on this together was one of the most romantic gestures of our relationship."
While Aaron's five-figure bill doesn't quite make me swoon, I've made him a deal: On the day we pay off his student loans, we're taking that honeymoon we never had to celebrate.
YOUR STUDENT DEBT RELIEF CENTER:
These Sites Help You With Your Student Debt
Help on the Web: Your Representatives Can Help You
This Senator Is Fighting for Student-Loan Reform
Are Recession Proof Degrees Really Worth the Six-Figure Debt?

Photo Credit: Tom Merton/OJO Images
Celebrity news, beauty, fashion advice, and fascinating features, delivered straight to your inbox!
Nona Willis Aronowitz is an editor and writer who thinks a lot about love, sex and politics. She tweets at @nona.