Signs It's Time to Quit Your Job and Jumpstart Your Job Search
Only one-quarter of working women are satisfied with their full-time job, according to recent statistics. But how do we know when it's time to make a career change?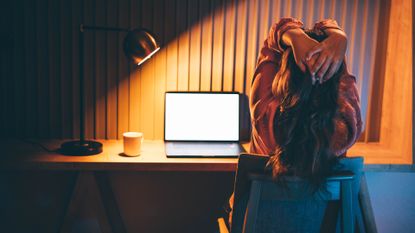 (Image credit: Maria Korneeva / Getty Creative)
Something is amiss. You can't quite put your finger on it. The question of "should you stay, or should you go?" is growing louder and more frequent. You're not alone: Many women feel unhappy and unfulfilled in their current employment. In fact, only one-quarter of all working women are satisfied with their full-time job, according to workforce statistics. Also, nearly 40 percent of workers who have been with a company for under six months intend to leave within the year.
Still, the mere thought of starting a job search keeps you plugging away, ignoring the volume of that persistent thought. Consider three steps to help you answer that question and strategically think through what's next.
Reflect: Separate the signal from the noise.
Consider your mindset—are you feeling the typical doldrums of a challenging time in your company? Or are you seeing repeated signs that seed doubt about your future? Take some time to reflect on your own satisfaction, engagement, and return on investment of your time and effort. After climbing the corporate ladder for twenty-five years and now teaching and coaching thousands of women, I've found several themes that frequently signal it's time to pursue something new.
If these resonate, you might be ripe for a change. First consider if you can create the change you need where you are. If not, then you've answered that inquiring voice and it's time to get started on what could be next.
Recalibrate: Identify what matters most now.
Chances are, your priorities when you joined your company are not the same as what matters most now. Take the time to consider how your career and life have evolved and what lies ahead. Anchor and ground yourself in your values and vision of the future. Think strategically about your career and life priorities in the following four areas:
Capabilities. Reflect on the skills and experiences that will help you grow along with the type of training and coaching that will help you to develop and be set up for success in the new role and towards your longer-term goals.
Credibility. Identify what opportunities could build your credentials over time. This could mean roles in a specific industry or type of company; the recognition of an important title, scope, or responsibility; specific experiences like P&L, or other optics that signal and reinforce your expertise externally.
Compensation. Prioritize what matters most within an expanded view of compensation. Are pay for performance bonuses and equity critical for you or are the number of vacation days top of your list? Your interests will vary depending on if you are planning to get pregnant or if college tuition or retirement planning is front and center. Consider your own life needs, risk appetite and financial package relative to your priorities.
Culture. Assess what workplace practices and behaviors will enable you to be at your best. This could mean a company that exhibits psychological safety, diverse styles, a meritocracy, a balance of people and profits, and flexibility over face time.
Now, create a top ten list of what matters most now and then divide 100 points across these top priorities. Score where you are in your current role against this criterion and use the list as a screen for new opportunities. While few jobs hit 100 points, getting to a role that is 80 percent of what you desire can be powerful. I used this to screen opportunities and move forward when I could see a potential match to my list. This helped me get past the bright shiny roles that weren't right for me at that time.
Recognize: Leverage your past and present to create your future.
Many job seekers don't recognize all that they already have that can aid their search. I suggest a few key steps to build your momentum.
Contribution. Craft your story using the contributions you've made in the past along with how you might contribute to a future company. Find the thread from where you've been to where you want to go. Write it out, say it aloud and bounce it off others to see what questions it provokes and how it showcases who you are and what you can do.
Connections. List your contacts and identify how you might learn from or leverage their experiences. Reach out and be specific about what you are seeking avoiding the vague "pick your brain" requests. The most successful women identify a close-knit group, a personal board of directors, that knows you, can nurture and advance you, and share insider tips and diverse perspectives.
Conviction. Be true to yourself. Identify your dealbreakers and what has felt toxic to you in the past. Without this clarity, we can all too easily overlook or downplay a red flag in the face of a high-status title, exciting company brand, or high salary.
Through thoughtful reflection, you will know when it's time to go. With deep consideration, you can move forward strategically to own what's next.
Marie Claire email subscribers get intel on fashion and beauty trends, hot-off-the-press celebrity news, and more. Sign up here.