Liv Hewson Is Worth the Buzz
When the Aussie-born actor was cast as Van in Showtime's hit 'Yellowjackets' the character was barely in the pilot. Now, Hewson's the scene-stealing comic relief and one-half of the show's It Couple—and they're prepared to take on an even bigger role in season two.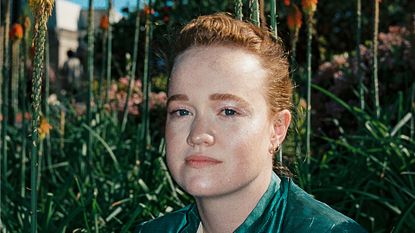 (Image credit: Hadley Rosenbaum)
Marie Claire Newsletter
Celebrity news, beauty, fashion advice, and fascinating features, delivered straight to your inbox!
Thank you for signing up to Marie Claire. You will receive a verification email shortly.
There was a problem. Please refresh the page and try again.
Liv Hewson knows you want teasers for what's to come in Yellowjackets. They know you need the dirt on what happens to their character, Van, and how things fare with her love interest, Taissa. Yet, despite some cajoling, they refuse to let a single spoiler slip. "I just feel like a red dot is going to appear on my forehead any second," they joke over Zoom. Hewson is currently in Vancouver filming the final two episodes of the highly anticipated second season, which returns this spring. "The talking points I got were a list of things I couldn't say."
But here's the one thing they will confirm: Van survives.
It's an open secret but a welcome confirmation since Hewson was one of the breakout stars of Showtime's genre-bending series, which follows a female high-school soccer team that gets stranded in the Canadian wilderness and may or may not turn to cannibalism-slash-culty rituals as a way to survive. The story is told in alternate timelines: one set in 1996 in the immediate aftermath of the plane crash; one in the present day, when the survivors are in their 40s, dealing with all the ways the crash continues to impact their lives. (Those "ways" include murder, kidnapping, poisoning, conspiracy theories, amongst others.)
Hewson, 27, plays teenage Van, the team's tough-but-tender goalie. A beloved outsider with a crummy home life, Van fiercely protects the people she loves, has excellent comedic timing, and a do-anything will to live. Proof: In season one, Van has three near-death experiences—once in the crash, once in a wolf attack, and once when her teammates tried to burn what they thought was her dead body on a pyre. As Hewson says of their character, "It's a full meal."
But the depth of the role wasn't quite as obvious when Hewson first read the script. They had just come off a three-year run on Netflix's zombie comedy Santa Clarita Diet and had previously held supporting roles in movies like Let it Snow and Bombshell. Hewson originally auditioned for teen Shauna (the part went to Sophie Nélisse), but after a few weeks, they got a call saying the producers wanted them for Van, a character with only a few lines in the pilot. "I was like, 'Great, who's that?'" says Hewson. After going back through the script, the character clicked. "I had such a strong sense of who she was. I thought, 'I'm going to take very good care of her.'"
Once they were cast, Hewson had no idea if Van would make it through season one—or if audiences would ever get to see adult Van. "When we were filming the pilot, I was like, 'Well, I'm not going to be here for long. I'll die halfway through the first season, probably.' But that feeling actually freed me up because I was going to make the most of the opportunity."
Hewson quickly found ways to bring their own perspective to the character, often through improvisation and tweaked lines to better represent Van's defensiveness and determination. "The qualities that I could extrapolate from what it meant that she was an athlete and what it meant that she was the goalie were really important when I was making decisions about who she was as a person," they say. Hewson cites small moments like the way Van reacts during the plane crash (punching the ceiling of the plane after her mask doesn't deploy) or what she does during an all-team argument at a party (refilling her beer) as ways that made Van feel more realized from Hewson's point of view.
And while there was no mention in the audition script of Van being gay, Hewson says, "I remember reading it and going, 'That character is a lesbian.'" When filming the pilot in 2019, Hewson says they kept that in their mind, thinking, "I don't know if the show will ever talk about this, but I'll know."
They didn't need to worry since season one went on to heavily feature a complex and loving coming-of-age romance between Van and Taissa (Jasmin Savoy Brown), a future senator with violent night terrors. Through stolen laughs, clandestine hook-ups, and one tender instance of wolf-wound care (yes, really), #Vaissa's bond became a joyful light for many viewers.
"From the minute Jasmin and I found out Van and Taissa were going to be together, we were like, 'We are doing this for gay people,'" they say. "The two of us are really in charge of it and that's a very special feeling. It's quite cathartic to work on the kind of gay relationship that I really would have wanted to see as an audience member when I was younger."
Hewson grew up in Canberra, Australia's capital, and had always wanted to be an actor. "Storytelling and performing spoke to something inside of me that nothing else really did," they say. After eschewing college and drama school to act in friends' student films and indies, Hewson participated in several industry-focused workshops, where they met casting directors and their eventual manager.
But for the first few years of their career, Hewson thought they could never come out professionally as nonbinary, even though they were open with people in their personal life. "My close friends were using they and them pronouns for me, but nobody was [using them] at work. And it sucked," they say. "I genuinely believed I would have to lie about it forever. I expected that in order to work, I would have to keep it a secret." But eventually, the cost of staying quiet became too painful. "I was doing little things to try and make myself feel better, like putting my pronouns in my bios on social media. I realized I was living my life on scraps, and it wasn't enough because I was tucking myself away from the world, which was making me isolated and uncomfortable and a worse actor."
Once they did start telling people at work, they say, "Some days it's tricky and then some days it's wonderful beyond my wildest expectations. As I started speaking about it more, there was acceptance and love out there for me about my gender identity in a way that I did not expect."
That was the case on the Yellowjackets set, where Hewson says the environment is so unique because most of their castmates are around the same age. "We have a lot in common and we're able to relate to each other and then throw ourselves into this really intense ensemble piece, which is my favorite thing. I love being part of a team."
Though Van didn't have an adult storyline in season one, Showtime announced in August 2022 that Lauren Ambrose of Servant and Six Feet Under fame would play a grown-up Van in season two, indirectly confirming that fans can expect to see even more Hewson in new episodes.
"I mean, I love her," they say of Ambrose. "She was a real, high in the sky, dream possibility when people were tossing around names. I was superstitious about it." Hewson and Ambrose didn't get to work opposite one another, but they did spend time talking about who Van was. "I really wanted [Ambrose] to have ownership over the character. I was like, 'What's your sense of who this person is in her 40s?'"
After all, older Van has been through all the shit that younger Van is currently going through, including a breakup with Taissa that we know is coming, since older Taissa (played by Tawny Cypress) is married to another woman. "The tragedy of Yellowjackets is that the things that happened to them should have been allowed to happen to them in a normal setting," says Hewson. "Van and Taissa should have been able to fall in love as young people and figure out what it meant for them without it being tangled up in this horrible tragedy that they're going through."
And what exactly is it that they're going through in season two? Well, Hewson won't say. All they'll share is this: "This season ratchets everything up in every sense of that expression. I think fans will be quite happy, actually. But I don't think I should say anymore."
Celebrity news, beauty, fashion advice, and fascinating features, delivered straight to your inbox!
Jessica Goodman is the New York Times bestselling author of The Counselors, They'll Never Catch Us, and They Wish They Were Us. She is the former op-ed editor at Cosmopolitan magazine, and was part of the 2017 team that won a National Magazine Award in personal service. She has also held editorial positions at Entertainment Weekly and HuffPost, and her work has been published in outlets like Glamour, Condé Nast Traveler, Elle, and Marie Claire.