'Yellowjackets' Season 2: Everything We Know
We have so many questions!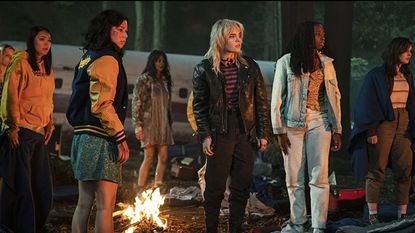 (Image credit: SHOWTIME)
The hit Showtime thriller series Yellowjackets spawned a devoted fanbase over the course of its wild first season, with Reddit threads and Discords full of theories. It quickly became known as one of the best new shows of the year, re-introducing our favorite '90s actresses via a premise that has everything: survival scenes, psychological drama, explorations of teen girlhood, and a perfect punk soundtrack.
For anyone who hasn't grabbed a Showtime free trial, Yellowjackets follows a high school soccer team whose plane crashes in the Canadian wilderness on the way to Nationals. Through two timelines, we see the immediate aftermath of the crash, as the teens survive for 19 months in the wilderness, and the survivors' lives 25 years later, as they continue to grapple from the trauma.
The final episode of season 1 aired on Jan. 16, 2021—but for fans whose theories go past the first season, Showtime has already green-lit another set of episodes. Here's everything we know about season 2 so far.
Renewal
Luckily, Showtime didn't keep us waiting on news of a renewal. Thanks to the show's growing fanbase (and the 100 percent Rotten Tomatoes rating), Yellowjackets was renewed last month, in the middle of its first season. Upon the announcement, Showtime's President of Entertainment Gary Levine told Deadline that the thriller is one of the network's biggest hits.
"It was our second biggest series debut ever on streaming, and it's grown each week on streaming by double digit percentages," he told the outlet. "In terms of acclaim, in terms of buzz—no pun intended—and in terms of hard numbers, this show has just exploded. For it to be embraced as quickly and as deeply as it was by both audiences and critics alike, that's a little like catching lightning in a bottle—you can never anticipate that but boy, it's awfully sweet when it rarely happens."
Potential Release Date
Levine told Deadline that Yellowjackets may return sooner than anyone thought, telling Vulture (opens in new tab) that the network is planning to bring back the show this year.
"We are working towards a premiere at the end of 2022," he said. "We'd love to stay on an annual cycle. I think our audiences deserve that, and I also think that when you have a show that has this kind of a momentum, you don't want to let it dissolve."
As we approach fall, the show is on track for a quick (at least in TV production time) return. Yellowjackets' official Twitter shared a spoiler-free pic from season 2's set, revealing that filming is underway in Vancouver. Hopefully this means we can expect new episodes sometime this winter.
Going feralOur #Yellowjackets are back in production for Season 2 🐝 pic.twitter.com/yffbI17hI8August 30, 2022
See more
As for the trajectory of the show, creators Ashley Lyle and Bart Nickerson told The Hollywood Reporter's TV's Top 5 podcast that they pitched Yellowjackets as a five-season show before they even got the initial green-light. They also discussed one of the show's influences, the William Golding novel Lord of the Flies.
"Lord of the Flies is about how socialization falls away and how society is a facade. We thought, who is more socialized than women? As girls, you learn early on how to make people like you and what the social hierarchies are," Lyle explained. "It's a more interesting way of having things fall away. The mask is even thicker. It's a more layered amount of preconceived notions of how to behave and act."
Cast
One of the best things about Yellowjackets is that we have literally no idea what will happen from minute to minute. The story is set up so that the details of the team and the survivors are revealed bit by bit in each timeline. We expect Season 2 to keep up the surprises, which also means that any speculation for new episodes is hard to guess. Will we get more pre-crash flashbacks? Will new survivors pop up? Will anything supernatural come to light in the present-day timeline?
This also means that it's hard to tell who in the cast will return for season 2. Assuming the dual storylines keep up, it's highly likely that the adult and teen versions of Shauna, Taissa, Natalie, and Misty will return (and we'd be devastated if they didn't). As for everyone else, after the events of the season 1 finale, we'll definitely be spending more time with teens Lottie and Van, as they delve into the supernatural during the group's first cold winter.
The show's creative team has been busy building the cast for the upcoming season, and we now have several new faces joining the Yellowjackets, including a spoiler about one of the young players' fates!
After the finale revealed that Lottie was alive and behind Travis' death (and Nat's kidnapping!), fans were buzzing with fantasy castings for the adult version of the brunette. Variety reported in early August that Adult Lottie will be played by Simone Kessell, who recently played Princess Leia's mother Breha Organa in Disney+'s "Obi-Wan Kenobi" and the mother of Blackbeard on HBO Max's "Our Flag Means Death." Courtney Eaton, who plays Young Lottie, has also been promoted to a series regular.
.@Simone_Kessell will play Adult Lottie. See you in Season 2. #Yellowjackets pic.twitter.com/UJCx0kXLI1August 17, 2022
See more
We're also going to meet another adult Yellowjacket, with Variety reporting that Lauren Ambrose has been cast as (quick drumroll...) Adult Van! Our favorite redhead apparently makes it out of the wilderness and will show up in the present-day timeline, portrayed by Ambrose, who received two Emmy nominations for playing Claire Fisher on HBO's Six Feet Under. (Young Van actor Liv Hewson also will be a series regular.)
Lauren Ambrose joining #Yellowjackets as adult Van is PERFECT CASTING https://t.co/61IzeoNrD9 pic.twitter.com/hAG6bCk922August 11, 2022
See more
Rounding out the new cast announcements, Elijah Wood will join season 2 with a long guest arc, playing "a dedicated Citizen Detective who will challenge Misty (Christina Ricci) in ways she won't see coming," per Variety (opens in new tab). Wood's best known for playing Frodo Baggins in the "Lord of the Rings" film trilogy, and he also acted along Melanie Lynskey in the 2017 film I Don't Feel at Home in This World Anymore.
Plot
Many of our burning questions and fan theories live on past the season 1 finale. "When we were formulating and developing the idea we always saw this as a multi-season story and our goal in the first season is to very much answer certain questions, because I personally get very irritated with shows that drag everything on forever and don't give you any answers," Lyle said. "So, we wanted to answers some questions and ask some new ones, so that is hopefully what we accomplished over the course of this season."
As of the final episode of season 1, the teens are nowhere near escaping the wilderness, with winter coming soon and their last attempt going up in flames. We also don't know how close the girls are to the show's opening scene, and seeing how they might have spent two winters in the wild, they may not go full cannibal for a minute. Considering that, our theories of who survived besides our main quartet have had plenty of time to fester in between seasons.
Samantha Haratty, a.k.a. Misty, told Us Weekly, "Oh, I'll tell you this much, it is so much crazier than I thought it was going to get. We're starting with such a bang this season. I thought we left off on such a high note of like crazy and we're starting off on just as high of a note and it's beyond exciting."
Now that two more adult Yellowjackets have been cast, we can focus our theorizing on how Lottie and Van will factor into the adult timeline dynamics. Lottie appears to be the leader of an organized cult (at least able to kidnap someone organized), so we'll hopefully learn about how she leveled up from Antler Queen. As for Van, there was no mention of her in the adult timeline, meaning we have no idea how she's going to show up. Is she in Lottie's cult? Will she come back to town after also receiving a blackmail note? Is she living off the grid wherever Javi's been? Has she been living a completely normal life before she's pulled back into the orbit of her ex Tai? In case you can't tell, we're very excited for how they'll pop up.
What the Cast Says
Because the second season hasn't been written yet, the cast are as in the dark as the rest of us. Well, maybe not as in the dark. The incomparable Melanie Lynskey, who plays Shauna, says that when she was pitched the show, she asked where the story was going. "I wanted to be sure that they had a plan," she told Collider. You can write a cool pilot and have a cool idea, and not really know where to take it. That was my concern. I just thought, "Oh, gosh, I really hope that they know there's a lot of characters to keep track of and a lot of plot to keep track of," and they had answers to everything.
Meanwhile, Steven Krueger, who plays Coach Ben, believes that his and Nat's wilderness friendship will continue in season two. "They both don't quite fit into the lives that they're ostensibly leading," he told Hollywood Life. "I have no idea what's going to happen next season. I don't think anybody does, but I'm guessing that that's going to be a plot point in the future as well, which I think both of us are really excited about.
Creators Ashley Lyle and Bart Nickerson have given more hints for the trajectory of the show's wilderness storyline. In an Entertainment Weekly (opens in new tab) interview, the husband-wife team reassured the storyline is leading toward the events of the cannibalism scenes from the series premiere, which Nickerson called, "a bit of a climax of sorts but not the end."
"We absolutely will get to that part of this story over the course of the series, I will say that," Lyle said. "That was always intended to be sort of the crux of their time out there and so the question that we wanted to pose was not so much what happens exactly — although the exact nature of what's happening there is ideally mysterious and poses some questions for the audience that we can eventually answer — but, it was always a question of how they got there. So we will ideally answer both: How they got there and what exactly it was we were seeing in that opening scene."
Contributing Culture Editor
Quinci LeGardye is a Contributing Culture Editor who covers TV, movies, Korean entertainment, books, and pop culture. When she isn't writing or checking Twitter, she's probably watching the latest K-drama or giving a concert performance in her car.