Sofía Vergara Undergoes Dramatic Makeover for Netflix Role After Joe Manganiello Divorce
'Griselda' is a bilingual crime drama.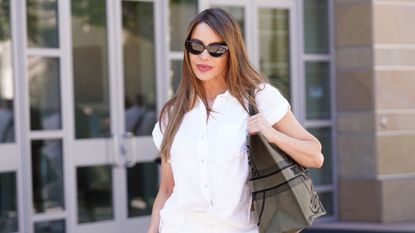 (Image credit: Getty Images)
Marie Claire Newsletter
Celebrity news, beauty, fashion advice, and fascinating features, delivered straight to your inbox!
Thank you for signing up to Marie Claire. You will receive a verification email shortly.
There was a problem. Please refresh the page and try again.
Goodbye, Sofía... Hello, Griselda! Sofía Vergara is embracing her darker side for the new Netflix show, Griselda. According to Entertainment Weekly, the bilingual crime drama will premiere in January 2024. Vergara will play the titular character, Griselda Blanco, the infamous drug lord who rose through the ranks of Miami's criminal underworld in the 1970s and '80s. She will also serve as executive producer on the limited series.
EW recently released sneak peek photos from the project. In them, Vergara is shown with darker hair and a new look. Director Andrés Baiz explained that Vergara was eager to act in a drama. "This was a chance to reinvent herself and step out of her comfort zone, which was very brave of her," Baiz said. "She knew she had to dive in completely into this role and feel insecure and afraid, but she knew that all she had was her work, that she had to push herself to the limit."
It's not a coincidence that Vergara doesn't look like herself in the show. She met with Baiz at her house multiple times a week to work on the background for her character. "She wanted a Griselda that didn't feel like Sofía Vergara," he said. "So, for example, she had to learn how to smoke. Sofía had never smoked in her life… We came up with a bunch of questions. What are Griselda's dreams? What does she think about at night? What drives her? What car does she drive? What cigarettes does she smoke? What is her favorite food? Where does she want to go on vacation again? How does she move? Does she like to dance or not?"
We can't wait to watch!
Celebrity news, beauty, fashion advice, and fascinating features, delivered straight to your inbox!
Paulina is the Weekend Editor at Cosmopolitan.com. When she isn't covering celeb and pop culture news, she can be found listening to Taylor Swift, watching a teen drama (One Tree Hill is her favorite), or perfecting her skincare routine.