This Is Exactly What Meghan Markle's First Royal Christmas Will Entail
Ho ho ho-ing with HRH is more insane than you'd think.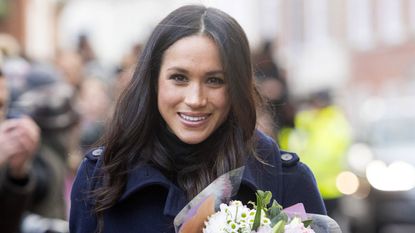 (Image credit: Getty Images)
Meghan Markle's romance with Prince Harry has inspired comparisons to Love Actually, so it seems only right that the bride-to-be is finally getting the full British Christmas experience. The newly engaged Suits actress is reportedly spending the holiday season with the royal family at Queen Elizabeth II's Sandringham estate in Norfolk. Here's why that's such a big bloody deal—and what she can expect from her milestone trip.
A Holiday Home Rich In History
Located about a two-and-a-half-hour drive from London, near the northeastern coast of England, Sandringham has been part of the royal real estate profile since 1862. The future King Edward VII obtained it, rather romantically, as a country home for his betrothed Alexandra of Denmark. Two kings have subsequently drawn their final breaths here: George V in 1936; and the Queen's father George VI in 1952. Of course, if you're a religious viewer of Netflix's The Crown, you already knew all that. George VI's death (and family scenes of Sandringham) were both prominently featured in the series' first season.
Meghan's Invitation Is a Royal Family First
Though Meghan won't officially be a duchess until her wedding to Harry next May, the Queen hasn't wasted any time welcoming her into the family. Meghan will be the first royal fiancée to join HRH for Christmas celebrations, an honor that's previously passed even Kate Middleton by. Like Meghan, Kate announced her engagement in November, but spent her final holiday as a single woman with her immediate family in Berkshire while Prince William worked as a Royal Air Force search-and-rescue pilot. The couple finally joined the royal family fray in 2011, several months after their April wedding.
Meghan Should Prepare for Strong Memories of Princess Diana
Meghan's the first person to be officially included in the Queen's festivities as a fiancée, but she's technically not the first future royal spouse to get an invite before saying "I do." The late Princess Diana was actually born in Sandringham in 1961. William and Harry's mother—whose diamonds comprise Meghan's new engagement ring—actually grew up in Park House on the 20,000-acre Sandringham estate. According to Andrew Morton's Diana: A True Story, Diana described being "shunted over" as a child to hang out with their royal neighbors over Christmas. The movie selection especially left her underwhelmed.
"We hated it so much," she was quoted as saying. "We hated going over there. The atmosphere was always very strange when we went there and I used to kick and fight anyone who tried to make us go over there and Daddy was most insistent because it was rude. I said I didn't want to see Chitty Chitty Bang Bang for the third year running."
Meghan's in for a Slew of Traditions
It will come as no surprise that the festivities get pretty formal around Sandringham. The three-day celebrations typically get underway on Christmas Eve—a nod to the House of Windsor's German heritage—with an afternoon tea, followed by the opening of presents that have been laid out on trestle tables. Family members then change into tuxedos and gowns for cocktails and a black-tie dinner.
Come Christmas morning, the royals wake up to find stockings laden with more gifts. A hearty full English breakfast is enjoyed, providing the fuel necessary for the traditional walk to St. Mary Magdalene—the very church where Princess Diana was christened—for services. Alas, a cold kept the Queen from attending church in 2016, her first no-show in nearly 30 years.
Church is followed by a traditional turkey lunch, and then it's back to work for the monarch. Her annual Christmas broadcast will air at 3 p.m. GMT sharp, with a message that is expected to include well wishes to the newly engaged Meghan and Harry. This year also marks the 60th anniversary of the Queen's first televised Christmas message (which is featured on The Crown season 2).
The rest of the day is spent walking the Queen's corgis, exercising, and relaxing with puzzles or films—like, ahem, Chitty Chitty Bang Bang. That brings us to Boxing Day, as December 26 is known in the Commonwealth. This too is considered a public holiday, and it's one that 96-year-old Prince Philip is fond of spending with a hunting rifle in his hands. A pheasant shoot is typically organized for interested parties, though Meghan—an animal lover who has described herself as a part-time vegan—likely won't be taking part.
RELATED STORY
Meghan Has to Get the Queen a Gag Gift
What do you get the woman who has everything—including her own currency? A whoopee cushion or dog toy might do the trick. The royals may have a formal Christmas, but their gifts are anything but. Gag gifts are the norm, much to the chagrin of Princess Diana, who reportedly came armed with fine cashmere sweaters one year. We also like to imagine that they'll swap their tiaras for the flimsy tissue paper crowns that come in Britain's beloved Christmas crackers before settling down to watch A Christmas Prince, but that may be too much to hope for.
RELATED STORY
Celebrity news, beauty, fashion advice, and fascinating features, delivered straight to your inbox!