Presenting the Real Kristen Stewart, in All Her Bold, Brilliant Glory
Our August cover girl talks taking risks, fighting haters, and learning to let sh*t go.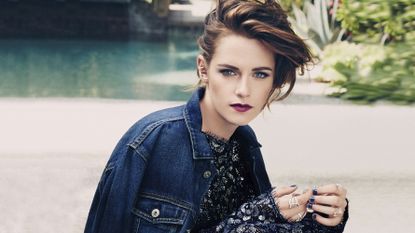 (Image credit: TESH)
It is a humid dusk in midtown Atlanta, and Kristen Stewart is perched on a too-tall bar stool at Saltwood Charcuterie & Bar in the Loews Hotel, her petite legs swinging free as she talks about girl prison. Not a literal Orange Is the New Black penitentiary—more the psychological and social incarceration all women feel at various points in their lives, when we are expected to smile, please, endure, accept, be grateful, acquiesce, apologize, bend over, be happy. Stewart, 25, knows all about girl prison: how a woman can be punished for not falling in line, for not reflecting what the culture deems she should, for not being, "I believe the operative words are, accessible, easy, and uncomplicated," she says with an exaggerated roll of her eyes.
Stewart, in town filming Ang Lee's military drama Billy Lynn's Long Halftime Walk, is not, and has never been, any of those things. She spent years being taken to task for striking doleful poses on the red carpet, or not shining in talk-show settings, or daring to have desires beyond those the public prescribed to her because they believed they had the right to shape her persona since she was a young girl in a series of blockbuster films based on best-selling books. Finally, she decided to embrace the rebel labels thrown her way and say, "Fuck it all!"
"I lit my universe on fire," she admits with a sly smile, "and I watched it burn." Stewart drops her head, tugs at the hem of her simple black sweatshirt. Fans away a mosquito. Yanks a fallen tube sock from its cotton pool in her Converse sneaker. "Speaking very candidly," she says at last, lifting her chin and swallowing a gulp of her vodka tonic, "it was a really traumatic period in my early 20s that kick-started something in me that was a bit more," she pauses, then settles on the word, "feral."
She opts not to elaborate, and she needn't bother. Public scrutiny of her personal life is unrelenting, the details unpacked and pecked over in the media like so much birdseed. At its height, when the tabloids wreaked particular havoc on her longtime relationship in 2012, she issued a heartfelt meaculpa, but falling on her sword did little to placate the masses, and Stewart seems unlikely to go that route in the future. "Women are always saying they are sorry. I do it all the time. We have that innate desire to please," she says.
Just as in the Amy Schumer skit where an assembled panel of female geniuses do nothing but apologize for their every breath, Stewart understands the tug of wanting to seem generous even as it hastens your own abnegation. "It's weird because that instinct is what makes us awesome and admirable," she explains. "Women hold us all together. But it sucks that what makes us worth our weight is what gets in our way." She sighs. "Lately, I've been doing less of the [assumes whiny cry voice] 'I'm sooooo sorry.' And more of the [drops several octaves] 'No. Fuck. Jesus.'"
Stewart takes another swig of her cocktail, the liberation of leaving her old self behind a heady thing to contemplate. "The public kind of burned me at the stake," she says. "But that's OK, I can take it. I'm not dead."
The actress grew up in the heart of Woodland Hills, California, with free-spirited parents in the business (her father is a stage manager and producer, her mother a script supervisor and director) and three brothers. She was fiercely competitive even as a child, gravitating toward track, soccer, basketball—any outlet for the "kinetic energy I've had most of my life."
She recalls an incident in middle school when her coiled physicality served her well. "There was this girl, and she would do this thing where she would grab girls by the hair and flip them. This one time, she was totally approaching our group and I was like, 'NO! You wanna fucking do this?' Thinking, I'm never going to be able to back this up." Stewart laughs. "I was a midget. I had short man's complex. And I definitely felt I had to protect my fellow tiny girl who didn't have as much punch as me. But actually, it did end things."
A self-described tomboy through middle school, the fresh- faced, fashion-ambivalent Stewart struggled after she turned 13 and "all of a sudden, it wasn't cool to be one of the boys any- more." She's never forgotten a particularly rough adolescent moment when a male friend announced, "loudly, in front of our whole group, 'Kristen's not a girl. What is she?' And I just died. It was a totally clichéd, very real insecure breakdown moment, when I was like, I fucking hate myself."
Stewart winces at the memory. "So many people say, 'Oh, it must have been so easy for you.' You think because I'm an actor that I didn't have a normal progression of self-hatred?"
That same I-hate-myself year, she formally left school to build her career (she had started with a nonspeaking TV role at age 9), coming of age before our eyes in films like Panic Room and the Twilight series. "I was 17 doing Twilight. It was the first time I traveled alone. I was like, Finally." She relished the autonomy because she never felt like a kid in the first place: "When I was younger, I really wanted to be with the adults, to be addressed as a grown-up. I was the most open, forthcoming, confident little kid. I'm still trying to get back to that." Precocious, she resented any form of coddling. "I have always been like, I'm fine, I'm fine, way before I was." In retrospect, she might have handled things that bothered her differently. "There were things I didn't tell my mom when I was like 5 that if I had just gone, 'I'm so freaked out about this,' she could've been like, 'Don't be, that's not a big deal.' And I would've been like, 'Oh, gotcha.' I'm gonna be urging my kids, 'Tell me what happened, talk to me.' Knowing that there could be one thing that I could so easily take care of for them but they just need to tell you."
Though her "goal was never to be hugely successful in terms of money and recognition," her teenage work canon-shot Stewart onto the A-list. With global success and exposure came a whole new level of bullying and shaming.
"When I first met Kristen, we were doing New Moon," recalls actress Dakota Fanning, who also played musician Cherie Currie to Stewart's Joan Jett in 2010's The Runaways. "Everyone gets picked on and misunderstood. But it's on such a big scale with Kristen. Back then, it was perceived that she didn't care. But knowing her, I knew she cared so much. It upset her, people thinking they knew who she was."
"Between ages 15 and 20, it was really intense," Stewart seconds. "I was constantly anxious. I was kind of a control freak. If I didn't know how something was going to turn out, I would make myself ill, or just be locked up or inhibited in a way that was really debilitating."
She utters the last word with exasperation and explains she is only just now, after 16 years in the business, learning to manage the speeding train of her brain, to erect healthy emotional boundaries, to know what she doesn't know.
[pullquote align='C']"Age has made me smarter and calmer. And it is fucking awesome."[/pullquote]
"At one point, you just let go and give yourself to your life. I have finally managed that and I get so much more out of life," she says. "I've lived hard for such a young person, and I've done that to myself— but I've come out the other end not hardened but strong. I have an ability to persevere that I didn't have before. It's like when you fall on your face so hard." She claps her hands together. Smack! "And the next time, you're like, Yeah, so? I've fallen on my face before."
"The thing about Kristen is, whatever she does, she lives it, eats it, sleeps it," explains Fanning. "It's never, 'Oh, that might be cool.' She is all in."
With her latest film, this month's American Ultra, a cartoon-violent stoner crime caper directed by Nima Nourizadeh (Project X) and costarring Jesse Eisenberg, Stewart brings her trademark intensity to comedy for the first time. She's not worried about being funny so much as celebrating that "this is the first film that I've done in a long time that's just fucking fun."
Eisenberg has known Stewart since she was 17, when the two were cast in 2009's theme-park dramedy Adventureland. "Kristen is more self- aware than most people you'll meet, regardless of age," he says. "She's in a profession where you are made to question yourself, women more than men. She's always been very intuitive. We share a dismissal of pretentiousness. And we both take what we do very seriously."
Though she is trying to wean gratuitous drama from her world, Stewart hasn't entirely abandoned her emo underbelly. She still reads and writes poetry. She still weeps when she listens to Van Morrison. "I used to be embarrassed about how I cry all the time," she says. "Now I think it's a gift to feel things."
While it still irks her to be misunderstood—"I'm always saying shit I don't mean. Like, Oh, God, that came out wrong. That sounded dumb"—Stewart has reached a sort of peace with her public image. More critically, she has reached a peace with herself.
"I needed to be slapped down a few times to learn that lesson. But I wouldn't trade it, to be honest," she says, smiling. "I'm really proud that I am able to move forward and not fall into every mental crater. That's a new thing for me. Age has made me smarter and calmer. And it is fucking awesome."
Her dinner finished, Stewart gazes at the Atlanta skyline. She flicks her current weave, sewn in for Billy Lynn, off her forehead with some annoyance. In the film, based on the novel by Ben Fountain, she plays the sister of Iraq veteran Billy Lynn (newcomer Joe Alwyn), who's on a victory tour back home in Texas.
"I cut my hair off when I turned 23," she says. "The effect was astounding." When asked to elaborate, her words can't come quickly enough. "My hair was such a crutch. I looked quote unquote 'sexy' no matter what. I could hide behind it. As soon as I didn't have all that hair, I had to let my face hang out. I felt more confident than I had in a really long time. And it felt really good. It was like not having your iPhone for a couple months. It was the same feeling of release. It sounds so obvious, but it's like the hair really did make me feel like a 'real girl.' Like I'm pretty, I'm feminine. I don't know why I valued that so much, as if that's something to prove."
Stewart takes a fortifying breath, presses on. "Every single guy in my life, men that I respect," she says, pointing to her extensions, "are telling me, 'God, Kristen, you look great right now.' It's like, Wow.
"Maybe to most people long hair is prettier," she concedes. "But then what? Is your main goal in life to be desired? That is boring as fuck."
It's getting late, and Stewart has an early call in the morning. As she slides off her bar stool, a palmetto bug skitters past her heel. She jolts, then peers at the thumb-long insect, tilting her head for closer inspection. "We don't get roaches that big in California," she marvels. A waitress approaches and inquires if Stewart is going to "stomp it dead?"
"Oh, no," Stewart gasps, brow knit. "I mean, why would I?" Instead, she gently brushes it to the side with the toe of her shoe. Then she straightens and strides past, not bothering to look behind her.
See all the photos in the August issue of Marie Claire, on newsstands July 21. And for a little behind-the-scenes action, watch here:
Marie Claire email subscribers get intel on fashion and beauty trends, hot-off-the-press celebrity news, and more. Sign up here.