Penelope Cruz: Will She Say I Do, or I Don't
The woman who's snagged the "Sexiest Man Alive" lays down the truth about Tom, marriage and her plans to adopt -- and takes Marie Claire on a photographic journey to the place where she and Matthew go to give back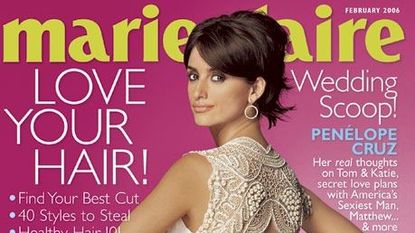 (Image credit: Matthew Rolson)
Marie Claire Newsletter
Celebrity news, beauty, fashion advice, and fascinating features, delivered straight to your inbox!
Thank you for signing up to Marie Claire. You will receive a verification email shortly.
There was a problem. Please refresh the page and try again.
Penelope Cruz is sitting in the backseat of a Lincoln Town Car, laughing at the memory of a plane flight she took with her good friend Salma Hayek in 2004. It was Halloween, and the two were en route to Mexico, where their upcoming film, Bandidas, was shot. Evidently, the two friends wanted to get a jump on the holiday. "There we were with these horrible clown wigs on ‑- and all of a sudden, we had to make an emergency landing," Cruz says, describing, among other things, an alarming drop in cabin pressure and the deployment of the oxygen masks. "I couldn't believe it, that this was the end. With Salma and me in Halloween costumes! I thought, This is such a weird way to die!" Cruz lets the memory wash over her, shaking her head with both glee and disbelief. "After we landed I had a huge, hysterical crying attack, and all Salma said was, 'Where's the bar?' Now we laugh about it, because we are so happy to be alive."
Cruz is many things: spirited, funny, smart, cunning and wry. She's also quite serious about the work she does on-screen, and on behalf of others. It's the latter passion that finds our car pulling up to the Pacific Lodge Boys' Home near Los Angeles, a place that houses and helps troubled teenage boys. Cruz plans to spend the day talking to the boys and taking their photographs. As the car comes to a stop, Cruz tucks her trusty Nikon camera under her arm and walks inside. No handlers, no entourage.
Anonymity is exactly what Cruz is after. The star has a string of big-budget movies to her credit (Sahara, Vanilla Sky), as well as an equally impressive list of beaus ‑- most notably Tom Cruise, whom she dated for three years before his engagement to Katie Holmes, and Matthew McConaughey, her Sahara costar and current main squeeze. But ever since she spent time in Nepal a few years ago photographing Tibetan children for an exhibition attended by the Dalai Lama, Cruz has been more than happy to step out of the spotlight. When the opportunity arose to photograph some of the residents at the Pacific Lodge Boys' Home, most of whom are former gang members and recovering substance abusers, Cruz jumped at the chance.
"I like being on the other side of the camera, seeing what can be expressed without words, just images," she says. After a few brief introductions, Cruz loads a roll of film and gets to work. After all, she knows Pacific Lodge well ‑- McConaughey introduced her to the place. "I came with him a few months ago," she says. "And I remembered the kids. I liked talking to them, asking them everything. I told them, 'I want to know your story. You don't have to answer, but I'd like to know. And you can ask me anything you want.'" Cruz crouches down in her jeans and Ugg boots to get her shots, and amazingly, the boys all but ignore the celebrity in their midst and keep on studying.
"When I was in Kathmandu photographing kids who had escaped from Tibet, some who had escaped by walking across the mountains, I photographed their feet," she says. "Some had lost toes because of the snow." Cruz stops to consider a different angle. "Like today, these kids break my heart," she adds. "I have to control myself not to cry. Not out of pity, but seeing how tricky life is and how hard it is to make the right choices."
What sets Cruz apart from other celebrities involved in charity work is her willingness to spend real time in the trenches. In addition to her work in Nepal, Cruz has volunteered in Uganda and India, where she spent a week working for Mother Teresa that included assisting in a leprosy clinic. That trip so inspired Cruz that she helped start a foundation to support homeless girls in India, where she personally sponsors two young women. She was also inspired to donate her entire salary from her first Hollywood movie, The Hi-Lo Country, to help fund the late nun's mission.
"To spend a week with Mother Teresa? I was more excited to do that than to get the greatest movie," Cruz says. "When you are there, you feel more useful than at any time in your life," she adds. "Like today, I feel lucky to meet these kids." The boys feel lucky to meet Cruz, too. "It's really, really nice of her to take time out to meet with us," says one 17-year-old dressed in a pair of brand-new jeans and a sweatshirt for the occasion. A 16-year-old resident emerges from a 20-minute private conversation with Cruz looking dazed with happiness. "I told her I didn't want to do drugs anymore, that I wanted to be somebody, and she told me that I should do it, that I could do it," he says.
Making the Most Out of Life
Cruz is something of an expert when it comes to making the most out of life. An aspiring ballet dancer before she made the move into acting, Cruz was already a rising young star in her native Spain when she electrified Hollywood with her performance as a pregnant, fatally ill nun in the 1999 Oscar-winning drama All About My Mother, directed by Pedro Almodovar, Spain's most famous filmmaker. With her smoldering Latin looks and riveting screen presence, the then-25-year-old starlet was hailed as the new Sophia Loren. Ralph Lauren snapped her up to be the face for his advertising campaign, and in Hollywood, Cruz became the most in-demand ingenue working. During 2000 and 2001, she had plum parts in four high-profile films that paired her with some of Hollywood's top leading men ‑- Matt Damon in All the Pretty Horses, Johnny Depp in Blow, Nicolas Cage in Captain Corelli's Mandolin and Cruise in Vanilla Sky. She was also rumored to be romantically involved with almost all her costars.
"I'm taking advantage of who I am"
Cut to five years later, after a few lackluster movies (most notably Vanilla Sky) and her breakup, albeit amicable, with Cruise, and Cruz finds herself at 31, older and much wiser to the ways of Hollywood's inner workings. Cruz knows exactly who she is and where she's going. "Instead of trying to pretend to be what I am not, I'm taking advantage of who I am," she says. "I am who I am, and I am a Spanish actress who has been very lucky to have this opportunity to work here, but who is also working in other places."
Translation: Bring it on. In addition to her charitable work and budding photography career, Cruz owns a clothing store in Madrid, where she also owns a house near her family. She's designing a line of jewelry and handbags with her younger sister, Monica, for a company in Japan. As for her acting career ‑- well, she's got a firm handle on that, now doing only films that she wants to do, not what Hollywood wants her to do. While she hasn't entirely turned her back on big popcorn movies like Sahara, last summer's sleeper hit that led to her relationship with McConaughey, Cruz is now concentrating on small, prestigious independent films. Films like Don't Move, the 2004 Italian drama for which she spent months learning Italian (she speaks four languages) and which won her the Italian Oscar for her performance as a rape victim who falls in love with a married man. And films like Volver (due in theaters June 2006), the latest comic drama from Almodovar, with whom she has had her greatest successes and whom she calls her "hero." "I became an actress so that Pedro would call me," she says. "It was always my dream."
Cruz is guided by her own passion these days. "I want to play characters that really make me feel things," she says. "I'm more alive that way." She's also taking a more proactive role by developing projects for herself. First up, Bandidas, an English-language comedy she and Hayek commissioned for themselves in which they play south-of-the-border bank robbers.
Credit her fiery Latin heritage, her nine years of ballet lessons (in which she would dance until her feet literally bled) or her no-nonsense, middle-class upbringing in Madrid for instilling in Cruz a devotion to hard work. Whatever the cause, she takes a fierce, no-holds-barred approach to life. "I can do a lot in a day, and I'm not even hyperactive," she says with a laugh, adding that her intensity is such that even her friends and family think she needs to dial it down a notch. "I have a lot of friends in Spain who think that I have to relax. I exhaust them." She adds that her 21-year-old brother, Eduardo, thinks she's too bossy. "He's always begging me to have a baby," Cruz confesses, his thinking being that then his big sister will give everyone else a break. "I was 11 when he was born, so I'm like his second mother," she says, laughing. "I'm very annoying."
Celebrity news, beauty, fashion advice, and fascinating features, delivered straight to your inbox!